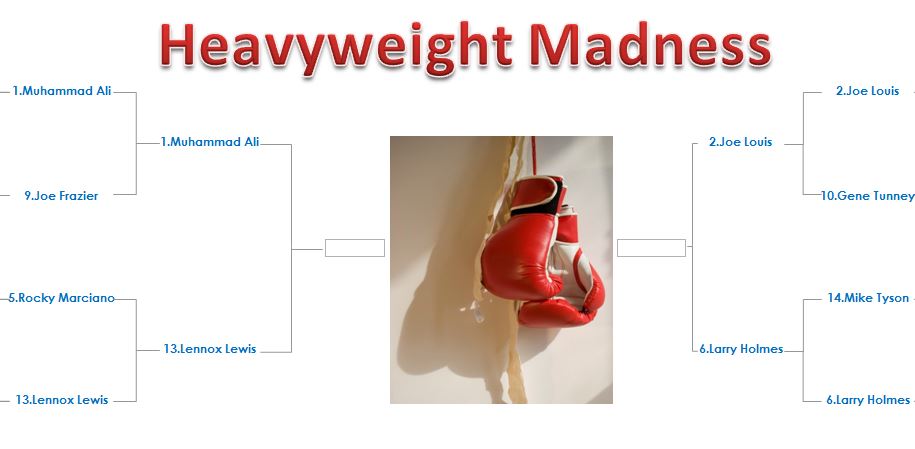 The Heavyweight Madness Tournament continues with the Elite 8 matches.  There were some very compelling match-ups of these all-time greats in this round, after the field was whittled down in the Sweet Sixteen. Here is how things unfolded:

1. Muhammad Ali vs. 9. Joe Frazier
Well documented past between these two.  Let's do it one more time. The fight begins:
Not surprisingly, Ali is working the ring as Frazier pursues and tries to cut the ring off.  Frazier has started slow as Ali dances and prances and pops jabs and uppercuts sporadically. Frazier continues to stalk and swing somewhat wildly through rounds 4 and 5 as Ali continues majestic footwork and movement.
As we reach rounds 7 and 8, Frazier is cutting the ring more effectively now and Ali has slowed just enough to allow Frazier to get him on the ropes for brief exchanges dominated by Frazier hooks to the body of Ali. Now into rounds 9 and 10, both men are trading more often. Frazier is ripping shots primarily to the body of Ali. Ali, meanwhile, is peppering Frazier with jabs and crosses. Frazier's face is swollen and blood is coming from his mouth and nose.
As we push into the late rounds, Ali continues to land significant blows as Frazier responds with brutal body work.  This is, not surprisingly, another epic.  In the final 2 rounds, Ali is covering more now. Somehow, Frazier still has enough gumption to continue his attack and is the aggressor. Frazier is badly disfigured and Ali is clearly battered and exhausted as we hear the final bell. The fight goes to the judges:
Ali by Majority Decision

5. Rocky Marciano vs. 13. Lennox Lewis
Classic contrast of styles here. Brutal brawler versus boxer puncher. The fight begins:
As the opening bell sounds and these two meet in the center of the ring, the size differential is alarming. Marciano is giving up 50lbs and about 17" in reach.  The first 2 rounds feature Marciano crowding and almost exclusively working the body of Lewis. Lewis is constantly pushing Rock back but Rock simply rushes right back in.
By rounds 4 and 5, Lewis has begun to land his laser jab and Maricano's face is reddened by the blows. The mid rounds grind on with Lewis beginning to batter the smaller Marciano and open up cuts while Rocks punches seem to have little effect on Lewis. As we enter the later rounds, Marciano is being pounded by Lewis but continues to come forward.
In the final couple of rounds, we watch as a badly bleeding but determined Marciano continues to grapple. Marciano's work has lessened Lewis a bit and is causing him to run and grab a bit more. Marciano wins the final round as Lewis plays it safe. The fight goes to the judges:
Lewis by Unanimous Decision
2. Joe Louis vs. 10. Gene Tunney
An intriguing matchup here. Tunney, who was never KO'd in 68 fights, versus one of the great punchers of all-time in the Brown Bomber. The fight begins:
The early rounds have both fighters feeling the other out. Neither man has established themselves in any of the first 3 rounds. Clearly Tunney, ever the tactician, is calculating his attack as Louis patiently stalks.
In round 4, Tunney advances and pins Louis on the ropes, in the exchange, Louis lands a vicious right hook and Tunney stumbles back and drops. He gets up and the referee administers an 8 count. As the fight resumes, Louis presses more but Tunney still has the presence of mind to slip and roll and avoid any additional damage in the round.
In round 5, Tunney seems to have regained his wits and looks solid again. At the end of the round he lands a good solid right that momentarily stuns Louis as the round ends. In round 6, Tunney catches Louis off balance with a ripping right counter and it is Louis who stumbles and falls but is back up quickly.  The referee now gives Louis a standing 8 count. Tunney is cautious as the action continues and Louis makes it out of the round.
As rounds 7, 8 and 9 pass, Tunney's movement is allowing him to avoid any damaging blows from Louis. Offensively, Tunney is scoring with counterpunches and a stick and move method that is neutralizing Louis power. The 10th round sees Tunney continue to get the better of Louis in brief exchanges while Louis is not finding openings to land any big punches.
Round 11 starts like most others with Tunney moving and Louis stalking but at the 2 minute mark, Tunney advances and Louis catches him on the way in with a huge right hand. Tunney falls forward in a heap and barely beats the referees count. He is clearly dazed. As action resumes, Louis comes in and blasts away. The referee jumps in and stops it, moments before the bell rings to end the round.
Louis by TKO in the 11th

6. Holmes vs. 14.Tyson
The first time these two met, it was a 22-year-old Tyson versus a 38-year-old Holmes. This time around, both are in their primes. The fight begins:
Surprisingly, Tyson comes out a bit cautiously early. Larry is bouncing and moving and jabbing while Iron Mike bobs from side to side. By round 3, Tyson is showing some bursts now but his blows are being largely deflected by Holmes. Meanwhile, Holmes' jab is antagonizing and landing with reasonable consistency.
As we move through rounds 4 and 5, Tyson has shifted his attack more to Holmes' body as Larry continues to pepper Tyson with his jab. In round 6, both men seem to become impatient and they begin to trade in the middle of the ring. Tyson catches Holmes with an overhand right which knocks him stumbling back into the ropes.  Tyson then pounces and drops Holmes with a 5 punch flurry. Holmes answers the referee count at 7. Tyson races back in but Larry clutches and grabs and survives the round.
In round 7, Tyson races to meet Holmes at the bell but Larry wisely grabs and holds for much of the first minute or two. You can see Tyson's frustration mounting as he may sense a golden opportunity has passed him by. By round 8 Larry has his legs back and he is blocking and shifting and causing Tyson to throw and miss wildly. In rounds 9 and 10 Tyson's head movement has diminished and Holmes reestablishes his blistering jab.
By rounds 11 and 12 Holmes is landing combos and backing Tyson up. If Holmes doesn't tag him coming in, he tangles Tyson up and leans on him and Tyson appears spent and frustrated. The fight ends with Larry bouncing and firing his right hand behind the snapping jab. Tyson is bleeding and weary as the final bell sounds.  The fight goes to the judges:
Holmes by Unanimous Decision

That brings us to our Final Four. And what a Final Four it is. Muhammad Ali versus a somewhat surprising Final 4 contender in Lennox Lewis in one matchup and two, all-time great Heavyweights in Joe Louis vs. Larry Holmes in the other. Check back in later this week to see who wins it all!