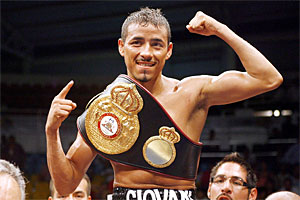 Amidst the spectre of Gennady Golovkin's latest ring outing this Saturday night, an all-Mexican southpaw shootout appears to have been forgotten. In the quiet shadows of the mainstream media, flyweights Hernan Marquez and Giovani Segura have been preparing for what appears to be a cross-roads fight in their respective careers.
In case you have been oblivious to this fight, the nicknames say it all. Marquez's "Tyson" moniker is a reference to legendary heavyweight knockout artist; Mike Tyson, while Segura's "Guerrero" nickname is Spanish for "warrior", and the Marquez vs. Segura fight promises to deliver on those names.
Physical Make-Up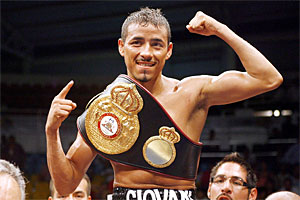 Statistically, both men measure up at the same size, though Segura carries a slight advantage in reach. It can be argued, however, that Marquez is the more natural flyweight of the two. He has dabbled in higher weight-classes at various intervals throughout his career and has never fought below flyweight.
Segura, on the other hand, made his name at light-flyweight. The poundage differential may not be substantial, though Segura has struggled since he ventured north of the division in which he established himself. He was out-boxed and beaten down by Brian Viloria and his punches couldn't move Edgar Sosa earlier this year.
Segura's failings at flyweight thus far could also be put down to miles on the clock. Born of the now infamous Javier Capetillo's regime of punch, punch, and punch some more, Segura's constant offense guided him to success but came with a health warning and, as a result, wear and tear may well have accumulated.
Marquez has body strength that perhaps belies his slight frame and he is not pushed around easily. Brian Viloria picked the right shots in stopping Marquez last year, and Marquez' only other early defeat came against the bigger and better Nonito Donaire in 2010. Hence the chances are Marquez will not be overtly perturbed by Segura's attacks, even if Segura is at his relentless best.
Mental Make-Up
When Marquez ventured to Panama to face Luis Concepcion a cauldron of noise awaited him. The away fighter, Marquez endured a turbulent opening to his first world title fight as he visited the canvas in the first stanza and faced not only the frenzied pursuit of Concepcion but the passionate fervor of the locals. Nonetheless, Marquez dusted himself down and dropped Concepcion at the end of the round to level up the knockdown count.
Marquez went on to pick his spots, countering Concepcion and knocking him down once more en route to a stoppage win at the end of round ten. In this fight Marquez showed the mental fortitude required in overcoming the favorite in his own country, in spite of a hostile atmosphere and a bad start.
Segura has himself visited foreign territory – encountering the full force of Puerto Rican fans as he handed the first loss to modern legend Ivan Calderon. Although Calderon was a veteran by this point, Segura issued no favors in tracking down and beating up the proud local hero in front of his own crowd.
This is just one of many title fights Segura has been involved in and he will not be fazed by having to travel to Marquez's territory. If anything, Segura may well be further spurred on in the knowledge that at 31 this is probably the last leg of his career. Defeat here could mean the end to his dreams of becoming a two-weight world titleholder.
Technical Make-Up
Both Segura and Marquez fight out of a southpaw stance, although Segura has a tendency to switch mid-fight depending on how he feels. Marquez is a compact and pugnacious boxer-puncher and without doubt has the faster hands of the two. Segura is relentless and at times reckless in his dogmatic desire for victory, with what can at best be described as a nonchalant distaste towards any incoming punishment.
Marquez is the more refined boxer of the duo, and it was his timing and punch-picking that eventually did for Luis Concepcion in their first duel, a 2011 fight of the year candidate. Last time out he boxed more conservatively against Carlos Tamara, winning a simple points decision. This demonstration shows Marquez can box as well as brawl, and he is equally happy to patiently await openings if he cannot force them.
Segura is slightly more one-dimensional in his approach. His power and durability are his signatures and if he cannot hurt you, as was the case with Viloria and Sosa, that doesn't mean he's going to stop harrying you.
Marquez vs. Segura Prediction

Both Marquez and Segura have a high propensity for gruelling warfare and so it is nigh-on impossible to imagine this fight finishing without incident. Without setting your expectations too high for fear of disappointment, this fight has potential for several momentum shifts and multiple knockdowns.
Marquez has shown his capability to box on frequent occasions in previous fights with success, which leads me to believe that he will begin the contest on the back foot. Segura will press the action early and will start to zero in on Marquez's body almost immediately with hooks around the side of the elbows. Marquez will certainly find his moments to land on Segura, and will strafe his older foe with straight lefts and right hooks as he comes in.
As the battle wears on I expect Marquez to come out of his shell to the delight of his fans, engaging in toe to toe combat and pushing Segura back and out of his comfort zone. As Marquez surges in confidence, Segura will start to feel his age and, with offense his only form of defense, he will be caught and rocked. As Marquez continues to aggressively and successfully assert himself in the later rounds I expect the referee to stop the contest with Segura fighting a losing battle, though fighting to the end regardless.
Prediction: Hernan Marquez TKO10 Giovani Segura
Comments
comments