Fight Pick & Preview – Ward vs. Rodriguez:
Super Middleweight Champion Andre Ward emerges from moth balls on November 16 to face unbeaten challenger Edwin Rodriguez. The bout takes place at a terrific venue at the Citizens Bank Arena in Ontario, California. This is one fight where you can disregard alphabet titles. Despite his 14-month sabbatical, Ward is by any reasonable measure the undisputed champion at 168 pounds.
Date: November 16, 2013
Site: Citizens Bank Arena, Ontario, CA
Weight Class: Super Middleweight Championship: 12 Rounds
Andre Ward, 26-0 (14 KOs), Oakland, CA
vs.
Edwin Rodriguez, 24-0 (16 KOs), Worcester, MA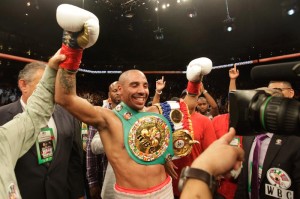 Ward's title run at super middleweight is not merely noteworthy, but historic. The division's legacy is thin, being that it only really started in the second-half of the 80's. It has still seen its fair share of good champions and Ward may have already surpassed names like Nigel Benn and Chris Eubank in the top five all-time of the super middleweight division.
Wins over Kessler and Froch were huge. He moved up and smashed the reigning light heavyweight champion. And all the while–no one has really gotten particularly close to beating the Oakland master.
Ward still struggles to gain a mainstream appeal. It's sort of how the best jazz players struggled to make money because their music was over everyone's head. Ward has all the assets that boxing fans crave, like speed and power. His best weapons, however, are skills that lie under the radar except for fans that appreciate the subtle aspects of the sport.
Ward is an expert at being in the right position. He has the legs to get out of range and the moxie to smother an opponent's offense. The "SOG" has a 6th and 7th sense when it comes to anticipating what his man is going to do next. He thinks 3-4 moves ahead. He is versatile, while not knocking your socks off in any one category. After all, there's a reason beyond what lies on the surface as to why the nearly 30-year-old Ward hasn't lost since the eighth grade.
So what exactly does Rodriguez bring to the table that the best 168-pounders and a light heavyweight champ weren't able to bring? Rodriguez, 28, reminds me of another old-school super middleweight in Merqui Sosa. He's a little big for the weight, can hit, and is a tough fighter.
Of his 24 wins, it was his last one that lent any type of credibility to what seems like a quixotic challenge. In July, he smashed light heavyweight contender Denis Grachev in one round. Grachev had just come off some quality performances and for Rodriguez to dispose of him so emphatically was impressive. Prior to that, his best wins were over Don George and Will Rosinsky. So he needed that win to at least give him the air of a legit contender.
Rodriguez is perhaps fortunate to be catching Ward coming off shoulder surgery and the resulting layoff. And his low-profile could help him. All that is in the event that Ward is somehow diminished or overlooking him–wishful thinking indeed. You don't get to the top of the sport and the PFP rankings by looking past opponents and not showing up to fights with anything but a heightened sense of urgency. Reports out of training camp are that Ward is hungry and chomping at the bit to get back into the fold and remind people who he is.
Rodriguez had a decorated amateur career and he can crack a little bit. His right hand has a a lot of mustard on it and he can clean clocks with his sweeping left hook. He has all the punches in his arsenal and a killer instinct when he has a guy in trouble. It's just that the overall package lacks a certain sharpness or refinement that you would like to see in a candidate to become Andre Ward's Buster Douglas.
Ward vs. Rodriguez Prediction
There are some common perceived precursors for major upsets that are in place for this fight. The favorite has perhaps grown stale after a demanding roster of fights. The challenger is an uncelebrated foe and after fighting the best, the champ's mind fails to reach the same level of motivation and urgency. The favored champion is coming off injuries and a layoff. All those elements are at play and still, Rodriguez virtually has no chance whatsoever of winning.
Rodriguez, known as "La Bomba," has the right connections with Al Haymon and is unquestionably a quality prizefighter. He has the power to possibly make some headway, but he is so far out of his element that a blowout is a distinct possibility. Look for the first few rounds to go okay for Rodriguez. Ward will then warm up and start pounding Rodriguez' flanks, while bloodying his face with clean, straight shots.
As is the case with all Ward opponents, Rodriguez will struggle to get a bead on Ward. He will end up fighting the fight  Ward wants. After getting dropped and with many rounds passing without gaining any foothold, Rodriguez will get the hook, by his corner or ref, around the 9th or 10th round.
Prediction: Andre Ward wins by 10th-round TKO.
Comments
comments