-Marquez vs. Khan Doesn't Offer as Much as Marquez vs. Katsidis Would-
As the fall season is approaching in 2010, which fight do you think should be the Fight of the Year?  If you find yourself unable to answer, you're probably not alone.  So far 2010 has been a horrific year for Fight of the Year candidates.  There remains a few promising match ups in the final months of 2010, such as Juan Manuel Lopez vs. Rafael Marquez, Andre Ward vs. Andre Dirrell, and Paul Williams vs. Sergio Martinez II (which hopefully gets signed), but what about other potential fights that could put up a strong showing?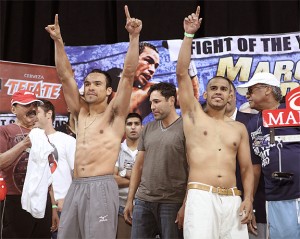 The fights mentioned above certainly offer fans competitive and entertaining match ups, but there is one fight that should be added to the list: Juan Manuel Marquez vs. Michael Katsidis. The fight is a distinct possibility as Katsidis (27-2, 22KOs) is Marquez's (51-5, 37KOs) mandatory for his WBO lightweight belt.  However, the fight is no lock to be made as Marquez's promoter, Golden Boy Promotions, is pushing heavily for a match up with WBA junior welterweight titlist Amir Khan (23-1, 17KOs).
A fight with Khan would provide Marquez with a shot at winning a title in a fourth different weight class, but would not provide fans with a Fight of the Year candidate.  Even though Khan has a suspect chin, he would have huge advantages in both height and speed allowing him to use the jab and avoid exchanges with Marquez.
If Marquez were to choose to take on Katsidis fans would be in for a real barnburner, as Katsidis loves to press the action and does not shy away from exchanges.  Add in the fact that Marquez is one of the best counterpunchers in the game, and it is easy to see why this fight could be a real gem.
2010 has been known as much for the fights that didn't happen as the fights that have, and as such it's lacking in truly memorable, classic encounters.  It is the promoter's job to start looking stylistically for good match ups, instead of spoon feeding superstars unworthy opponents and promoting fights on name recognition alone.
Katsidis vs. Marquez promises to be a meaningful, action packed lightweight bout in a division void of many big names.  Either a legend would add another name to his outstanding resume, or a new star would be born.   The true winner of this bout would be the fans, who would witness two warriors fighting an epic battle for lightweight supremacy.