What Type of Fighter Can Defeat the Klitschko Brothers?
There is no question that the Klitschko Brothers are the two dominant fighters in a weak heavyweight era. In a two part series, Pro Boxing Fans identifies what type of fighter matches up well with the Klitschko's and explores the technical side to devising a strategy for defeating each of the Ukrainian giants.
Vitali Klitschko
Vitali Klitschko
Record:  38-2, 37 KOs Height:  6'7 1/2'' Reach:  80'' Notable Wins:  Samuel Peter, Corrie Sanders, Chris Arreola
Fighting Style
Vitali Klitschko's fighting style is as straight forward as you can get. Vitali uses his size and reach advantage to methodically break down his opponents and score mid-to-late round stoppages. Vitali is the prime example of a fighter being underestimated. While judging fights at ringside, I have seen countless fight plans fail due to a boxer's skill level not being properly evaluated.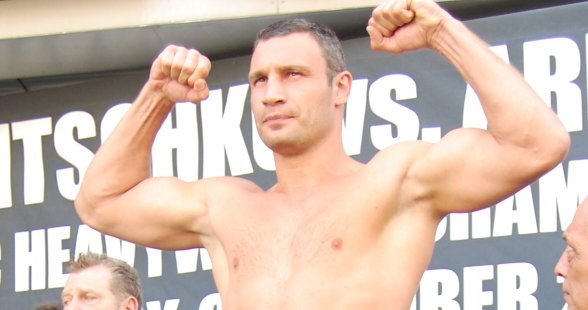 Even though the general public would view Vitali Klitschko as "clumsy" or "goofy," his fighting style is predicated on using a small amount of technical skills in order to put himself into a position to utilize his physical attributes as an advantage. Below is a break down of Vitali's strengths and weaknesses:
Strength: experience, ring generalship, jab, punching power and stamina
Underestimated Strengths: footwork, keeping proper distance and punching angles
Weaknesses: overall speed, form (slouching over), hand position and exchanging
How to beat Vitali Klitschko
In order to defeat Vitali Klitschko, a fighter will have to utilize above average technical skills and have the heart to provide relentless pressure. Vitali is able to use footwork to keep his opponents at the end of his powerful punches and mitigate the scoring opportunities of fighters when they press forward by using effective, but underrated side stepping techniques.
In order to consistently score against Vitali, a fighter will need the technical skills to close the gap and the strength to stop Vitali from side-stepping, clenching or pushing his opponents away. The aforementioned skill set could put a fighter within striking range to take advantage for Vitali's habit to slouch forward, average hand speed and the fact that he is willing to exchange.
Outside of the most skilled heavyweights of all-time, such as Muhammad Ali, a fighter using this strategy will need a strong chin and big heart to endure the punishment that Vitali could unleash on a fighter with a plan to continuously apply pressure. No one can argue with the fact that Vitali does a good job keeping his distance, has long arms, punches from unusual angles, has a good chin and has a big heart.
Some would argue that the heavyweight most likely to defeat Vitali fighting today would be his brother, Wladimir. On paper, Wladimir appears to have what it takes to defeat Vitali, which includes technical skills, a big punch and the size and strength necessary to control ring generalship. However, would Wladimir crumble after eating some of Vitali's hard shots, presumably some that he didn't see coming from unusual angles? I think the question speaks for itself.
Below is a list of more commonly known fighters and how they stack up against Vitali. These lists are certainly up for debate, but keep in mind it is assumed that Vitali is being compared to each fighter in their prime:
Fighters that would defeat Vitali:
Muhammad Ali, George Forman, Joe Louis, Joe Frazier, Larry Holmes, Sonny Liston Mike Tyson
Fighters that are even with Vitali:
Lennox Lewis, Riddick Bowe, Evander Holyfield
Fighters that could upset Vitali:
Floyd Patterson, Max Schmeling, Wladimir Klitschko, Eddie Chambers
As always, tune into Pro Boxing Fans to review columns from the best boxing writers on the web. And be sure to check back for Part II in the How to Beat a Klitschko Series: Wladimir.
Image Credit: Mike Boehm/Pro Boxing Fans