Is Allan Green "Super" Caliber?
Upsets, devastating knockouts, and disqualifications have created many twists and turns thus far in the Super Six causing each contestant to play scoreboard hop scotch with the next.  With the departure of Jermain Taylor from the tournament, Tulsa native Allan Green steps in to fill Taylor's spot as a very hungry and determined replacement.  Coming in with an early deficit, Green does possess the knockout power in both hands to quickly catch up on points, which begs the question, can those fists shake up the standings some more?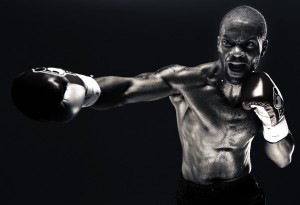 In 2005, Green first saw notoriety in his 18 second destruction of Jaidon Cordington earning him knockout of the year honors.  In 2007 he stepped up in competition facing a stern test in hard punching veteran Edison Miranda.  While being out-boxed though the majority of the fight, Green managed to knock Miranda down in the 8th round but was unable to capitalize and ultimately was knocked down twice and almost out in the closing seconds of the final round, suffering his first loss.  Since then he has won 6 straight with 4 of the 6 victories by knockout.
A puncher with decent boxing skills and quick hands, he most presumably falls in with the likes of Carl Froch and Arthur Abraham, both huge punchers in their own right.  He possesses good hand speed and is known for a dangerous left hook and right cross.
Green's best chances of winning are against Froch, Abraham and Kessler who tend to have limited movement.  All three have a knack for coming straight forward, a style that plays well to a puncher like Green allowing him to plant and throw quick, hard shots.  Of the three, he'll need to be most careful with Abraham, for his devastating knockout power and his bull-forward aggression, and Kessler, as Kessler does possess the best boxing ability and can move well if he chooses too.
Green does have a tendency to throw wild hooks and leaps in occasionally when throwing them leaving him off balanced and able to be countered with a right cross.  Against a trio of big right-handers, Green simply cannot afford to make that mistake.
Andre Dirrell and Andre Ward may cause Green the most problems out of the pack.  Both fighters are slick boxers with great movement and the ability to create angles.  Both also have the ability to switch to southpaw and fight comfortably from either stance.  This may pose a problem for Green as he has a tendency to drop his right hand while jabbing leaving himself open to straight lefts.  Green will need to invest to the body early against both guys, and most notably Dirrell, to slow them down so he can head hunt later.  Again, he can't afford to throw wild hooks or drop his right hand when he jabs as both fighters are excellent counter punchers.
Ultimately, Green has a puncher's chance to win which makes him a compelling x-factor and if he can tighten up his technique and box a bit more without getting too excited, he can pose a serious threat to anyone in the tournament.  His first appearance will be against Andre Ward, and we'll get to see first hand how he fares against the current Super Six tournament favorite.