Hasegawa vs. Burgos Fight Preview:
Undefeated Mexican Juan Carlos Burgos travels to Nagoya, Japan to take on national boxing hero Hozumi Hasegawa. Hasegawa was routed in 4 rounds in an attempt to become the #1 guy with a win over Fernando Montiel. Now he resurfaces 7 months later at featherweight to fight for the vacant WBC title against a good young fighter in Burgos.
Saturday, November 26, 2010
Nihon Gaishi Hall in Nagoya, Japan
Vacant WBC Featherweight Championship
Hozumi Hasegawa, 28-3 (12 KOs), Kobe, Japan
Vs.
Juan Carlos Burgos, 25-0 (18 KOs), Tijuana, Mexico
At 22 and 5'8," Burgos is a big featherweight with youth on his side. He turned pro at 16 and has streaked to 25 straight wins, featuring 18 knockouts. But let's face it: fighting Hasegawa in Japan is a whole different ballgame than beating trialhorses at the Doubletree in Ontario, California. Even if he's facing a guy coming off a humbling KO loss who is moving up 2 weight classes, Burgos is completely untested at this level. Actually, there's a few levels beneath this in which he has yet to be tested.
The inexperience of Burgos notwithstanding, it is a bit curious that Hasegawa is leapfrogging two divisions and jumping in there with a young puncher in his first fight. This move up in weight makes you wonder if he was having trouble making 118 toward the end of his reign. It sure didn't seem like it when he bowling one challenger over after the next. Maybe this move up in weight will suit him—after over a decade of fighting at 118.
It is also difficult to make sense of the collapse against Montiel. Hasegawa had been in great form and was expected to perform well in a bout where oddsmakers could not distinguish a clear favorite. For him to lose is one thing, but the way he was vaporized was surely troubling to him as it was for his backers. Then again, Montiel was awesome in his own right. On that particular night, Montiel would have been a handful for a lot of bantamweights throughout history. His assault on Hasegawa with just a few ticks left in the 4th round was breathtaking. Whatever the case, he was all wrong for Hasegawa on that given evening. If we can recall some of what got Hozumi to that point, he's still a heck of a boxing talent.
When you see the skinny on Burgos, everything looks good: he's young and unbeaten. The Tijuana native is no doubt a top prospect. But at 22 and with a slew of largely unimpressive opposition, he still has a lack of sophistication about him. He is a rangy puncher-type, just without much slickness. His hands are heavy, but his punches are not delivered particularly well at times and lack sharpness. Juan Carlos has good timing with his shots, especially with a heavy jab. It's just that he has a certain robotic look that could potentially be exploited by the loosey-goosey southpaw in this fight.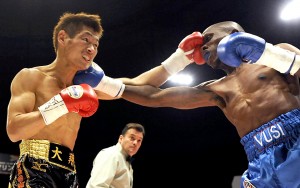 Hasegawa has the better skills. Over the years, his straight left has become a formidable weapon. He is capable of overwhelming foes with his workrate or by slashing them to death with pinpoint power shots. The Montiel loss casts a different light on it, but the fact is that before he fought Montiel, Hasegawa was an improving and dominant titlist who was making quick work of all his challengers. Now, one has to wonder if those challengers were that good in light of his collapse against Montiel. A win against a young, undefeated, and hard-hitting challenger at a new weight will go a long way towards re-establishing Hasegawa's credibility.
In order to win, Burgos will have to catch a slick Hasegawa at the end of his long punches. Young powerpunching types like Burgos can be troubled by shifty sorts like Hasegawa. Unable to set properly to launch an attack, Burgos could find himself a piece of lumber being fed into a wood-chipper. Hasegawa will be able to easily move around the more wooden Burgos. The classy southpaw should be able to make Burgos miss and respond with quick combinations.
Hasegawa has never fought in the city of Nagoya, but he is a humble and endearing champion who is well-embraced by the entire Japanese boxing public and he should find robust support in this bout. This should help him, though the homefield advantage didn't aid him against Montiel. But Fernando is a seasoned champion with over a decade of world-class experience under his belt. Burgos, conversely, is traveling halfway around the world to face his first championship-caliber opponent. His work will be cut out for him.
Hasegawa vs. Burgos Questions
With his best win being over 38-7-1 fringe contender Ricardo Castillo, will the combination of Hasegawa's skills and the faraway location rattle Burgos and take him out of the fight?
At 22, can the rangy puncher Burgos break the mold and start looking more like a young Alexis Arguello instead of a young version of current lightweight contender John Molina?
Has Hasegawa suffered the misfortune that befalls many distinguished lighter-weight standouts by growing old right when people start paying attention? Closing in on 30, is his best work in the rearview mirror?
After a career of fighting bantamweights, will Hasegawa be bothered by the sheer size and strength of Burgos? Will the physical advantages of Burgos help bridge the gulf in talent? Is fighting a big, rangy, and heavy-handed fighter the best course of action for a guy moving up 2 weight classes and coming off a brutal KO loss?
Hasegawa looked darned good when he was flying high during his string of knockout defenses. Will the loss to Montiel give way to a less confident fighter?
Hasegawa vs. Burgos Prediction:
This is an interesting fight with a slew of unpredictable variables at play. Hasegawa is infinitely more skilled, experienced, and fighting with what seems to a huge homefield advantage. Can Burgos take those factors off the table and let his size and power surface? I like the kid. He's a gutsy brawler who makes for exciting fights. I just think at this point in his career, he lacks that fine edge that would warrant picking him over a supreme lefty like Hasegawa.
Hasegawa will be cautious and frustrate Burgos with his mobility and rapid responses. In the second-half of the fight, Hasegawa will put dents in the resolve of Burgos, as he digs in with more authority. Burgos will do well to make it to the final bell. Hasegawa will win about 10 rounds and cruise to a unanimous decision win.
Prediction: Hozumi Hasegawa by unanimous decision.