-Andre Dirrell Withdraws from Super Six Tournament Due to Injury-
In another crushing blow to the already fading potential of the Super Six tournament, Andre Dirrell has withdrawn from the field, canceling his pending bout against Andre Ward in the process. The withdrawal was announced by Ken Hershman, Executive VP of Showtime Sports, and it comes due to an at this time undisclosed injury. Dirrell and Ward are good friends and former Olympic teammates, and many had long been pondering not only how the two would fare in a contest against one another, but also whether or not they would be up to the task.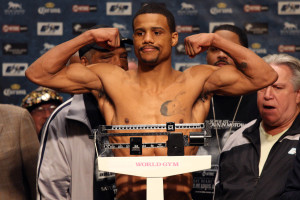 Dirrell's absence from the Super Six field means three of the original six fighters are no longer participating. Jermain Taylor withdrew after his knockout loss to Arthur Abraham, and original tournament favorite Mikkel Kessler recently withdrew with an eye injury. Instead of a Super Middleweight Super Six, the tournament is quickly becoming more like the Open Weight so-so six, taking on any viable names they can find to keep from going under completely.
Taylor was replaced by Allan Green, who got taken to the shed by Ward, and now Kessler has been replaced by Glen Johnson, who at 41 years of age hasn't fought at super middleweight in about a decade. Dirrell's replacement is not yet known, although apparently Ward will still fight on November 27th. The bout however may be outside of the Super Six format, since Ward is assured a spot in the semifinals regardless of the outcome. Still, we have an all-replacement bout between Green and Johnson coming up, and now there's a third fighter missing.
Even before Dirrell pulled out, 47% of fans on ProBoxing-Fans.com thought that the tournament should have moved straight to the semis, and 32% thought the tournament should have been blown up or scrapped altogether, leaving a very small percentage of individuals who wanted Johnson to come in and face Green and have it count. With Dirrell's withdrawal, the number of people who think the tournament should be scrapped, or even move straight into a finals featuring Ward vs. the winner of Froch vs. Abraham will surely be higher now.
UPDATE: It's now known that Direll's injury is a neurological problem he has been experiencing, stemming from the illegal blow he took to the head in his bout against Arthur Abraham. Not only is Dirrell out of the Ward fight and out of the Super Six, but his career is apparently in jeopardy. He has been having post-concussion symptoms ranging from dizziness and headaches, something that players in the NFL have been receiving a lot of attention for recently. Stay tuned for more updates regarding Andre Dirrell and the fate of the Super Six.
Until more is known about Dirrell's injury, many people will be questioning its legitimacy, and whether the truth is that the two didn't want to meet, particularly when Dirrell has already suffered his first loss, and the tournament has lost much of its original luster. Regardless, this once again exposes the problems of the Super Six tournament idea, which while unique and compelling, simply takes too much time, and has too much uncertainty and unknown elements to be completed successfully.