Povetkin Training with Teddy Atlas Prior to Bout with Javier Mora
WBO Cruiserweight Champion Marco "Captain" Huck, American challenger Adam Richards, IBF mandatory challenger Alexander Povetkin as well as cruiserweight hopeful Alexander Frenkel and IBF Intercontinental Cruiserweight Champion Yoan Pablo Hernandez all participated in a public work-out today in Berlin´s famous Axel-Springer-Passage. All fighters will be in action on Saturday night when Captain Huck makes a second defence of his WBO title.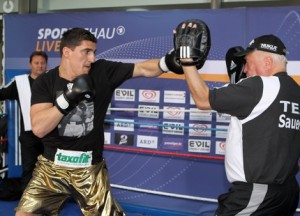 His opponent presented himself in strong shape
on Tuesday afternoon despite a horror trip from Houston, which had left him stranded in Amsterdam after missing his connecting flight. After a long wait, Richards (23-2, 15 KOs) made it to Berlin and eventually to his downtown hotel on late Monday night. "Everything is fine now," he said. "It was a long journey but I am here and that is all that matters. I will be ready for Huck. It will be an exciting fight with two bulls
going forward all the time."
Captain Huck (27-1, 20 KOs) proved his punching power and explosiveness when working the pads with coach Ulli Wegner. "This is the first time I will be defending my belt in Berlin," he said. "I really want to impress my fans and put on a good show. Richards is a tough opponent, but he has never been inside the ring with someone like me. He will not leave the country with my belt!"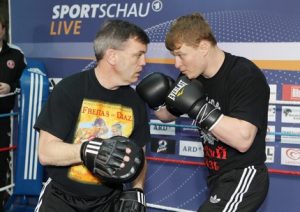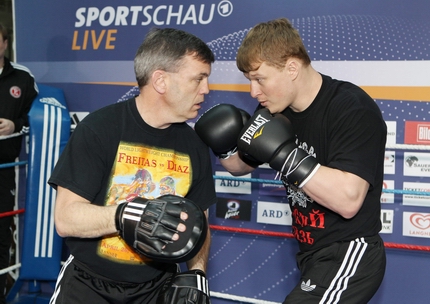 Also in action will be up-and-coming heavyweight star Alexander Povetkin (18-0, 13 KOs). The 2004 Olympic gold medal winner will make his second fight under the guidance of star coach Teddy Atlas, taking on Javier Mora (22-5, 18 KOs). Today the duo gave the crowd a look at their training routine during the public session. "It is great to work with Teddy Atlas," Povetkin said.
"He is a great coach and I keep learning new things every day. I need to stay in shape for Klitschko so I want to put on a convincing performance on Saturday. It is great to be fighting in Berlin again. This is where I defeated Eddie Chambers to become the IBF´s mandatory challenger so I am keen to continue where I left it."