The Career and Life of Archie Moore
There is some question as to just when, exactly, the man who would come to be known as "The Old Mongoose" was born. Archibald Lee Wright, better known to us as Archie Moore, said his birthdate was December 13, 1916. However, his mother claims it was really 1913, and it is hard to argue with a man's mother about something like that. The mother and son cannot even agree on where Moore was born. He says it was in Collinsville, Illinois, whereas she says it was in Benoit, Mississippi. It should be noted that Moore's parents separated early, and he was raised by his aunt and uncle in St. Louis. The one thing there is no doubt about is that Archie Moore began his long, storied professional boxing career in September 1935, by knocking out Billy Sims in Poplar Bluff, Mississippi.
Moore had the kind of start in boxing that was typical of fighters in the 1930s, but would strike a modern boxer as the road to ruin. Two years into the fight game, he lost to a 1-2 guy named Bill Adams. Less than a year later he would be matched with a 106-28-5 middleweight contender named Johnny Romero, and drop a points decision. It was the mixed record of a man who was learning his craft by doing it, with on-the-job training in the ring. Boxing worked that way back then, undefeated fighters were rare, and there were plenty of dangerous characters with double-digit loss records. Archie Moore boxed all over the United States, and even traveled to Australia and Argentina in search of prize fights.
Still a middleweight, the beginning of Moore's days as a top boxer began in 1942, when he bounced back from debilitating stomach ulcers and knocked out Shorty Hogue in 2 Rounds. Hogue was 54-10-2, and three of those wins were past victories over Moore. He spent the rest of the war years jousting with ranked middleweight contenders and coming away with some wins and some losses. He won three out of four against Jack Chase (in a series that saw him win and then lose the California State Title), but went 0-1-1 with Ed Booker, dropped a points loss to Charles Burley, and was knocked out by Jimmy Bivins.
With the war over, Archie Moore moved up to light heavyweight and went 1-1 with Hall of Famer Holman Williams in late 1945. Archie Moore was, according to his statistics, 29 years old and on the cusp of a run to greatness, albeit not without a number of hiccups along the way.
Light Heavyweight Contender
Archie Moore spent several years as a light heavyweight contender, frozen out of the title picture first by Gus Lesnevich between 1946 and 1949, and then by Freddie Mills until the end of 1952. Along the way he fought just about anybody in the light heavyweight ranks worth talking about, and in almost all instances he fought them multiple times.
Of all of these boxers, the only one who had Archie Moore's number was the Cincinnati Cobra, Ezzard Charles. The two all-time greats met for the first time in May 1946. Charles dropped Moore with a vicious left uppercut to the body in the 8th en route to a big points win. The Cobra and the Mongoose had their rematch a year later, and the Mongoose once again dropped a points loss. In the most dramatic moment of the fight, Charles almost cut Moore in half with a left hook to the body, but Moore was able to recover enough to hold off Charles and keep the loss down to a Majority Decision (Moore held one scorecard to a Draw). 1948 saw the Mongoose engage the Cobra for a third and final time, a barn-burner of a boxing match that saw Moore stagger Charles with a left hook, and Charles rebound to stop Moore with a left hook-right cross combo. By 1949 Ezzard Charles had tired of waiting for a light heavyweight title shot that never came, and moved up to heavyweight instead. Ironically, it was among the big men that Charles finally won the world title, but in moving up a division he cleared the path for Archie Moore.
Another major rivalry during this period was with Harold Johnson. Archie Moore fought an undefeated Johnson for the first time in April 1949 and beat him by a wide margin. After an interval that saw Moore fight on the road in South America, the two met for a rematch in September 1951. By that time, Johnson was the only viable contender left for Moore to fight. Moore beat Johnson, but not by much. Lacking better opponents, they fought again in December and this time Harold Johnson scored his one victory over Moore. Moore vs. Johnson IV took place six weeks later, and Moore boxed with a vengeance to score a big points win.
Continuing his rivalry with Jack Chase, Moore fought him for a fifth time in 1946 and produced a Draw. The two men met again early in 1947, for the sixth and final time. Moore was put down in the 3rd, but rallied to knockout Chase with a right uppercut in the 9th. Moore also continued his series with former middleweight Jimmy Bivins, meeting him in 1946, 1947, 1948 and 1951, producing four wins with three coming by way of knockout. He also knocked out Bob Satterfield and "Oakland" Billy Smith, while the Alabama Kid got stopped twice in fights with Moore.
However, not everything went well for Archie Moore during this period as a frustrated contender. At one point, Moore won the California State Light Heavyweight Title. He then promptly lost it in June 1948 in a 1st Round knockout at the hands of Leonard Morrow. Later that same year he dropped two points losses to Henry Hall and Lloyd Gibson. The run of bad showings are a good sign of what can happen when even a great fighter loses his focus. Moore later got his revenge on Moore and Henry Hall in rematches.
Having run out of legitimate light heavyweight targets while campaigning for a shot at the title, Moore started picking off the big men of the heavyweight ranks. In 1952, he beat three ranked heavyweights: Jimmy Slade, Clarence Henry, and Bob Dunlap.
The Turn Finally Comes
Following the end of his series with Johnson, Archie Moore won a string of fights leading to a December 1952 showdown with the new light heavyweight king, Joey Maxim, who unlike his predecessors was willing to tussle with The Old Mongoose. It took some doing thought. Maxim wanted to duck Moore as well, but Moore promoted a showdown by starting a letter-writing campaign. Even so, it took the promise of a $100,000 guarantee (a lot of money in 1952) to arrange Moore's title challenge. Moore only made $800 for the fight, but he finally had his shot at the world title, and he made it count. Consistently finding the mark with his straight right, the Mongoose beat Joey Maxim by a large margin, Archie Moore won the World Light Heavyweight Title. He was 36 years old with a record of 132-19-9, a place where most boxers would have already been retired.
Archie Moore fought several times in 1953, but his first notable fight was a non-title bout against Nino Valdes, a heavyweight contender from Cuba. Outweighed by almost 30 pounds, the Mongoose outboxed Valdes to win a unanimous decision. Moore then met Joey Maxim in a rematch in June, and narrowly edged him on the scorecards to retain the title. He then closed out the year by traveling to Argentina again, winning twice there, including a bout against the then-undefeated Uruguayan fringe contender Dogomar Martinez.
In June 1954, The Old Mongoose fought Joey Maxim again, knocked him down in the 8th and 11th and won a clean points victory. It was their third and last encounter. Later that same year, he defended the title against Harold Johnson, fighting this rival for the fifth time. In many ways, it was their best match. Johnson was boxing well and leading on points going into the final rounds, when Moore scored with a pair of hard rights to the head in the 14th. The follow up resulted in a TKO victory for Moore. It was the last time the two men would meet in the ring. Johnson would scoop up the World Light Heavyweight Title in 1961 and keep it for two years.
Heavyweight Contender
Archie Moore was by now angling for a showdown with World Heavyweight Champion Rocky Marciano, but in 1954 Marciano had kept a full dance card with Moore's old rival Ezzard Charles. While waiting on Marciano, Moore fought and won a rematch with Nino Valdes in May 1955, and then defended his title by 3rd Round knockout against reigning World Middleweight Champion Bobo Olson in June. The win over Valdes moved Moore up to become the #1 contender for the heavyweight title, and combined with the letter-writing campaign and the constant calls for a fight by Moore, Marciano could no longer deny the Old Mongoose his shot at a second world title. By the time Moore got the 48-0 heavyweight champion into the ring, he was almost 40 years old. He managed a flash knockdown of Marciano in the 2nd, but the savage attack of the Brockton Blockbuster put Moore down a staggering five times and out in the 9th. When the referee came over to Moore's troubled corner to ask if he wanted the fight stopped, Moore famously replied "The only way to go out in a championship fight is on your back." He courageously got up and did exactly that.
Archie Moore continued to box, keeping one foot in the heavyweight rankings with the odd fight against a big guy, and the other on his light heavyweight title. In 1956, he went to London and defended against Yolande Pompey of Trinidad, and stopped him in 10. In the meantime Rocky Marciano had retired undefeated, leaving a vacant crown. A fight was set up between rising, 21 year old Floyd Patterson and 40 year old Archie Moore for the heavyweight title. Patterson was losing on the scorecards, but won the fight with his power in a 5th Round knockout.
Undeterred, in good health and still the World Light Heavyweight Champion, Archie Moore boxed on. In 1957 he defended his crown and kept it by knockout once again, stopping the highly-ranked Tony Anthony in 7 Rounds. The next year came his gritty defense against Canadian Yvon Durelle. Durelle's hard punching knocked Moore down three times in the 1st Round, and then again for a fourth time in the 4th. Battered and struggling behind a seemingly insurmountable points deficit, Moore showed the same heart that sent him out to meet the fury of Marciano. He hung on doggedly, and when Durelle started to tire Moore came on, dropping Durelle four times and stopping him in the 11th. Moore cemented his standing as the champ by destroying Durelle in an August 1959 rematch.
Moore kept on switching back and forth between 175 lbs and the heavyweight ranks, including a 1961 knockout of heavyweight Olympic Gold Medalist Pete Rademacher. 1961 marked the year that Moore officially vacated the light heavyweight championship, and although he has never admitted as much, it probably was due to Moore's inability to make the 175 lbs. limit. When Moore fought future light heavyweight champion Willie Pastrano in 1962, he weighed in at 200 lbs. The outcome of that fight was a Draw, showing that Moore was losing a step or two.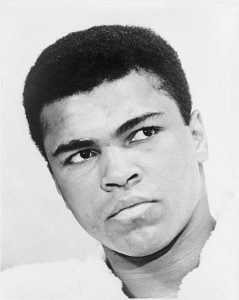 The truth is that for some time had been simply unable to fight every minute of any round, let alone every round. To win fights, he need to fight in spurts and husband his energy. In this way he was much like today's Bernard Hopkins. His arsenal of boxing tools was so formidable that he was usually able to blunt efforts by other boxers to exploit this vulnerability. Then in November 1962 came Cassius Clay. In his 15th pro fight, the soon-to-be Muhammad Ali demolished the Old Mongoose in 4 Rounds. Interestingly, Moore had been an early trainer of Clay's, but had left due to Clay's refusal to do chores around the gym.
Moore closed his career with a 1963 win over professional wrestler Mike DiBiase (adoptive father of Ted DiBiase of WWF fame).
Retirement
After hanging up the gloves, Archie Moore remained involved in the top tiers of boxing as a trainer, where his mastery of ring craft was highly valued. At one point he was co-trainer for George Foreman, and at another he trained the Nigerian Boxing Team for the 1976 Olympics. He also had something of an acting career, appearing as Jim in the 1960 rendition of The Adventures of Huckleberry Finn, as well as in other films and on television programs. Moore was married five times, with his final and lasting wife being Joan Hardy, the sister-in-law of Sidney Poitier. He passed away due to heart failure in 1988.
Legacy
Archie Moore ran up a record of 185-23-11 with 131 KOs. He is a Hall of Famer, ranked as the #5 light heavyweight of all-time by Herb Goldman and Light Heavyweight Fighter of the Century by the Associated Press. He is one of the very few boxers to have competed in four different decades, and is believed to be the only one to have fought in the eras of Joe Louis, Rocky Marciano and Muhammad Ali. He is also believed to have achieved more knockouts in the course of his long career than any other fighter in history. Moore is also the oldest man to ever win the World Light Heavyweight Title, and held onto that title for seven years.