On April 2, Marco "Captain" Huck (31-1, 23 KOs) will return to the place where he celebrated the biggest success of his career. The 26-year-old will defend his WBO Cruiserweight Title at the Gerry Weber Stadium in Halle, Germany, taking on former WBC champion Giacobbe Fragomeni (27-3-1, 11 KOs). Back in August 2009, Huck wore down then-champion Victor Emilio Ramirez to clinch the WBO title. "I look forward to returning to Halle," said Huck. "I have very special memories of the Gerry Weber Stadium. I will never forget the day I became world champion. The crowd was fantastic and I will put on another spectacular show on April 2."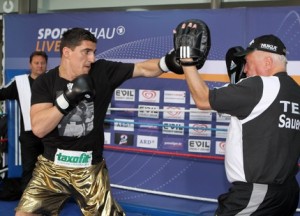 It will be a special homecoming for Huck, who now resides in Berlin but grew up in Bielefeld, just ten miles away from the venue. "I have a lot of fans in my old home city and I will make them happy," he stated. Huck has already defended his title five times.
His coach Ulli Wegner expects another tough test. "Fragomeni is always on the front foot and makes a lot of pressure," the eight-time German-coach-of-the-year said. "He will not give Marco a moment to rest. Once again, it will be a hard challenge but I am confident that Marco will leave the ring as the winner."
One of the busiest champions in sports, Huck will keep the ball moving yet again with this title defense. Still, with Steve Cunningham just having gotten his mandatory defense out of the way, it would have been nice to see a Huck vs. Cunningham showdown for perhaps late spring or early summer. That, if it's in the works, will now have to wait until later in the year.