Tony Bellew's stoppage of Ovill McKenzie last December was one of the best British fights of 2010. Defending his Commonwealth Light Heavyweight title, the big puncher from Liverpool picked himself up from 2 early knockdowns to turn the fight around and stop his man in the ninth round.
With the pair set to clash again, this time with the vacant British Light Heavyweight title also on the line, I caught up with 'Bomber' and found him in a focused mood. This time around there are no bold predictions or trash talk, just a grim determination to get back in the ring and fulfill a lifelong ambition by claiming the British title.
Interview first published on LiveFight.com
Bellew recently shocked many British boxing observers by leaving his Manchester based trainer Anthony Farnell and returning to the Rotunda boxing club in Liverpool, his base when campaigning successfully as an amateur. The pair parted on good terms and Bellew insists the move is a personal decision based around wanting to spend more time with his family.  The McKenzie bout was the second successive fight in which Bellew has been dropped. The unheralded Bob Ajisafe also scored a knockdown in the 4th round of their clash before losing a unanimous decision. The Commonwealth champion is keen to get away from these give and take brawls and is certain his new training regime will help him achieve this.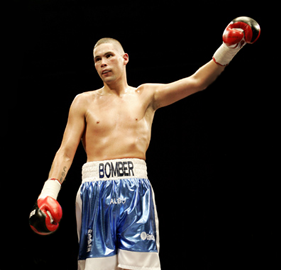 "Training has gone fantastic. Everything's gone to plan and now I'm just looking forward to February 19th. I'm gonna go back to what won me my ABA titles and boxing was the main bulk of that. I'm going back to boxing, using my skills and no getting involved in so many fights. It's good for the neutrals to watch and good for the fans but not too good to be involved in. I've gotta get back to the boxing definitely".
Having just returned from a training camp in Lanzarote, the hard work is done and Bellew is entering the final stages of his preparations for the fight on February 19th.
"Training out there was hard. It was hard work but the training was good. Mountain running and hill runs… it was hard to say the least but it's in the bank now and I'll able to call on that at a later time. The sparring was good and I'm looking forward to moving on now. I can't wait".
Prior to his fight with Ajisafe, Bellew was being touted as one of British boxing's brightest hopes. The lackluster display that night and the up and down nature of his victory over McKenzie have caused some to question Bellew's ability to take a punch and wonder just how far he is capable of going. The Scouser is a confident fighter and rather than worry about things, he would rather try to take positives from the situation.  "To be perfectly honest, in boxing if you get hit on the chin you go down. I don't really count the Ajisafe fight as a knockdown but the knockdowns against Ovill McKenzie were genuine ones" he says. "The first one caught me around the side of the head and the second one, to be honest, I didn't even see it. The Ajisafe one was more of a balance issue and I wasn't really too bothered by it, I stumbled backwards and tried to keep my balance but after suffering the knockdowns against McKenzie, I'm not really counting that one! But it's another string to my bow. A lot of punchers can't really absorb a punch but I've proven I can take a hell of a shot and that I can give and take. "
We are in a time when a single defeat can have a massive impact on a fighter's career. After surviving an up and down battle such as the McKenzie fight, many current boxers would have breathed a sigh of relief, put the fight to the back of their mind and quickly moved on to the next challenge. Bellew see's things differently. He views a rematch as the ideal opportunity to prove he is better than he showed in the first fight. So keen is he to demonstrate this that he actually chose to face McKenzie again.
"I had a list put to me with 4 or 5 names on it and the board had to approve a few of those but as soon as I saw McKenzie's name on the list I said "get me him". I asked for Danny McIntosh ideally but he had the European title fight coming up and to be totally honest I don't think he wanted to know anyway. We'll see what we can do with McIntosh soon but I think he has other things on the radar now. He did fantastic (in his recent European title victory over Thierry Karl) and should be really proud of himself and that's a fight for down the road. I've gotta get past McKenzie".
Bellew got caught in a storm in the early rounds of the first meeting and it is something he is keen to avoid when the pair clash again. The 28 year old insists McKenzie bought few surprises to the table and the troubles he encountered we're all of his own making.
"I knew he was gonna come out like a lunatic in the first 3 rounds but one thing about me is that I get stronger as the fight goes on. I started slow and that's something I've gotta get out of. It's a bad habit to start fights slowly," he said. "I knew what he was gonna do and was I dominating the first round, then he caught me round the side of the head. We were in close, I came out with my left hand low and in this game, if you have your lead hand low these things are gonna happen. But you live and learn" he says. "Nothing's gonna surprise me and I'm prepared for every outcome possible. I've learned my lesson and hopefully you'll see a different man on the night".
A quicker start isn't the only change Bellew is planning ahead of the rematch. Returning to the scene of his amateur success seems to have reignited his enthusiasm for the technical side of the sport and while the 'Bomber' aspect of his game will always be there, he hopes it will now be complimented by a crisper boxing style. He is planning on unveiling the changes to his game against McKenzie and has been working on a host of things in the gym.
"I've been working on all different things really. My jab. My defense. I think my jab won me the last fight, after the third round my jab was dominant in the fight. There are so many different things to work on. You can never say you know it all in this game. All trainers bring different things to the table and I'm a student of the game and learning all the time. I'm just gonna keep working on things in the gym and I'm sure it'll pay off on fight night. At the moment, It's all about the boxing again. I'm back to basics and learning again which I'm really happy about.  I'm looking for the same kind of result but with fewer dramas. Hopefully it'll be a better boxing display too. I want a nice clean classy display of boxing."
When an undefeated fighter begins to taste the canvas it causes fans and critics to search for possible reasons. Bellew insists the knockdowns have been purely down to technical issues and is quick to dispel any claims he has been weakened by boiling his huge frame down to the 175lb weight limit. In fact he is confident he is now fully on top of the weight issue.
"I'm 12 stone 10 right now (10 days before the fight) so my weights really good. If I'd done the weight wrongly it'd be an issue but I've learnt as I've gone along in the professional game about doing the weight. It's been hard but I think I've finally got the grasp of it now and know how to do it well. It's all coming together and weights not an issue for now. I see myself moving up eventually but for now I'm looking at cementing a reasonable type of legacy at domestic level at light heavyweight and see where it takes me from there."
"I'm 6ft 3 and I've got the frame to go up to cruiserweight without a doubt. My conditioner's begging me to go up in weight and he says the possibilities are endless with what I could do with my body at cruiserweight but I'll focus on what I'm doing right now. I'm strong at this weight and it's proven that I carry my power late in fights."
Bellew has long stated his desire to be crowned British champion and as the opportunity draws near he allowed himself to think about just what it would mean to fulfil his dream and hold the famous belt aloft and what the future may hold.
"It's gonna be a dream come true. I don't want to look any further than getting that Lonsdale belt. I'd love to defend it a few times and win it outright, I don't know if that'll be possible but it's a dream of mine and  something I'll really be pushing for.  I'd love to win it and give it to my kids and pass it through my family. I'd like to defend my title 2 or 3 times and then move on to the next level. Really clean up domestically and then move up".
"I don't wanna call any names now, I just wanna concentrate on McKenzie but you've got the likes of Nathan Cleverly who's doing a fantastic job with what he's doing, McIntosh who just had a fantastic win in France, my mate Tony Dodson who did great in Prizefighter, Travis Dickinson and an Olympic bronze medallist in Tony Jeffries. There are loads of good names and options there and I'm really happy these guys are doing well. As it goes down the line there are gonna be some good fights there. I'm happy for everyone to do well and I don't want anybody to do badly. If people do well it can only be good for me and the weight division."