Povetkin Still Lined Up to Face Wlad Klitschko Next
Marco "Captain" Huck (28-1, 21 KOs) defended his WBO Cruiserweight Title with a spectacular third-round TKO victory over Adam Richards (23-3, 15 KOs). The 25-year-old German champion started to land his trademark power punches in the second round before dropping his opponent in the third. Huck followed it up with another firework that sent his opponentdown again, prompting the referee to call the one-sided contest off. "I am never pleased with my performance because I can always improve but I am happy that I defended my title in front of my fans in Berlin," Huck said. "I really wanted to put on a good show to please everybody. I am happy with the result."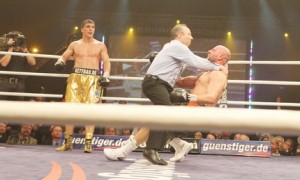 Coach Ulli Wegner lauded his fighters´ explosiveness. "Marco is very strong and very explosive. He punches extremely hard. But he still has to learn a few things. He is just 25 years old he still has a lot of time left. I am very happy with the progress he has made during the last couple of fights."
Manager Wilfried Sauerland also liked what he saw. "If Marco has an opponent in trouble, he is absolutely ruthless and goes for the KO. The fans love his explosiveness and aggressiveness. His fights are very exciting to watch. There are big things coming up for him."
In the co-featured main event, the IBF´s number one Alexander Povetkin (19-0, 14 KOs) clinched his 19th victory in as many fights when he stopped Javier Mora (22-6, 18 KOs) in the fifth round. Povetkin, Wladimir Klitschko´s mandatory challenger, dumped his opponent in the first with a huge left hook before following it up with hard shots to body and head. He knocked his opponent down again in the second and continued the punishment throughout the entire fight.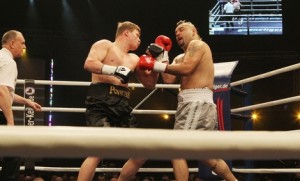 The brave Mora, who proved his great chin, was knocked down again in the fifth following another hard combination, the referee stopped the fight. "It was another good test for me," Povetkin said. "Teddy Atlas has taught me a lot of great things. I could show not all but some of them tonight." Added Atlas: "It was good that the fight was not over in the first round after the knock-down because for Alexander it is very important to be inside the ring a lot. Experience is key for him. There are still some things to improve but he showed a lot of good things tonight." Promoter Kalle Sauerland was also pleased with Povetkin´s performance. "Alexander did very well," he said. "We are now waiting to see what Klitschko does next weekend. We are ready for him."
On the undercard, IBF Intercontinental Cruiserweight Champion Yoan Pablo Hernandez (21-1, 11 KOs) cruised to an uncontested points victory over Cesar David Crenz, while fellow cruiserweight hopeful Alexander Frenkel (22-0, 17 KOs) clinched a unanimous points victory over Michael Simms. Kubrat Pulev (7-0, 5 KOs) notched his seventh victory in as many fights, knocking out Danny Batchelder with a left uppercut in the second round.