WBO president Francisco "Paco" Valcarcel had a special gift for WBO Cruiserweight Champion Marco "Captain" Huck (32-1, 23 KOs) ahead of Saturday´s clash with Argentinian challenger Hugo Hernan Garay (34-5, 18 KOs). At the age of just 26, Huck has already joined the line-up of accomplished WBO Champions such as Oscar de la Hoya, Joe Calzaghe and Wladimir Klitschko, who have all made at least five successful defenses of their WBO belts.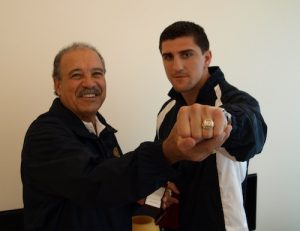 Valcarcel now honored Huck's accomplishments by handing him the prestigious WBO Diamond Ring. "That´s a great honor and makes me very proud," Huck said. "I am thrilled to receive a great present like this at such a young age."
Valcarcel called Huck a "great ambassador for the WBO." He stated: "We are delighted to honor Marco's accomplishments inside the ring. He is a great champion and he deserves to wear the special WBO Diamond Ring. Boxing needs champions like him."
In two weeks Huck will get married. "I hope your wife will not be jealous of your ring," Valcarcel joked when handing Huck the expensive present.  The ring is hand-made of gold, diamonds, rubies and emeralds. The fight against Garay, which takes place in Munich, Germany, will be Huck's seventh title defence.  "My wife will get a beautiful and expensive ring, too, but right now the only ring I am thinking about is the one in the Olympic Arena where I will demolish Garay," Huck stated.