In Honor of Williams-Lara…
The significance of a knockout in boxing usually gets lost in translation. Sure it's entertaining, but a knockout also plays a very important role in the sport. Not only does it showcase dominance, it also keeps you from relying on judges for a victory, a lesson Erislandy Lara recently learned. [The judges for that bout have just been suspended by the NJ commission.] After watching that horrible decision, it reminded me of all the other great boxer's through history that learned this lesson the hard way.
With that said, here is a list of what I think were the 5 of the worst decisions in boxing history. Of course, this list could easily be a top 50 or top 100, and if a dozen people crafted their own lists, they'd probably consist of 5 different matches. Still, these matches stick out to me as being 5 of the worst.
5-)  Oscar de la Hoya UD 12 Felix Sturm, June 5, 2004
While this fight on its own was a complete robbery, many people chose to look the other way due to the de la hoya/Hopkins fight that was looming.  In reality, this was a blatant robbery, where the only reason De la Hoya was given the decision win was so the big money fight vs. Hopkins could be made.  Sturm controlled majority of the fight with his jab and crisp counter punching, while De la Hoya looked slow and out of shape. HBO had the fight 115-113 Sturm, while all 3 judges had it 115-113 De la Hoya.
4-)  Lewis Draw Holyfield, March 13, 1999
The judges declared a draw in this title unification fight between Lennox Lewis and Evander Holyfield. Mayor of New York, Rudy Guliani, who's never afraid to stick his head into the sporting scene declared a travesty.  The decision was heavily criticized as most observers saw a clear winner in Lennox Lewis.  CNN/SI even did a poll on the fight where 91% of the voters saw Lennox Lewis dominate Holyfield. One of the judges of the fight, Larry O'Connell, was quoted after the fight saying he probably made a mistake in casting his vote for Holyfield.

3-)  Jose Luis Ramirez SD 12 Pernell Whitaker, March 12, 1988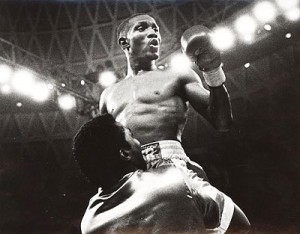 Unfortunately for Pernell "Sweet Pea" Whitaker, he has the distinction of having been on the wrong end of many dubious decisions.  If this list was a top 15 list, he would be listed at least two more times.  While everyone remembers his fights with Julio Cesar Chavez Sr and Oscar de la Hoya, it was his first defeat at the hands of Jose Luis Ramirez that's his most blatant robbery.  While the Chavez Sr.  and De la Hoya fights were close and in reality could have gone either way, this fight wasn't. Whitaker had clearly outboxed Ramirez through the whole fight, with unofficial ringside judges having Pernell winning 118-110.  The scores were even more ridiculous with one judge having seen the fight that everyone else saw, scoring it 117-113 for Whitaker, while the other two had it 116-113 and an absurd 118-113 for Ramirez.
2-) Joe Lois UD 15 Jersey Joe Walcott, December 5, 1947
Even one of the all time greats in Joe Lois benefited from a bad call in his career.  Everything that could have gone wrong for Joe did in this fight, as he was knocked down in rounds one and four.  So sure was Joe Lois that he had lost the decision, that he didn't even want to be in the ring when the scores where announced.  Instead, he was gifted a 15 round decision victory where even one of his close friends had scored the fight in favor of Walcott.
1-)  Alfredo Escalera SD Tyrone Everett, November 30, 1976
In my opinion, this is probably the worst decision in boxing that no one heard, not even the fans that payed to see the fight.  In this WBA super featherweight title fight, Escalera was awarded a split decision victory over Tyrone Everett in what should have been a landslide victory in favor of Everett. To make matters worse, the fight was contested in Philadelphia, Everett's home town.  The decision was so bad, they didn't even announce the scores of the fight until the next day, ostensibly to avoid a riot, leaving the fans in attendance without an official winner for that night.