It has been just a week since London's Anthony Joshua won gold at the 2012 Olympics in his hometown and already he is tipped by many in the business to be England's answer to the heavyweight division. Surely, it would be premature to link him with the Klitschko brothers, but the Finchley boxer clearly has the attributes to become an exciting prospect.
With such a dearth of talent and such a need for rising stars in the heavyweight division, boxing fans are continuously hungry to peg the next big thing. Following Joshua's dramatic win over Italy's Roberto Camarelle in the Olympic Super Heavyweight final, is he making the right move by delaying his professional debut to continue competing in the amateur ranks?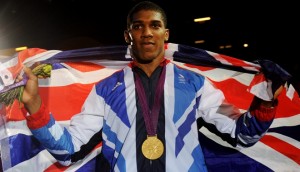 The potential underlying the English circuits was evident throughout the Olympic Games in London, and the super heavyweight gold medalist was thrown into the thick of it all. Astoundingly, it was in just his third year of boxing. Much of Joshua's story is fairy-tale like, only adding to the marketability of the 22 year old.
A U-turn from a life of crime sees him now with the world in his hands. He started boxing when he went to his cousin's gym to get fit. Two years later, he and his cousin won the National ABA Championships in the same year. Of course, Joshua then went one better and amassed Olympic gold just one year later.
Prior to the London Games, the youngster was offered a £50,000 deal (about $75,000) with an unnamed promoter. However, he turned it down and admits he is in no rush. A move that proves the kind of man he is and the honesty he carries into the ring. Of course, he knows there is a much more lucrative future ahead of himself now.
With only 43 amateur bouts to his name, the 6′ 6″ boxer told The Guardian: "I'm contracted to GB until 2013. I'll be an amateur going into next year anyway, whatever happens. Even then, I might stay on and train on for Rio. I'll get more experience. I've only fought 43 bouts as amateur. I want more."
Joshua will no doubt be a massive hit in the pro ranks and his huge physical presence merged with added technical skills are likely to fast-track him onto the top stage. But in the meantime, he looks to punch himself a ticket to the 2016 Rio Olympics.
This goes against what the majority of Olympic boxers do, which is look to make that professional plunge as soon as possible, however, Joshua could use a prolonged amateur card to his advantage. His limited experience will still be a liability at the professional level, despite the gold medal, so he can continue to gain much needed experience in preparation for money making contests.
The portrayal of Joshua's modesty by turning down a professional career for the time being has made him a favorite, and no doubt he will make his money whether it's sooner or later.
However, rather than sticking it out for an entire additional four year Olympic cycle, perhaps he should follow in the footsteps of Amir Khan. The Mail Online reported Amir Khan's advice for the Londoner, "He needs the right people around him, I was in his position when I came back from Athens and stayed amateur for a year. I got more experience behind me and more maturity and that is when I turned pro. He has no rush."
Fighting for another year or two would allow him to develop, without forestalling a professional career for too long and missing out on all of the buzz he generated at the London Olympics. Certainly, I will be waiting with deep anticipation as Joshua seems to have an extremely bright future. He just might be a force to reckon with, but by the time he's a seasoned pro, the Klitschko brothers may already be watching from ringside.