Pacquiao vs. Margarito is set for November 13
With the former pound for pound king Floyd Mayweather, Jr. undecided on whether or not he wants to fight Pacquiao, the Pac Man has turned his attention to Tijuana Tornado Antonio Margarito for the vacant WBC Junior Middleweight title, as Pacquiao will attempt to collect a world title in a record eight weight classes. The venue for this fight will be held in either Las Vegas or Cowboys Stadium in Dallas, TX. The boxing world had their minds set on the mega fight between Floyd and Manny, but we will all have to settle for the consolation prize fight, which has no type of appeal unless you are a Pacquiao fan.  What kind of arsenal will Margarito bring to the table come November 13? Antonio Margarito is just a sexy opponent for Pacquiao because Margarito loves to come straightforward and tries to break the will of his opponents.
Prior to Margarito getting caught with the tampered handwraps before fighting "Sugar" Shane Mosley back in January of last year, Margarito stepped into the ring against then undefeated Puerto Rican star Miguel Cotto in a fight were many believe tampered handwraps played a huge role in Margarito's eleventh round destruction victory, which resulted in the first loss of Cotto's career.  Although I do believe the tampered handwraps was a big reason why Cotto loss the fight, I do feel that Cotto did two things wrong in that fight, which did not help his cause.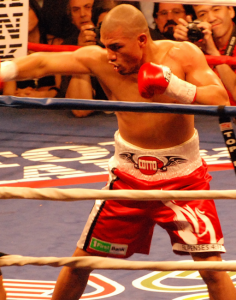 During the Cotto/Margarito fight, Miguel Cotto clearly won the first five or six rounds of the fight with beautiful counter-punching as Margarito was coming inside, but Margarito continued to come forward and catch Cotto with hard shots using those alleged tampered handwraps. For one, Cotto never tied Margarito up once during the fight, and two, every time Cotto threw his counter-shots at Margarito, he never moved his head out of harm's way, thus, leaving him vulnerable to Margarito's destructive hands.
After Margarito's destruction of Cotto, Margarito looked to do the same thing when he faced off against "Sugar" Shane Mosley last January. But in Margarito's dressing room before the fight, "Sugar" Shane Mosley's trainer Nazim Richardson noticed that Margarito's handwraps had a pasty white substance on the wraps, which was considered plaster by one doctor who was in the dressing room during Richardson's accusations.  Margarito's camp was ordered by the California State Inspector to re-wrap Margarito's hands before entering the ring that night against Mosley.
During the Margarito/Mosley fight, Margarito came straightforward in this fight the same way he did against Cotto, but Mosley counter-punched well and he tied Margarito up when they were fighting inside.  Mosley outclassed Margarito in the fight with clean punches and excellent defense, leading up to a ninth round stoppage of Margarito, to capture his WBA Welterweight Title and take away his wrecking-ball persona.
After the Mosley fight, Margarito was suspended by the California State Athletic Commission for the faulty handwraps and was prohibited from fighting in the United States for one year. In Margarito's comeback fight in May of this year, Margarito fought Light Middleweight Roberto Garcia in Mexico.  Margarito knocked Garcia down in the first round of this fight, and Garcia had points taken away from him in round eight and round ten, thus, leading to a unanimous decision victory for Margarito.
Manny Pacquiao's last two fights were a twelve round beat down of Miguel Cotto without loaded handwraps in November of 2009, and a twelve round unanimous decision against Joshua Clottey in May of this year, in a fight were it looked like Pacquiao was fighting by himself. So how will Margarito stack up against the Pac Man in November of this year?
Margarito will have the size, height, reach, weight and strength advantage against Pacquiao in this fight, but because Margarito only knows one way to fight, and that is straightforward, I just feel that his style is tailor-made for Pacquiao's superior aggressive and explosive offensive skills.
In the end, I feel that no other fight for Pacquiao at this point make sense, except for the undecided, confused, and I don't know, greedy Floyd Mayweather, Jr.  Mayweather can say whatever he wants about fighting Manny, but if he wants to be considered an all-time great fighter, Floyd needs to make the fight happen before it's too late. He has lost a lot of boxing fans, including this writer, and Floyd's silence on the Pacquiao situation is not helping. It will not matter if Margarito comes to the ring on November 13, 2010 armed with loaded handwraps or not.   The fact is that Pacquiao will be just too much for the Tijuana Tornado.