Kessler vs. Green Super Six Stage 3 – Bout Canceled With Kessler Eye Injury
The third and final stage of the Super Six Boxing Classic opens on September 25 when Mikkel Kessler defends his newly-won WBC Super Middleweight Title against American contender Allan Green. This is an up-or-out fight for both men, and as a result the outcome vis-a-vis the Super Six tournie far outweighs the green strap of the WBC (much to the chagrin of Jose Sulaiman I'm sure). Kessler is 1-1 with no knockouts in the tournament, and needs a win to advance to the semi-finals. Green inheirited Jermain Taylor's slot and stands at 0-2 in the Super Six, so to have even a prayer of advancing to the next round he must not only beat Kessler, but earn three points by beating the "Viking Warrior" in a knockout victory.

Allan Green (29-2, 20 KOs)
6'2″, 73″ reach, 30 years old
American
Allan "The Ghost Dog" Green has two things going for him: power and toughness. Green is a formidable puncher, and that he can also take a punch was displayed in his fight with the Colombian thug Edison Miranda. Although Green lost that fight, he was able to absorb Miranda's artillery and give back as good as he got. He was thoroughly out-classed by Andre Ward, who befuddled and overwhelmed Green and made doing so look easy to boot. However, it must be said that Andre Ward also made beating Mikkel Kessler look easy, and that Green managed to force the action on the inside at times against the slick, adaptable Ward and ended the fight on his feet despite absorbing serious punishment. Once again, Green can take a punch and give it back in spades, two qualities that only a fool would ever discount.
Mikkel Kessler (43-2, 32 KOs)
6'0 1/2″, 72″ inch reach, 31 years old
Former two-time super middleweight champion, current WBC super middleweight champion
Danish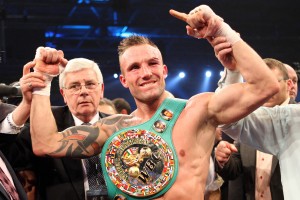 Mikkel "The Viking Warrior" Kessler is arguably the most well-rounded, seasoned middleweight in Europe today. His two losses were at the hands of the great Joe Calzaghe and Andre Ward, a fighter who looks well on his way to becoming an all-time great himself. In the win category, he has beaten a host of contenders and fringe contenders, and in his last outing he defeated Carl Froch to take both Froch's "0" and his WBC belt. Kessler is a strong fighter with good pop and a good chin, but most of all he is a technically sound, well-schooled and seasoned fighter in the linear, stand-up Euro-style of boxing. I have always felt that while that style is a tad robotic, it has a big advantage when it comes to the scorecards. If there is one thing the Continental European style of boxing does well, it is land straight punches that all the judges can easily see. Time and again, that has given Kessler an edge on the scorecards.
Kessler vs. Green Preview
With his superior skills and methodical approach, there is little doubt in my mind that Kessler will be able to establish his jab and box Green from the outside for the most part. Green should be able to find a way inside and make a brawl of it, however. If he could to that to Ward, he can do it to the Viking Warrior. The question then becomes what happens when Green starts landing those bombs?
The answer is not much. Green is a puncher, but so is Carl Froch. Froch hits as hard or harder than Green, and he landed a good amount of blows on Kessler's chin. Kessler was stunned at times, but never seriously hurt. Green will need to put together solid, clean combinations of power punches to put Kessler on the canvas, but he lacks the speed and skill at working the angles to do that. So, Green will come in and produce some fiery exchanges for a few rounds, but Kessler will shut that down with his sheer strength, adjust and start sticking the jab again. Green, who has never shown much of a Plan B, will drop almost every round after that. Add the judge-friendly style of Kessler to the hometown crowd cheering him on, and the result is a foregone conclusion.
Kessler vs. Green Prediction
Mikkel Kessler UD12.