"I'm not better than anyone, I'm just like everyone else. I just love fighting and I love when people enjoy it. And as my favourite fighter says; 'Big drama show and it must go on.'"
Israil Madrimov is as exceptional as he is intriguing. Born and raised in Khiva, Uzbekistan it wasn't the simplest of upbringings, despite a loving family, it was the things that people take for granted that were missing from the lives of the Madrimov's.
"Times were tough and even now remembering how tough it made me sad. We had no running water, no heater or air conditioning. I had to use a communal well and collect wood for the fireplace.
"There was no electricity during rainy and winter times. I remember crying from how cold it was in winter that I couldn't fall asleep. I remember I prayed to God that I'll do anything possible to make things better for my family."
God is now answering those prayers as the Super-Welterweight has made his way into a mandatory position for a World title after only five professional bouts. However, Madrimov is well aware of how his amateur career has put him in good stead for the paid ranks.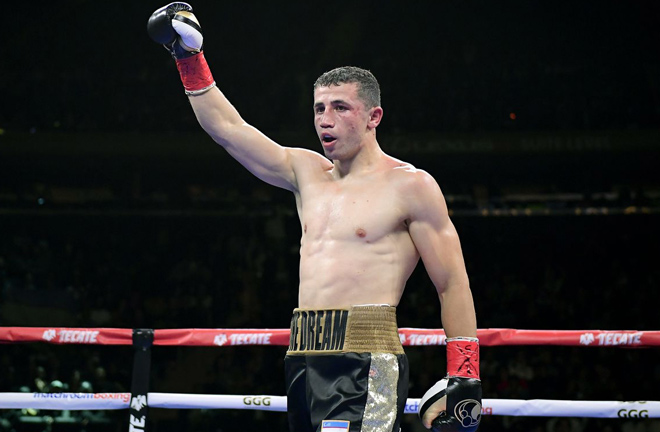 "I only have 5 fights but I was fighting approximately 400 times [for] 15 years and 10 [of those] years on the international high level. I fought all the best fighters all around the world and I beat almost all of them.
"Yes, I had my ups and downs in amateurs, unfortunately, with politics, I couldn't reach my goal in the amateurs but everything happens for a reason. I believe in my skills, my strengths, my mindset, my team and my team believes in me. I have a dream of becoming the undisputed World champion and I'm going to chase it.
"But, I also have to say that I always was more of a pro-style boxer. I think that if you haven't gone to school it will be harder for you to go to University."
Israil would often be found with a football at his feet as a child but it would be his hands that would be his tools. At 10 years old the Uzbek started his journey in boxing. Training twice a day to build his strength to protect himself and his family. It wasn't until he became a champion that he would realise where his future would lie.
"Everything started for me as soon as I won my first tournament and became the champion of my city. I was so happy with my victory I'd seen how happy my parents were. As soon as I did that, the fire inside me, the spark became a fire and I started dreaming about becoming the regional champion and then national champion and then more and more and more."
The 25-year-old WBA number two first appeared on an Eddie Hearn co-promoted show in only his second fight when Madrimov stopped Frank Rojas in the second round back in March '19. Impressed by what he saw, Hearn moved quickly to sign this talent to his Matchroom USA roster making him the co-main event on the Gennadiy Golovkin vs Sergey Derevyanchenko.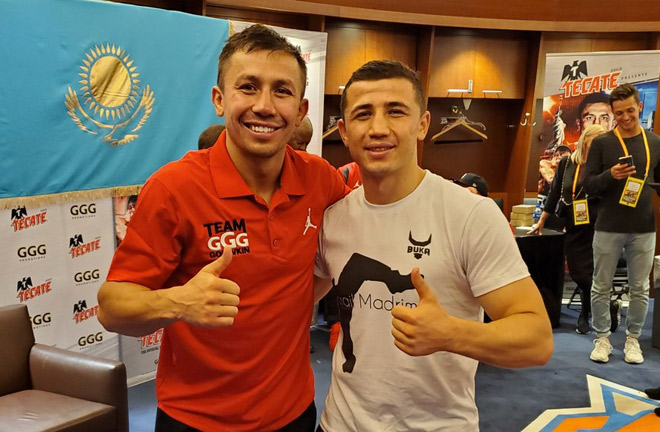 "It is a big pleasure to work with Eddie Hearn and Matchroom. I think that Eddie is a very cool guy. I like him. I'm not capable of telling you about the impact because I'm not a business guy but they have some of the best fighters in the world and I believe that they are the strongest promotional team today."
An undefeated record, a 100% knockout ratio and never experiencing the seventh round the 154lb man has the extreme drive and was taught to never settle and to keep aiming higher.
"My parents and my religion taught me not to be proud of any achievements. So I'm never proud of myself, but I'm happy where I am now. I'm very grateful to my coaches, to my team, to my promoter and especially to boxing fans. It's amazing how they support me.
"I already told them I'm going to give my all every single time I step in the ring. I want them to enjoy me being in the ring and sometimes getting hit, it's okay as long as they enjoy my fights. I'll do my best to grow and to get better and to bring more excitement every time I step in the ring."
In times where we are deprived of boxing and who knows when it will be back to normal. One thing that hasn't changed is the goal for Israil Madrimov, in his own words: "As I always said I have a dream to become a World champion and that's my first goal, only after I achieve my first goal I can think about the rest. Outside boxing I wish everyone [good] health, I want my family to be happy and stay healthy."