Jamel Herring has signed an advisory deal with management powerhouse MTK Global ahead of an expected clash with Carl Frampton.
The WBO Super-Featherweight rubber-stamped the agreement which will see MTK Global work alongside his manager Brian McIntyre, Marketing Director Jerry Casarez, and PR Rep Julie Goldsticker.
Herring, 34, is set to face fellow MTK star, Carl Frampton later this year or in early 2021, after the pair both came through their assignments against Darren Traynor and Jonathan Oquendo respectively.
Herring's bout with Oquendo was stopped after eight rounds with the Puerto Rican challenger disqualified for repeated, intentional headbutts on the champion.
Herring, who served two tours in Iraq as a US marine joins a growing stateside stable at MTK, which also features the recent acquisition of IBF Super-Featherweight titlist Jo Jo Diaz, who penned a management deal last month and unbeaten Super-Middleweight prospect Lorenzo Simpson.
Whilst, WBC Heavyweight champion Tyson Fury remains the standout name and congratulated the 34-year-old on social media.
"I'm very excited about this next step in my career," Herring said.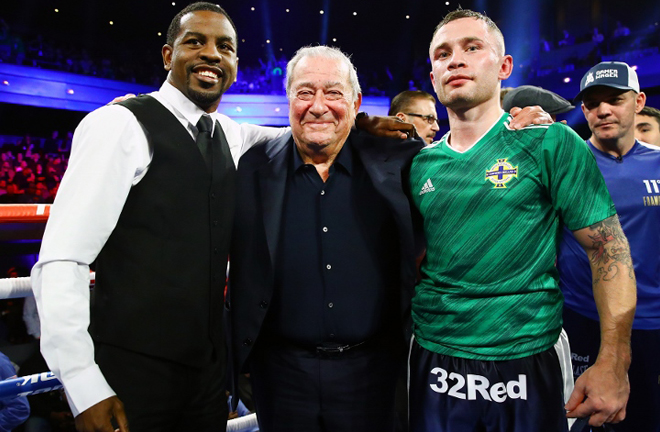 "I know that by adding MTK Global as an advisor along with Brian McIntyre as my manager, I have the strongest team in the game.
"A special shout out to my guy Jerry Casarez and Jamie Conlan of MTK for helping push this over the line.
"The best is yet to come from Jamel Herring and with MTK Global on my team I know I'm going to get the right opportunities."
Myself, and management company (First To Fight) needed some partners, so I went and got a few friends across the pond. Oh, @BomacBrian is still very much in the driver's seat of my career. 👋😄 @MTKGlobal

— Jamel Herring (@JamelHerring) September 12, 2020
Both Herring and former two-weight world champion Carl Frampton are also signed with the same promotional team, Top Rank making a showdown seemingly more simple to make, with January 2021 a reported date.
"We're delighted to welcome Jamel Herring to the team," MTK Global Vice-President Jamie Conlan added.
"It became a top priority for MTK to work with Herring given who he is, his standing in the division, especially with JoJo Diaz now also in the stable, and as soon as we spoke, there were instant synergies and we were able to get the deal over the line right away.
"Great news. Jamel has a tremendous story. Could not ask for a better addition to the MTK team" @MTKGlobal

— TYSON FURY (@Tyson_Fury) September 12, 2020
"This is a fantastic addition to the team and we're proud to have the champ with us.
"This is another step from MTK into the US market and it's an honour to be working with a true champion in Jamel Herring.
"We know how much both Jamel and Carl Frampton are looking to square off with each other and it will be something everyone at MTK is now committed to fulfilling and working so closely with Top Rank, making these fights becomes very, very easy."