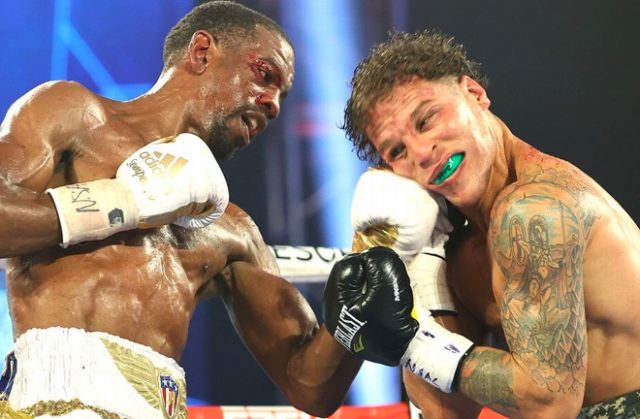 Jamel Herring kept hold of his WBO Super Featherweight title, but at a cost, as he defeated Jonathan Oquendo via disqualification in a scrappy fight inside the MGM Grand Bubble.
The contest had twice previously been shelved due to Herring testing adversely for COVID-19, and it would prove to be third time unlucky for the defending champion. 37 year old Oquendo had made a failed attempt at world honours back in December 2015, out scored by Jesus Cuellar for the WBA Featherweight crown.
Herring slipped on the canvas almost from the opening bell, but it was then down to business. Oquendo had made his way inside in the first round, forcing Herring onto the back foot, which was an early warning sign, but the action was messy at best in the first three minutes. Oquendo continued to bully his way in and made the fight rough for the champion early on as the heads came together.
Herring, when he was allowed to make space for himself, jabbed well, and landed with uppercuts in the second as he boxed to keep the visitor off him. Herring uncorked a perfectly timed left uppercut on the counter in the third that dropped the Puerto Rican for a much needed breakthrough. Oquendo wasn't badly shaken, and returned to his customary come forward assaults. Herring's corner complained about the clashing of heads at the end of the round, and it wasn't long before they got close again.
Oquendo wasn't overly connecting when he barrelled in towards Herring, but he was doing enough to frustrate his opponent, who was forced to fend off the back foot but was boxing well enough. The heads again came together in the fifth, and this time Herring suffered a cut above his right eye, ruled intentional by referee, Tony Weeks who deducted a point for the foul. Oquendo's attacks were certainly energy sapping ones for 'Semper Fi' and the pattern of boxer v brawler continued throughout the contest.
Oquendo walked right into a perfectly timed @JamelHerring uppercut. #HerringOquendo pic.twitter.com/PTzhf4U89N

— ESPN Ringside (@ESPNRingside) September 6, 2020
The head clashes had taken their toll though eventually, and at the end of round eight, Herring complained to his corner that he couldn't see due to the earlier cut to the eye, and, after a lengthy discussion with the referee and the champion's team, Weeks waved the contest off. Herring's eye wasn't shut, and it looked like the lack of vision was only present when blood flowed into it.
Much confusion ensued as to weather a disqualification was needed or the fight would go to the scorecards. The former was implemented after a massive delay and the official result was a disqualification win due to repeated intentional fouls.
It was an unsavoury fight and ending, and the cut causes doubt as to weather a mooted November defence against Carl Frampton can now take place as scheduled.
"We knew coming in that he would be aggressive and head first, but he just kept repeatedly head butting" said Herring to ESPN post fight. "I could have fought with one eye, but my team felt it was just too much. It just got ugly and I wasn't too satisfied with my performance, I'm disappointed with the outcome. Bob (Arum) spoke to me and told me to rest. I still want the Frampton fight next".
Herring has since taken to Social Media to say that the Frampton fight could be his last as he seeks to spend more time with his family. A visit to the hospital was required, where an old broken facial bone was discovered, which caused the problem with his vision.
Heading the undercard was Steven Nelson, and the Omaha, Nebraska native moved to 17-0 with a sixth round stoppage win over DeAndre Ward at Super Middleweight. Nelson was cut twice during the contest, but a stiff left hand in the sixth wobbled Ward, and a controlled follow up assault forced the stoppage.
Heavyweight hope, Jared Anderson, made it six knockouts from as many starts with a fourth round stoppage of Rodney Hernandez. Anderson broke his opponent down, and eventually knocked Hernandez down and out with a big left hand.
Jesse Rodriguez went to 12-0, knocking down Janiel Rivera three times on the way to an opening round win in their Light Flyweight contest.
This angle Bam Rodriguez took to finish off Janiel Rivera in R1 … omg 😳

(Seriously. Savor it.)#HerringOquendo | LIVE NOW on ESPN+ pic.twitter.com/BPwVhE9A3M

— Top Rank Boxing (@trboxing) September 6, 2020
Other Results:
Edward Vazquez UD6 Adan Ochoa
Benjamin Whitaker UD6 D'Andre Smith
Rashiem Jefferson UD4 Jose Martinez