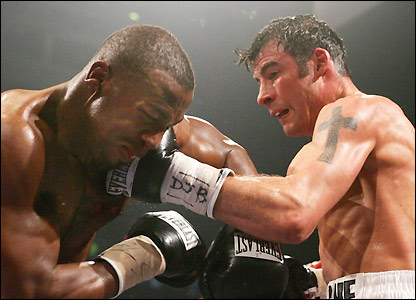 In the latest boxing fantasy fight from ProBoxing-Fans.com, we take a look at two of the best super middleweight fighters in history: James Toney and Joe Calzaghe.
My current labor of love is an alternate history novel, and one thing I've learned in working on my book is that any good alternate history needs to remain within the realm of the plausible. So how can we put James "Light's Out" Toney and Joe "The Italian Dragon" Calzaghe into the same ring together?
The Backstory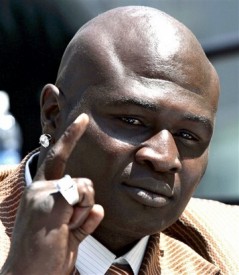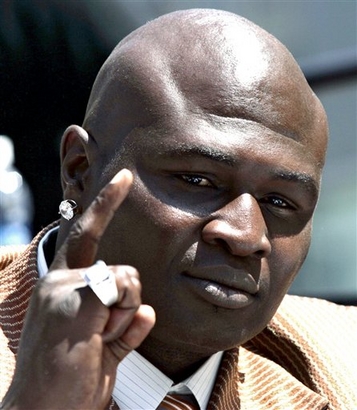 Following his embarrassing defeat to Roy Jones in November 1994, James Toney searched his soul and realized the reason he lost so badly that night was that he let the hunger in his belly overcome his hunger for victory. He was a gym rat, and in particular loved mastering the skills of boxing, but he loved cheeseburgers and pizza just as much. He was only 26 years old, and if he could have laid off the junk food, he should have had no trouble in making the 168 lbs weight limit. Instead, he hit Burger King one time too many, had to struggle his way down, and paid the price for it with a lethargic performance.
Rather than blame everyone in his camp but himself for the loss, Toney announced he was getting back to the basics that made him a feared P4P boxer, and that from that day forward his goal was revenge on Roy Jones. He trimmed down, worked hard, and by summer 1996 had secured a shot at Frankie Liles and the WBA title. Toney defeated Liles handily on points.
With Toney a champion again, boxing circles were abuzz over the possibility of Jones vs. Toney II. The problem was that Jones wasn't interested, and HBO either could not or would not force him to take an interest. Jones soon moved up to light heavyweight. Bitter and frustrated, Toney resumed his old bad habits and was soon struggling to make weight again.
Instead of following Jones to 175 lbs, Jackie Kallen and Toney's other advisers chose to clean out the super middleweight division before resuming the pursuit of a Jones rematch. HBO bankrolled unification bouts with Sugar Boy Malinga and Charles Brewer, and by 1999 Toney was the Undisputed World Champion…. almost.
Joe Calzaghe staked his claim as the heir to British super middleweight boxing's legacy by defeating Chris Eubank for the vacant WBO crown in 1997. By the end of 1999, the Welshman had four title defenses under his belt, including a win over former WBC champ Robin Reid. Fight fans had long wanted to see a showdown between the best of Britain's and America's super middleweights, and Toney's camp were looking for an opponent good enough to get him back on track again. With a win over Calzaghe, they could move up to light heavyweight with the sheer status to shame Jones into giving them that much-desired rematch.
So it was that Toney vs. Calzaghe came into being, scheduled for January 2000 as the first big fight of the new millennium, and over the Undisputed World Super Middleweight Championship.
Toney vs. Calzaghe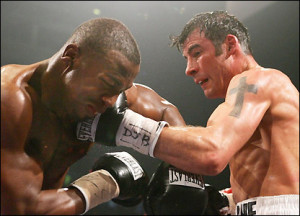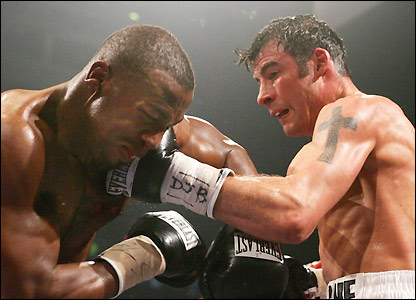 Toney was dismissive of Calzaghe, saying he was a slapper who hadn't fought anybody but an old Eubank and some Euro-cream puffs. Even with six months to prepare, Toney didn't start dropping weight until he began formal training camp, and then he needed to lose two stone (28 lbs). Even so, nobody on Toney's team was worried. Toney hadn't needed to be in top form to beat Malinga or Brewer, so why should they worry about Calzaghe?
From the opening bell, Calzaghe came forward and Toney was content to let him do so. The Welshman pitched quick, sharp combos, which Toney either blocked or oozed away from for the most part. Yet Calzaghe had fast hands, almost as fast as Jones. In every flurry, at least one shot landed cleanly. Toney didn't care, as the shots weren't hard.
Calzage won the first round from a strangely inactive Toney, and looked to be winning the second when Toney at 2:03 unleashed a picture perfect overhand right counter that put Calzaghe on the canvas. Calzaghe was hurt, but only slightly, and managed to survive a savage Toney onslaught to reach the bell.
The next several rounds followed a pattern that was almost as predictable as it was action packed. Calzaghe would come forward throwing punches in bunches, pitching more than twice as much leather as Toney. Toney would do one of two things: use shoulder rolls and parrying to avoid most of the flurry, and then fire off crisp hook-uppercut combos on the inside; or retreat behind his defense to the ropes, slide off and nail Calzaghe on the way out. In each round, Calzaghe landed more punches overall, while Toney landed the more vicious punches.
Sitting in his corner between the 6th and 7th, Calzaghe's father Enzo leveled with him: "Son, you must let the power go. We're behind, and you are going to lose this fight if you don't hurt this guy. Nevermind the hands." If Calzaghe was a slapper, it was solely because he sought to protect his brittle hands from his punching power. Usually he had to chose his moments to let his power go; now he started putting oomph behind every shot.
Twenty seconds into the 7th Round, Toney got a big surprise. "Light's Out" had gotten complacent about protecting his body over the first half of the fight, figuring he could take however many slaps Calzaghe gave to his belly. This time, the Welshman shot through a lightning-fast combination ending with two hard right hooks and a sweeping left uppercut flush to the body. Toney visibly winced and fell back onto the ropes, and this time it was in a true rather than tactical retreat.
The crowd got to its feet roaring as Calzaghe came forward and raked Toney to the head and the body. Toney got back into the fight, but from that point forward his upper body movement was stiff, as Calzaghe had broken two of his ribs.
Toney responded to Calzaghe's renewed aggression by turning puncher, producing the most thrilling exchanges of the fight through Rounds 8 and 9. Toney won Round 8 on the basis of his deadly skills, but the effort was too much for his sub-par conditioning to sustain, and Calzaghe began to overwhelm him and took Round 9. Looking gassed, Toney was forced to take Round 10 and 11 off, and Calzaghe bagged them both.
Toney came back out smoking and looking to put Calzaghe on his ass for the 12th and final round, and landed a hard straight right that sent the "Italian Dragon" reeling, but ultimately ran out of gas again in the final minute. Calzaghe, who sustained a spectacular pace for all 12 Rounds of the fight, closed the show with an almost continuous rain of punches.
The crowd waited nervously for the results of what had become a close fight. The first scorecard was read out as 115-113 for Calzaghe, clearly a judge who liked more punches over harder punches. The second scorecard was read as 114-113 for Toney, as did the final scorecard (which was Lederman's scoring as well).
Joe Calzaghe had lost, but in losing his stock went up enormously in America. Before the end of the year, James Toney would go looking for Roy Jones at 175 lbs, and Calzaghe would be firmly in the super middleweight driver's seat. As for Toney, he finally got his rematch with Roy Jones in 2002, and dropped a wide points loss.