James 'Jazza' Dickens won the featherweight edition of MTK's Golden Contract with a cagey and tense points win over Ryan Walsh in Wakefield.
Cromer's Walsh had got to the final with wins over Hairon Socarras and Tyrone McCullagh, and Dickens had overcome Carlos Ramos and Leigh Wood to reach the showpiece.
Both had their moments early on, but equally both were respectful of each other's capabilities in a pretty even first three rounds. 
The pair upped the ante in the fourth, with Walsh working well and landing with solid counter shots, as well as a couple of well placed body shots, but they were certainly tough to score sessions to that point. 
Dickens was using his movement to try to make angles, not allowing Walsh to set himself, and he landed a right uppercut, and a decent right hand at the end of the fifth. 
Walsh had the lion's share of the sixth, but Dickens landed well and then got out of range in round seven.
Dickens was growing in confidence, and the Liverpudlian put together good combinations in the eighth to keep Walsh at arm's length.
It was though Walsh who needed a strong finish going into the final two frames, and it was still cat and mouse stuff as the fight neared its conclusion. 
The pair finally opened up in the final frame, with Walsh walking Dickens down, while Jazza countered any Walsh mistakes as both men reached the final bell.
It looked as though Dickens was the busier man of the two overall, but it was a nervy wait for the scorecards to be read.
Scores of 98-93, 97-94 and 96-94 saw Dickens crowned Golden Contract winner, as well as retaining his WBO European Featherweight title in the process.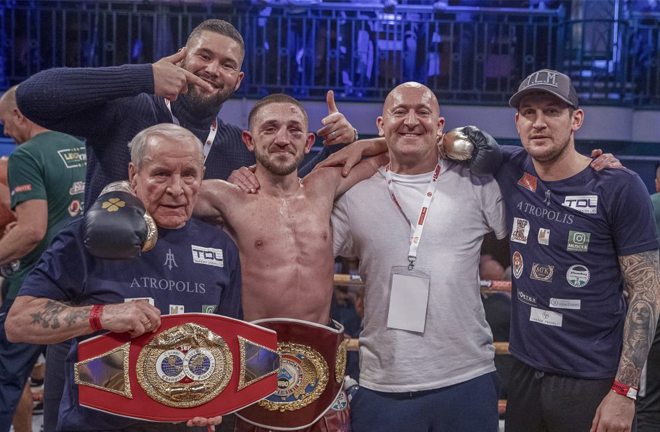 The other tournament final on the bill went the way of Ricards Bolotniks, and he impressively dismantled Serge Michel, forcing a stoppage in the dying seconds of the tenth and final round. Bolotniks also retained his WBO European Light Heavyweight title.
Bolotniks had seen off Steven Ward and Hosea Burton to reach the final, while Michel had defeated Tommy Philbin and Liam Conroy.
Michel boxed well in the opener, with both men understandably cagey. Bolotniks was trying to stalk Michel and inch his way into range. 
The Latvian landed with a meaty left hook in the third, and the action was starting to warm up, with Bolotniks cranking up the pressure. This continued into the fourth, as Bolotniks hurt Michel to the body and then unloaded with several punches, but Michel rallied back to his credit as he ended the session strongly. 
Michel was hurt again to the body at the start of the fifth, and Bolotniks drilled his man with a massive right hand, and with only the ropes holding him up, referee Michael Alexander scored a knockdown. 
Yet again the Russian came back, fighting with tremendous heart as he came back into things.
Bolotniks was constantly pinning Michel to the ropes and was winging in hurtful punches when he got there, allowing him to control the fight, and by the eighth, Michel was resigned to having to box and move to get out of the way of Bolotnik's attacks. 
Michel stayed mobile in round nine, but was nailed by an overhand right that he did well to not go down from as a follow up to the body also hurt him.
Michel again elected to run around the ring in order to make the final bell in the last round, but Bolotniks was very good at cutting of the space throughout, and continued to stalk. 
With a minute remaining, Michel was exhausted, and he was pinned in the corner once again with blows raining in, and he finally dropped to a knee. He bravely rose, but his father and trainer had the towel in his hand, and the fight was stopped with seconds remaining.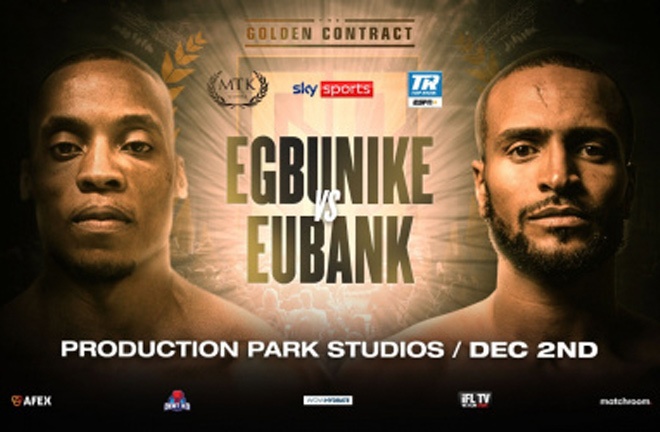 Harlem Eubank won the English title eliminator at super lightweight, as he took a deserved points win against Daniel Egbunike. 
Eubank controlled the pace with his constant movement in the opening half of the fight as Egbunike struggled to get into range. Egbunike did show a lot more urgency and ambition in the second half, but Eubank remained a step ahead, and the fight was played out mainly on his terms, which frustrated Egbunike greatly. 
A 97-94 verdict from Phil Edwards reflected a good nights' work for Eubank.
Adam Azim made a successful professional debut, winning every round of six against Ed Harrison at lightweight. Azim boxed well, switch hitting at will, and eased to a 60-54 win for Phil Edwards.
James McGivern dropped Jordan Ellison on the way to a wide win over six at lightweight. McGivern landed a sweetly timed left to Ellison's body in the second that the man from the North East did well to recover from. He lasted the distance, but McGivern took a 60-53 win for Phil Edwards to move to 2-0.
Fearghus Quinn also moved to 2-0, as he pitched a dominant six round shutout win against Scott James at middleweight. Referee Phil Edwards scored the contest 60-54 in the Irishman's favour