How Will the Light Heavyweight Division Sort Itself out in 2011?
2011 Promises to be a big year in the light heavyweight division. Chad Dawson made a big career move in hiring Emmanuel Steward as his new trainer, Jean Pascal is at the top of his game, and Bernard Hopkins is showing that he still has the skills and the stamina to remain at the top of the sport. The question is, what will be the first big light heavyweight battle in 2011? Will it be a rematch between Pascal and Dawson? Or will it be a rematch between Pascal and Hopkins?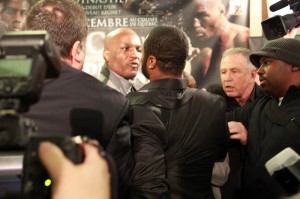 The main issue here is that the WBC is ordering a rematch between Pascal and Hopkins, yet there is a clause in Dawson's contract requiring Pascal to fight him next. The two camps (Hopkins and Pascal) have 30 days to reach an agreement and if they fail to reach one, a purse bid will be held on February 4. Will Pascal ignore the contract clause and take the match ordered by the WBC? Or will he ignore the WBC due to Dawson's contractual obligation, which may cost him the title? The question remains up in the air.
Chad Dawson, under the stewardship of legendary trainer Emmanuel Steward, looks to add a whole new offensive dimension to his style, which, according to Steward, will take him back to the top of the light heavyweight division. Steward believes that Dawson has the talent and explosiveness to become a knockout artist, a champion in multiple weight classes, and the top light heavyweight in the world. Dawson hopes that his first fight with Steward as his trainer will be a rematch against Jean Pascal, who defeated Dawson and took his WBC and IBO titles in August of 2010. Both Steward and Dawson know that Dawson fought the wrong type of fight against Pascal. He was not offensive enough or aggressive enough and backed off at times when he should have attacked.
—–> [Boxing Fans – Get in on the Action – Vote on the Sidebar for the Bout You Think is the Best at 175 lbs]
After this August fight, the fact that Dawson had a rematch clause in his contract, and the fact that a legend now trains him, it seems as though all signs pointed to a definite rematch in early 2011. This is not the case. Neither Dawson's nor Pascal's respective promoters have received an offer from HBO yet (which needs to be the same or more than it was for their first fight back in August).
Perhaps the main reason why this fight isn't definite yet is because both Pascal and Dawson were permitted to take interim bouts before their rematch. Dawson chose not to take one in order to focus on training for a rematch, but Pascal took an interim bout against the legendary Bernard Hopkins. Because Hopkins and Pascal fought to a controversial draw in December in Pascal's home country of Canada, it is possible that a Hopkins/Pascal rematch may be in the cards first in order for Pascal to avenge this "loss".
It seems that although Dawson's focus is currently on avenging his loss to Pascal, Pascal's focus is primarily on avenging his draw against Hopkins. Pascal wants another fight against Hopkins to prove that the judges were wrong and that he's the better fighter.
Regardless of the final decision, either fight will be an interesting battle. Watching a new, potentially improved and more offensive minded Chad Dawson take on Jean Pascal fresh off of a controversial draw could be a great fight for Chad at a great time in his career. If Pascal takes the WBC mandated rematch against Hopkins, Dawson isn't guaranteed a fight against Pascal since he'll be required to fight the winner, which may delay his hopeful rise to the top of the light heavyweight division.