If fight fans found the time last night to check out the NBC Sports Fight Night card, in between the action on HBO (and controversy), and the NCAA Tournament games, then they saw three exciting, fun and crowd pleasing battles. Check out recaps of all three fights on the card right here, Zab Judah vs. Vernon Paris, Bryant Jennings vs. Sergei Liakhovich and Tomasz Adamek vs. Nagy Aguilera. Also, find post-fight quotes from two of the big winners, Judah and Jennings.
ADAMEK BEATS AGUILERA ON POINTS
Tomasz Adamek and Nagy Aguilera went to war over the first four rounds of their 10-round heavyweight bout before Adamek took over the action and swept through the final seven rounds of the fight. However Aguilera stayed in the bout, and occasionally hurt the former champ with his heavy shots. He showed toughness and a willingness to engage, but Adamek was just too skillful. All three judges gave the decision to Adamek by wide margins, 99-91, 100-90, 100-90.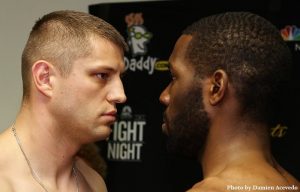 JENNINGS TKOS LIAKHOVICH IN NINE
Bryant Jennings won nine straight rounds before being awarded a TKO at 3:00 of round nine. The round ended but the fight was stopped in the corner between the ninth and tenth. Jennings surprised everyone by dominating the former champion. He used a stiff jab, a steady body attack, and an assortment of power shots, especially his uppercut.
Jennings landed 58% of his punches according to Comp-U-Box Stats.
JUDAH STOPS PARIS IN ROUND 9
Read our full Judah vs. Paris recap here

Zab Judah outclassed Vernon Paris in the main event. Paris was tough, but was unable to mount an attack of any kind during the fight. Judah hurt Paris several times beginning in round one, again in the second. Judah wobbled Paris at the end of the sixth , and continued to bank rounds.
Finally in round nine, Judah stunned Paris, trapped him in the corner and landed 11 of 16 power shots. With Paris helpless and taking shots in the corner, referee Steve Willis jumped in to save him. Judah won the fight at 2:27 of round nine. Judah won every round on my card prior to the stoppage.
ZAB JUDAH Post Fight Quotes:
"All credit to my lord and savior Jesus Christ for giving me the strength, the ability, to rebound myself. I thank him first. I take zero credit tonight. God fought my battle. I prepared the temple and he fought the battle for me."
"He (Paris) got into survival mode. It would have been an earlier domination but he got into survival mode and tried to move around a lot so I had to use my jab and not get unfocused."
JENNINGS Post Fight Quotes:
"Comfortability like I said. Elite Klass, that's what I practice. I practice to be elite; I told you guys that at the meeting I practice to be perfect. Honestly I didn't even fight the fight that I wanted. I was too cautious. I could have done a lot more. But you know I got it out of the way. He didn't have nothing for me. I didn't even feel a punch."
"I want to go to the top. That's the goal. Like I say, elite klass. I want to be the best. I want to go to the top. I strive to be the best whatever game I'm in. That's how I been forever. So I got to do what I got to do. I'm well on my way, another one down."