What's next for Zab after big win over Paris?
Zab Judah made the most out of his homecoming fight against Vernon Paris in Brooklyn on Saturday night, as well as his television showcase on NBC Sports Fight Night. Judah hushed up Paris and all of his trash talking, scoring a 9th round TKO after dominating him all evening long. It was a big statement win for Judah, and it puts him back in mandatory position to challenge the winner of the Lamont Peterson vs. Amir Khan rematch.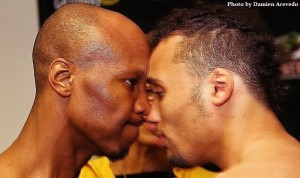 Judah has seemingly been the eternal king of last-ditch comeback efforts, supposedly career-ending knockout losses, and all the highs and lows in between. With that said, the most intriguing aspect of this fight was simply the different in class between Judah and Paris, an undefeated guy who had some buzz behind him.
Here he is now, again, right back in the mix. You could argue that this is the best performance that Zab has had in seven years, since he stopped Cory Spinks. In fact, I wouldn't argue it, I'd flat out say that was the case.
It's especially striking following last year's Vernon Paris vs. Tim Coleman fight, which Paris won. Coleman recently took on Kendall Holt, and was quickly crushed in what was basically a non-effort.
Here, Paris gave an effort and talked a great game, but couldn't back it up in the ring. Judah was too quick and powerful, too amped up in front of his hometown crowd, and yes, too experienced. Judah and Holt both showed the difference between world class and fringe contender, and proved yet again that you cannot count either one of them out.
Surprisingly, this was the first time that Judah ever fought in Brooklyn as a professional, and with the crowd that was in attendance for a fun evening on a solid card from top to bottom, it's something that should happen again.
Why not put together Zab Judah vs. Kendall Holt in Brooklyn, or in Newark? Or, Judah could take on Danny Garcia, winner against Erik Morales this evening, in a Philly vs. New York fight, and another meeting of young, undefeated and budding star versus seasoned warrior.
Either of those options would seem to make sense for Judah than simply waiting on the outcome of the Khan-Peterson rematch. Should Khan win, the rematch might not happen in any event, and if it does, well, Judah was losing handily the first time even if he's not one to admit it. If Peterson wins, it's an intriguing fight, but not a bigger money scrap, or an easier scrap, than he would get against Garcia. Both would be tough fights, and both would be HBO Boxing After Dark caliber contests.
All of that can be hashed out in the coming weeks and months, and there's certainly plenty of good fights to go around in the stacked junior welterweight division.
For now though, Zab is back on top of the world, at least temporarily, once again. Congratulations to him for scoring the huge knockout win and putting on a great show in front of his Brooklyn fans.