Jermain Taylor survived a serious scare in the 9th round of his fight against Caleb Truax on Shobox on Friday night, going on to win a wide Unanimous Decision by scores of 98-91, 97-92 and 97-74. He was dropped early in the 9th Round and in legit trouble, and had to hold on and survive the rest of the stanza on shaky legs to secure that victory. The fight was the second in his comeback, and while he continues to set his course towards a title fight prize at 160 lbs, it may be worth reconsidering.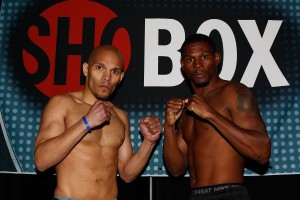 Taylor, who improved to 30-4-1 with the win, had been cruising against Truax for the first 8 rounds of their contest before he got decked in the 9th. That's not to say that he looked particularly impressive, however.
He was controlling the fight with his jab and work rate, however, he wasn't doing a ton of damage, and he wasn't asserting himself as a top level guy. Truax proved to be a skilled fighter, and he entered the bout undefeated at 18-0-1. But his most impressive win came against a miserably faded Antwun Echols, smack dab in the middle of a 1-13-3 stretch. Seriously – look it up. Truax certainly wasn't a class A opponent, but Taylor didn't distinguish himself in the outing.
In the post-fight interviews, Taylor was extremely fired up. He was exulting in the win, in going up against top 10 middleweights in his next fight, and in the fact that he got knocked down but got right back up, saying he only got caught because he made a physical mistake, bringing his left jab back in low and slow.
That all may be true, but it doesn't dull the fact that it's a disturbing sign for a fighter rebounding from three harsh stoppage losses in a four fight, year and a half long stretch.
If you look at the potential course of Taylor's upcoming ring work, the path has been nicely paved for him. He's back with promoter Lou DiBella of DiBella Entertainment, and he's back in the middleweight division. The kingpin at 160 lbs is Sergio Martinez, and of course Maravilla is promoted by none other than DBE. It's clear that the ideal scenario for all parties is a big money middleweight title fight between the former undisputed champ Taylor, and the current alpha dog and top three pound for pound guy in Martinez, perhaps in the beginning of 2013.
If Taylor was at his best, it's a fight I'd love to see. His size, strength and jab would pose problems perhaps too steep for Martinez to solve. However, right now all I can envision is Taylor getting timed for lead, overhand straight rights on his way to another vicious knockout loss. I don't need to see that.
DiBella had previously urged JT to retire after his back-to-back final round stoppage losses to Carl Froch and Arthur Abraham. I'm confident he wouldn't throw Taylor in with the wolves if he thought it was a purely financial sacrifice. Still, I'm uneasy about his future prospects.
Listen, I'm an ardent supporter of Taylor and have been since he was coming up against the Alex Bunema's of the world. I wish him the best – and I'd rather see him kept out of the squared circle instead of aiming for someone like Martinez.
In other action…
Erislandy Lara had a brutally quick night of work, as he got rid of Ronald Hearns at 1:34 of the first round of their junior middleweight clash. Lara had Hearns down three times before the fight was stopped, every knockdown coming from a monster straight left hand.
Hearns has never been a true top flight guy, and even so he seemed perhaps a bit disinterested once he got into the ring. Nonetheless, an impressive and powerful performance by Lara, who's one of the absolute top-tier guys at junior middleweight, despite the lack of a title belt around his waist.
On Friday Night Fights, Adonis Stevenson scored his own impressive statement stoppage win, getting former title challenger Noe Gonzalez out in two rounds of action. After a tame first round, Stevenson hurt Gonzalez in the second and pinned him against the ropes. He didn't stop throwing until the referee jumped in and called it off.
The stoppage may have been a tad bit premature, but I have no real complaints with it. Gonzalez got tagged and reeled backwards on several successive shots, and didn't argue much after the fight was waved off. Stevenson, working with Emanuel Steward and showcasing his trademark athleticism and raw power, looks to move higher up the super middleweight top 10 in search of a big-time payday and title shot. One has to wonder if a Canadian mega-fight against Lucian Bute or Jean Pascal will be in the works before the year is out.
There's plenty more boxing action in line for the rest of the weekend, so be sure to keep on checking back with ProBoxing-Fans.com for the latest boxing news and results.