Shocking Mares vs. Gonzalez Results:
Jhonny Gonzalez, one of the sport's hardest hitters, lived up to his reputation on Saturday evening by pulling off the shocker and stopping Abner Mares in Round 1 of their Featherweight championship fight. With the win, Gonzalez retakes the title had lost to Daniel Ponce de Leon, and reaffirms his status as a force to be reckoned with in the sport.
For Mares, the first loss of his career comes in devastating, crushing fashion.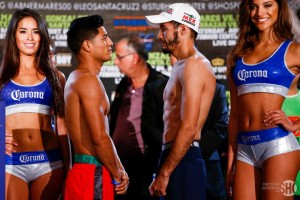 Mares, considered one of the top pound for pound fighters in the world, has been enjoying his newly found fame and fortune as of late. His ascent has been steady, and he has seemed liked one of the faces of the sport for the next generation.
This certainly may still be true. But tonight, it was Jhonny Gonzalez's time to shine.
It was a brilliant, pinpoint left hook which sent Mares down in Round 1. He was badly hurt, but was able to struggle to his feet. Mares then made the mistake of refusing to hold, and stubbornly battling on.
Soon after, Gonzalez moved in for the finish, and sent Mares down again, with another left hook. This time, the action was called off before Mares had a chance to rise.
Never count out a puncher, and never hook with a hooker. Gonzalez has proven time and time again that he has game-changing power, and Mares was on the receiving end tonight.
In the first fight of the evening, Leo Santa Cruz made quick work out of Victor Terrazas, stopping him in the third round of their bout, after scoring several knockdowns. Terrazas, the titleholder, was game but badly overmatched by Santa Cruz, who now has titles in two weight divisions.
By the end of the second round, the right eye of Terrazas was all but swollen shut, and it was quickly downhill from there. Santa Cruz kept the pressure on, as is his M.O., and did a good job going to the body and bringing it back upstairs to finish Terrazas and continue his ascent, onwards and upwards to bigger things.
Golden Boy seemed to be moving towards Mares vs. Santa Cruz, but now perhaps the much-anticipated Mares vs. Nonito Donaire fight should be back on the table, with each man coming back from a loss.
Thanks for checking out our coverage of the Santa Cruz vs. Terrazas and Mares vs. Gonzalez results, an be sure to keep on checking back for more updates from ProBoxing-Fans.com.