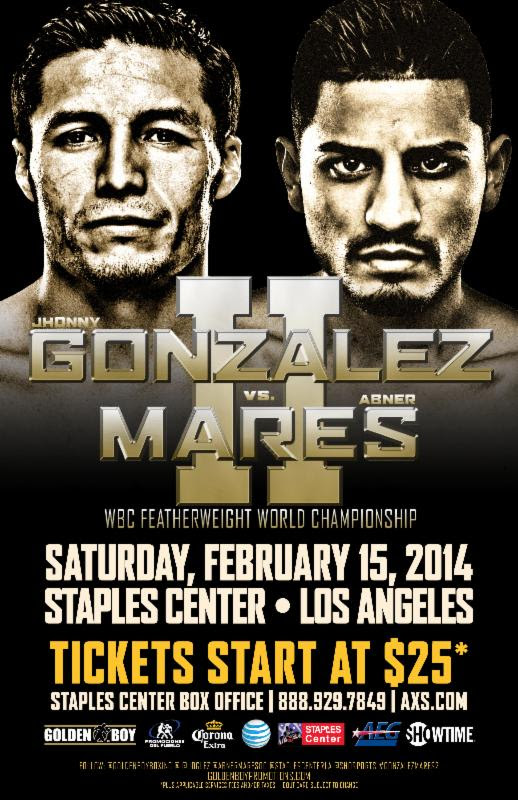 Golden Boy Promotions will present a rematch of one of 2013's biggest upsets when Jhonny Gonzalez defends his WBC Featherweight World Championship against  Abner Mares, on Saturday, Feb.15 from STAPLES Center in Los Angeles, Calif. live on Showtime.
In their first bout on Aug. 24, 2013, at the StubHub Center in Carson, Calif., hard-hitting Gonzalez shocked the world with a first round knockout of Mares taking his title and his unbeaten record from him. On Feb. 15, Mares gets his shot at redemption.
"Abner Mares gave me my shot and now I'm giving him his," said Gonzalez. "I respect what he's done in the ring and the heart he shows every time he fights, but I worked too hard for this to give it up now. I will keep my title on February 15."
"I'd like to thank Jhonny Gonzalez for this opportunity. It will be an honor to fight him a second time," said Mares. "August 24 was his night and I take nothing away from him, but February 15 will be my night and I'm going to get my title back."
"This fight says a lot about both Jhonny Gonzalez and Abner Mares," said Richard Schaefer, CEO of Golden Boy Promotions. "Jhonny wants to leave no doubt about his first win and Abner wanted to get another shot at him immediately. These are two great warriors and I can't wait to see them fight again."
"After the most unexpected upset of 2013, Jhonny Gonzalez and Abner Mares will meet again in one of the most highly anticipated matchups of the first quarter," said Stephen Espinoza, Executive Vice President and General Manager, SHOWTIME Sports. "Any time you put two Mexican warriors like Abner and Jhonny in the ring together, you can expect an action-packed fight. This is the type of fight that our SHOWTIME viewers have come to expect, and February 15 will undoubtedly deliver."
"We are very excited to host such an incredible fight here on February 15th with our partners at Golden Boy Promotions," Lee Zeidman, STAPLES Center, Sr. Vice President and General Manager. "Southern California boxing fans will definitely not want to miss this rematch of Jhonny Gonzalez and Abner Mares, it is sure to be a memorable night at STAPLES Center."
One of the best Mexican fighters of this era, Mexico City's Jhonny Gonzalez (55-8, 47 KO's) has held world championships at 118 and 126 pounds, defeating the likes of Hall of Famer Mark "Too Sharp" Johnson and former World Champions Fernando "Cochulito" Montiel, Irene Pacheco, and Hozumi Hasegawa, along the way. Winner of 15 of his last 16 bouts, with the only loss a technical decision defeat to Daniel Ponce De Leon in September of 2012, the 32-year-old Gonzalez has resurrected his career in style with his first round title-winning knockout of Mares, and he's looking forward to doing it again.
A member of the 2004 Mexican Olympian team, 28-year-old Guadalajara, Jalisco Mexico's Abner Mares (26-1-1, 14 KO's) earned a spot on boxing's pound for pound list in 2013 when he stopped Daniel Ponce De Leon in nine rounds to win his third divisional world title, the WBC featherweight crown. A previous owner of championships at bantamweight and super bantamweight, the Hawaiian Gardens, Calif. resident now has the opportunity to make history once again by regaining his crown on February 15.