Joe Gallagher is one of Britains most successful boxing trainers of all time, this Saturday night he will be mentoring his world champion, Callum Smith in his world title defence against his mandatory challenger, John Ryder. It may not be the big fight they wanted but its a another step towards what he hopes will be a Saul-destroying win.
"The only other ring magazine super-middleweight champions were Andre Ward and Joe Calzaghe and they moved up to light-heavyweight and conquered that so that's what Callum Smith wants to.
"We are at the top of the hill, the only fight left at the weight is Canelo and that's got to happen soon if not there's a good chance we go up to light-heavyweight and try and conquer the division and become a two weight champion and a two time ring magazine champion at two different weights.
"The thing with Callum is that no one has seen the best of him yet. The sooner the Canelo fight happens the better because I think I've got the kid to cause the upset.
"I've spoke to Golden Boy [Promotions] and it is a fight they are interested in, its the timing of the fight, if they want to do it in the UK it will be Anfield in May next year."
Joe Gallagher one of five children to Irish parents who grew up on a rough council estate in Benchill, at the time it was the biggest council estate in Europe. Combat sports was always the chosen pastime for the young Gallagher where he progressed to a brown belt in karate before leaving that behind in exchange for boxing belts.
The Gallagher household was one of the two billion worldwide who tuned in to Muhammad Ali vs Leon Spinks fight which sparked the love for boxing in Joe's heart.
Soon after he made his father take him to the local boxing gym which was in the Wythenshawe ballroom. After just the one session the young boy fell in love with the sport and continued attending to compete as an amateur.
"I boxed as an amateur from the age of eleven after some playground banter really.
I was doing karate and at the time I was watching [Muhammad] Ali when he fought Spinks and a lad in the playground said 'I'd be able to beat you up' one day so I went home and I said to my dad, 'where's this new boxing gym in Wythenshawe?' I was only ten and my dad took me down there and that was it I've stuck with it since.
"I went there a few times and I packed in doing karate I think I was brown belt second grade just one away from a black belt but I wanted to do the boxing and I really enjoyed it, it's what I wanted to do."
Muhammad Ali was the original inspiration and it was a man who gave Ali a scare, Henry Cooper who provided a new found inspiration for a young Gallagher after Joe fought his first amateur bout for his new club and the connection with Cooper stayed with Gallagher to this present day.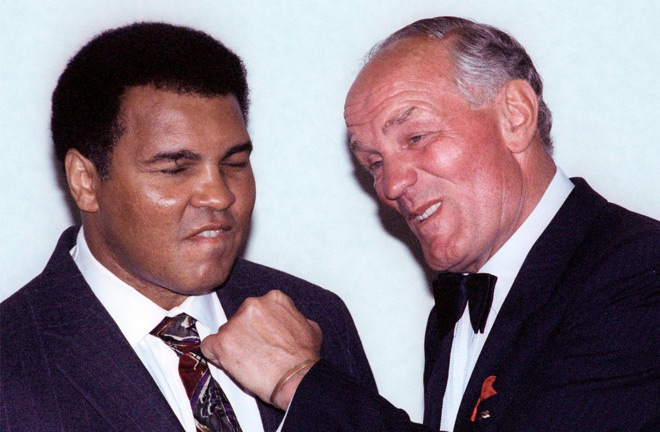 "Honestly, when you win your first one. It meant a lot to me winning my first amateur contest because it was the clubs first season we went to our first show and the first lad that boxed at the club was my mate and he got beat and I remember I was the next one to box for the club and one of the coaches gave me a slap across the chops and I was like 'wow, that hurt!'
"I was only eleven at the time and he had a wedding ring on I thought that was a bit out of order and he said 'you can't lose this now, you can't be performing like him.'
"I thought, no pressure. I went in and beat a kid called Kevin Morgan and ironically he represented a club called Gallagher's boys boxing club in Oldham.
"I was so chuffed to win a big trophy and come home and my parents were chuffed. Henry Cooper came to visit our gymnasium a month after that and having pictures in the press with him. Wow it's just something else that! I'll never forget that, they say you never forget your first and it's stuck with me.
"Years later at the boxing writers awards where I had John Murray up for the young boxer of the year award. Henry Cooper was there and I brought the picture of when I was aged eleven to him and he signed it for me and it was mad.
When I was eleven I boxed in white plimsolls and there was holes in the bottom of them and I had to put whitener on them to make them look clean to fight in them and I made him sign them white plimsolls and they are still in my mums attic somewhere.
He must have laughed to himself at the time with the big hole in them but it was great that I was there as a trainer with one of the best young fighters in Britain at the time picking up the award. This sport is amazing the way it works sometimes."
Never turning professional Gallagher reluctantly followed in his father's footsteps into the construction business initially wanting to learn about law before he was asked to take over as the amateur coach at the highly thought of gym Mossside ABC in the North East.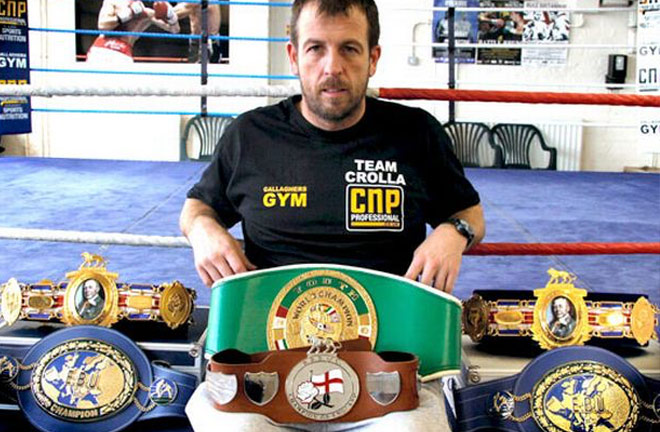 "I was only amateur, you tend to turn senior once you leave school but I wanted to go to college, I wanted to do law or something like that and my dad was like no you're not, you're working on a building site with me.
"That's that problem solved, there wasn't funding back then like there is now and I think that's what happened to a lot of people. When you're out working everyday you lose sight of boxing a little bit because you have to pay bills.
"I had a few senior fights but work took over as you have to pay for things. Later on I was asked to get involved in the coaching side and take over Moss Side ABC which I did do as an amateur trainer.
"Moss Side ABC was a renowned club in the North East and for them to ask me to be their amateur coach was great.
"In our first season we won twenty-seven out of thirty-one [bouts], in our second year we won forty out of forty-four and in the third season we win something like fifty-two out of sixty-six something like that. It was great, we were always pushing, wanting to achieve and upset the odds.
"Always [knew I wanted to get into coaching], in school, I wanted to be a P.E teacher or to coach. At the amateur clubs, I was always giving kids who were younger than me advice and instructing them. I used to even help my coaches in the corner [with the younger fighters].
"I used to enjoy when I told them something and they did it when it paid off. In my first year as an amateur coach we had won twenty-seven out of thirty-one [bouts]."
Joe Gallagher credits his former coaches and their methods for his successes with the likes of Anthony Crolla and Callum Smith, it is like a real life Rocky movie.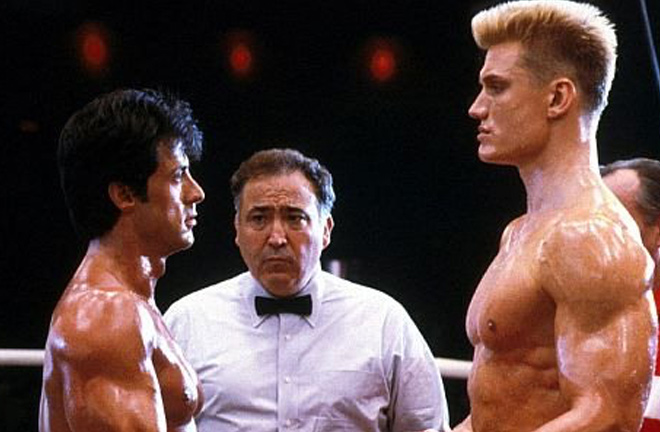 "I try to compare the both mentors in my life, Jimmy Egan and Phil Martin. Jimmy Egan was very much like Rocky's old trainer [Micky in the Rocky Balboa franchise] in the sense it was proper old school where when Phil Martin was involved things were evolving in the sport and he was like Ivan Drago's trainer.
"He was working with heart monitors and being sports science specific and that opened my eyes up to a whole new world of training and coaching.
"I was always in the gymnasium in the day time with the pros watching what they were doing, understanding.
"Phil was giving me video tapes to go home and watch them he'd ask me the next day what did I think of that fight, what was he doing wrong and not just as a pundit or a casual sitting down and watching a fight but understanding why fighters are doing that, what position puts a fighter in a position to fire that shot. It just opened my world to a new way of coaching.
"I just got great tutorial mentoring. Not just looking at a fight, two people knocking holes out of each other but very much like elite tennis players or elite chess players where you're trying to move people around a court or around a chess board to get a point or a checkmate and that's what you do in boxing and that's what you've got to understand [to be a coach]."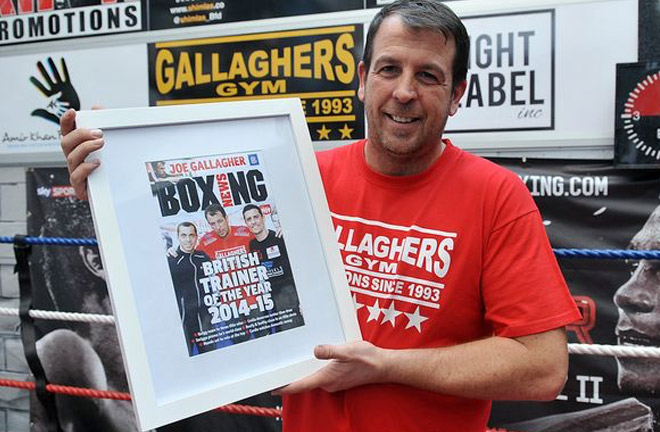 The world-renowned coach has won multiple world titles as a trainer and many personal accolades including being the only Brit to ever win The Ring magazine trainer of the year in 2015, boasting three world champions at the time in Scott Quigg, Anthony Crolla and Liam Smith.
"I've had four world champions, I think it's twelve or thirteen British [champions], as a coaches point of view you're trying to be better all the time.
"As long as I can keep evolving, becoming a better coach, trying to improve and make a difference in people's lives I'll keep on doing it.
"I'm now promoting to give kids a chance and to keep them working, keep them busy that's something else I want to do now and for as long as the fire burns I'll remain to do it.
"Once that diminishes and I don't want to be a part of it anymore then I'll hang them up. I feel I've achieved, I was the only British born coach to win The Ring magazine trainer and I got the WBC belt for Callum Smith.
"A lot of people say I've over achieved, a lot of people say my fighters over achieved but I wouldn't say we've over achieved it's just down to hard work, perseverance, dedication and a will and a desire to get to the top.
"Sometimes you could be the most skilful and talented in the world but if you don't do the hard work or have that work ethic then you're not going to achieve what you should achieve."
With these accolades, popularity and becoming in demand comes hand in hand as Gallagher only knows too well as he has had to turn away potential pupils when they come knocking on the doors of Amir Khan's Gloves gym due to the commitments he holds with his current stable.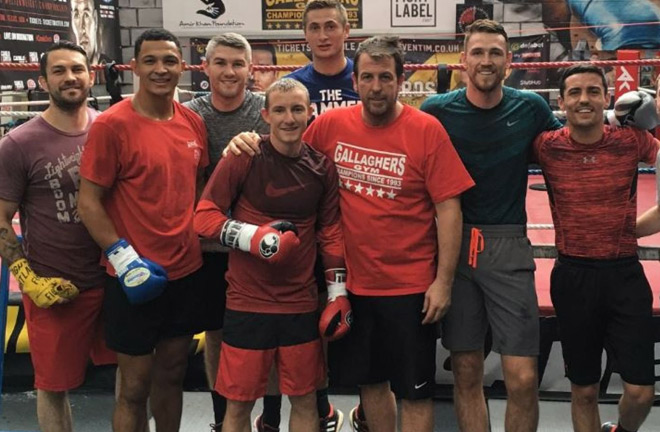 "It isn't a case of all comers, I've been asked by so many over the last twelve to eighteen months to take them on.
"Four, five years ago a lot of my fighters were six to eight round fighters coming through like Scott Cardle, Callum Smith, I only had one or two world level fighters like Matt Macklin, Paul Smith, Scott Quigg but now all of a sudden you have Anthony Crolla, Callum Smith, Liam Smith, Callum Johnson, Paul Butler, they've all become world level championship fighters.
"You have to give the right amount of time for each of your fighters that's why I can't take on no more because they won't become championship fighters if I can't give them everything I've got.
"We're really busy, there are one or two fighters out there who if they came knocking I'm sure I would accommodate but at the end of the day I've got to see the journey out with the fighters I've had since day one.
"I've had a great ten year relationship with Anthony Crolla who I've known for twenty plus years I have a great relationship with him.
"Callum Smith I've had him from day one to make him the number one pound-for-pound fighter in the world, the ring magazine champion, not just as a trainer as a manger he's a huge success story.
"They're all success stories in their own right and it's not finished yet there are still world titles to win. A few of these are due to retire over the next twelve to eighteen months, will I take anyone else on? I may do."
Ahead of Saturday night it's not just about creating more proud moments or winning more world titles with his stable that is driving him on. It is showing the world that he is no fluke and being able to win the WBC trainer of the year award once more is all the motivation Gallagher needs.
"I said to Callum Smith on the plane back [from New York after defeating Hassan N'Dam], that's up there as one of my best [achievements].
"To walk out at Madison Square Garden, to put a performance in as the number one in the world against a good kid coming off a good win over Martin Murray in spectacular fashion in front of a packed house and to walk out with everyone talking about you, that ranks very, very highly up there.
"I could say taking Hosea Burton from the age of eleven to the British title also ranks very highly up there.
"It would be very hard for me to pick just one of my greatest achievements but I can not say that being awarded the ring magazine trainer of the year award didn't excite me.
"To think I was the only one born in the UK in nineteen out of all the trainers we produced like Mickey Duff, Terry Lawless and everyone else like that none of them ever won it and I have. It's something that motivated me now to win that again and prove that it wasn't a fluke."