Two-division world champion John David "Action" Jackson, one of the most respected trainers in boxing today, has joined Iron Mike Productions as co-head coach of the promotional company's stable of world-class fighters.
Acquinity Sports, under CEO Garry Jonas, partnered with Hall of Famer Mike Tyson to form Iron Mike Productions, whose inaugural promotional event is the August 23rd "Tyson Is Back!" card, airing on ESPN Friday Night Fights, live from Turning Stone Resort Casino in Verona, New York.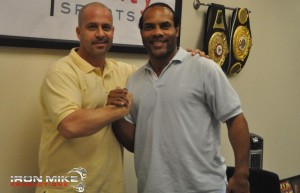 Jackson (36-4, 20 KOs) was world light middleweight and middleweight champion in the late eighties through the mid-nineties. He has trained Bernard Hopkins and Shane Mosley, among the more notables, and his present fighters include three-time world champion Randall Bailey and world light heavyweight challenger Sergey Kovalev.
"I'm very happy to be reunited with John David Jackson," Iron Mike Productions COO Henry Rivalta said. "We worked together in 2008 at The Heavyweight Factory. He brings a lot to the table and is an incredible asset on our coaching staff. Our fighters are going to benefit from John David's teaching."
Jackson will be co-head coach of Team Iron Mike Tyson with Herman Caicedo. Assistant coaches on staff include "Irish" Micky Ward, Kenny "Emerald City Assassin" Ellis, Andy Bell, Claudio Lamothe and Stacey McKinley.
"Mike Tyson Productions is committed to giving our young fighters the absolute best coaching," Rivalta added. "It was Garry Jonas' idea to add John David to our coaching staff. Caicedo, Jackson, Ward and all our other coaches complement each other and give our kids a ton of invaluable experience."
Iron Mike Productions growing stable of world-class fighters includes IBF super featherweight champion Argenis "The Thunderstorm" Mendez, two-time, two-division world champion Joan "Little Tyson" Guzman, featherweights Claudio "The Matrix" Marrero Alexei "The Hurricane" Collado, welterweights Ed "The Lion" Paredes and 2008 Olympic gold medalist Felix Diaz, light heavyweights Umberto "El Don" Savigne and Isiah Thomas, bantamweight Juan Carlos Payano, and light middleweights Dominque "3D" Dolton and 2008 Olympic silver medalist Yudel Jhonson.
Iron Mike Promotions, previously Acquinity Sports, is a boxing promotion company founded and led by Acquinity Interactive CEO Garry Jonas. It is committed to changing traditional boxing promotion by advocating for its fighters' successes inside the ring and out, throughout their professional careers and into retirement. For additional information go online at www.IronMikeProductions.com