Sampson Lewkowicz of Sampson Boxing wishes to congratulate his two Virgin Islands-based junior middleweights for their impressive victories on Friday night at the Mandalay Bay Resort & Casino in Las Vegas.
Fighting in front of a huge crowd of boxing dignitaries, undefeated power puncher John Jackson (12-0, 11 KOs) scored a TKO 6 over formerly undefeated Keandre Leatherwood (9-1, 6 KOs) to win the vacant WBC Youth World light middleweight title and Samuel Rogers (11-0, 6 KOs) scored a TKO 10 over formerly undefeated Jamar Freeman (9-1-2, 5 KOs) in a fight for the vacant WBC FECARBOX light middleweight title.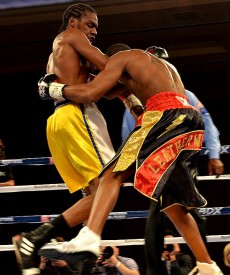 "Both guys fought undefeated opponents in very competitive fights and now they both have significant professional titles. Along with John's older brother Julius, they are the fighting pride of the Virgin Islands and I'm very happy for them," said Lewkowicz.
22-year-old Jackson, the son of former three-time world champion Julian Jackson, is a "chip off the old Hawk." Like his father, he has enormous punching power that can turn a fight in his favor at any second. "He has the style fans like the best. His fights are always spectacular because sooner or later he catches up to his opponents and when they fall, they fall hard."
John's older brother, Julius Jackson (12-0, 8 KO's), is an undefeated super middleweight prospect.
29-year-old Rogers stands over six-feet tall and has the solid fundamentals and sneaky punching power to also become a force in the division. "Samuel can do it all. He can hunt you down with his aggression and he can also fight as a counter puncher who wears his opponents out by frustrating their efforts to reach him."
Lewkowicz says it won't be long before all three fighters begin regularly appearing on the premium networks.
"The people of the Virgin Islands are rallying behind these future world champions and for good reason," added Lewkowicz. "They all have the power and skills to bring big-time boxing back to their homeland."