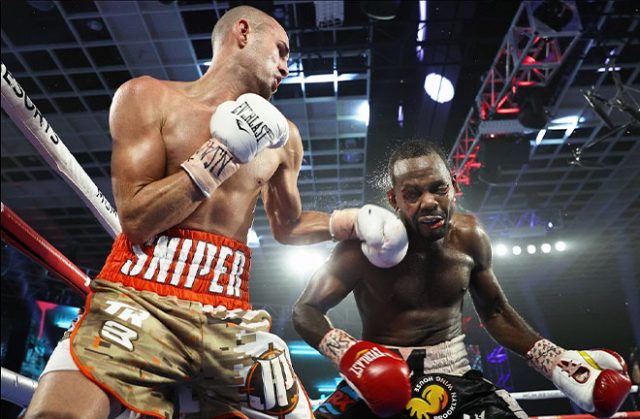 Former two-weight World champion, Jose Pedraza largely dominated proceedings knocking down Mikkel LesPierre twice en route to a wide unanimous decision win at the MGM Grand, Las Vegas over ten rounds at Super-Lightweight.
The fight was dramatically called off at the eleventh hour two weeks ago due to LesPierre's manager testing positive for COVID-19, but there was no such hitch this time.
It was a fast start by both, with Pedraza attacking from multiple angles with a high work rate, bloodying LesPierre's nose in the first round. 
The second saw Pedraza trap LesPierre on the ropes and, although LesPierre covered up, he allowed Pedraza to fire rapid shot after rapid shot for over 20 seconds without reply. 
LesPierre had covered up well enough though, and he enjoyed success at the end of the session with Pedraza understandably slowing down.
Pedraza was in control though and landed with shots that hurt LesPierre, including a left hand in the third. 
The action settled down through rounds four, but the fight exploded into life again in the fifth, with LesPierre finally settling into some sort of rhythm.
A quick right to the body dropped Pedraza, who looked off balance. Seconds after the restart though, Pedraza returned the favour, with a hard right hand knocking LesPierre down.
The Puerto Rican went for the finish on the resumption, but was beaten by the bell. 
The theory that Pedraza was off balance for his knockdown was proven by the Nevada State "Replay Rule" and officials advised the judges that the feet tangled. Referee, Kenny Bayless reversed the knockdown decision.
LesPierre shook this off to have a decent sixth round, but was being frustrated by Pedraza not allowing him to work as he would like.
LesPierre looked as though he was tiring, and this let Pedraza fire off flurries of punches to catch the eye. 
LesPierre did sense the urgency in the last couple of rounds, but struggled to seize his opportunities, and paid the price in the final round.
Pedraza landed with an overhand left to dump LesPierre to the canvas for a second time. He went for the finish again, but settled for his fate to be in the scorecards.
Scores of 100-88, and two scores of 99-89 reflected the dominance of Pedraza, who will now line up another world title tilt in 2020.
Kicking off proceedings was the double Olympic champion, Robeisy Ramirez, who faced the man who shockingly defeated him on debut in August last year. 
This time around it was firmly revenge and not repeat, as the Cuban dominated Adan Gonzales in an unanimous points win. Gonzales had knocked Ramirez down and taken a split decision win in their original meeting.
Their Featherweight rematch was again over six rounds, with Gonzales having not fought since his upset win, and Ramirez winning three on the bounce, all by knockout. 
Ramirez began by firmly relying on his boxing skills in what was a cagey opening round. Ramirez landed a nice right-left combination right on the bell. Ramirez looked a lot more comfortable this time around, and Gonzales struggled to find a way through. 
Ramirez was controlling the centre of the ring, and he finally opened up in the third, landing a hard left followed by a flurry of shots. Gonzales spent most of the contest wary of his opponent's power, and this limited him in the amount of success he needed In order to get a foothold. 
Going into the last, Gonzales needed a knockout to win, and that never seemed likely as Ramirez didn't even need to work off a jab, preferring to land with hurtful ones and twos. 
The result was academic, and the three judges saw a 60-54 shutout win.
Elsewhere, Albert Bell remained undefeated with a landslide 100-90 across the board win against Mark Bernaldez. 
Freddie Roach trained Elvis Rodriguez notched an impressive first round knockout against Daniel Murray at Super-Lightweight.
While Kingsley Ibeh took a majority decision win over six at Heavyweight against Patrick Mailata by scores of 58-56 twice, with a third judge scoring a 57-57 draw.