Jamaica, Queens junior lightweight boxer Joselito Collado, 13-1, 3 KOs, fights the biggest bout of his career when he faces undefeated Texan Jerry Belmontes, 16-0, 5 KOs, at the Prudential Center in Newark, NJ, on September 8th. The 8-round contest is the key preliminary bout on a big card promoted by Main Events, with a heavyweight triple header in the spotlight.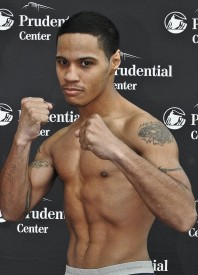 Former two-time world champion Tomasz "Goral" Adamek, 46-2, 28 KOs, meets Travis "Freight Train" Walker, 39-7-1, 31 KOs, in the 12-round main event, but it is the Collado-Belmontes bout that might just be the most competitive match of the show. Both fighters are considered hot boxing prospects with promising futures, so their anticipated clash is expected to determine which of them is ready to step up to the next level.
"I think he's a good fighter," Collado said. "Good amateur fighter. But honestly, I don't think as a professional, he fought anybody as hard as me. So I think I'm going to give him a hell of a fight."
Belmontes, the "Corpus Christi Kid", was an amateur superstar in Texas, but this, his 17th bout, will be his first trip east for a pro fight.
"He's coming all the way to New Jersey, and he's fighting a good fighter like me," Collado said of his opponent. "He might be a little intimidated. Hopefully that can be to my advantage."
Collado looks forward to the challenge, knowing that Belmontes represents his toughest test of his six year career.
"I take my hat off to him," Collado said. "I know that he's more of a boxer than a fighter. So I'm looking to cut the ring and work him. I'm going to keep the jab on him, sit back, and see what he's got. I always change my style. I can't say I'm a better brawler, of a better boxer, because it depends who you're fighting. Sometimes I box, sometimes I have to slug it out. I won't know until I'm in the ring with him."
They say that styles makes fights, and the style match between Collado and Belmontes looks like an intriguing one. Neither are considered hard punchers, but Collado brings a much more aggressive style, while Belmontes has the technical skills that could diffuse Collado's pressure tactics as well as the home field advantage.
"I don't want to underestimate him," Collado said. "For this fight, I'm going in with a "Plan A" and a "Plan B". I gotta say, that he better come in with his "A Game", because if he doesn't, he's going to get put out. I'm training like an animal in the gym."