In this week's 3 punch combo I will first start by taking a look back at some of the controversies from this Saturday's bout between Sergiy Dzinziruk and Jonathan Gonzalez.  Next I will look ahead to a bout that was finalized this week but kind of flew under the radar, which is between Abner Mares and Anselmo Moreno. And finally, I'll dissect Gennady Golovkin's performance this weekend, and consider whether or not he's being over-hyped after his US debut.
Sergiy Dzinziruk vs. Jonathan Gonzalez
The bout between Sergiy Dzinziruk vs. Jonathan Gonzalez on Saturday night showed a lot of what is wrong with the sport of boxing.  The bout itself was fairly entertaining, however, Gonzalez's clear disregard to make weight and the scoring of the fight once again have brought controversy to the sport.
Jonathan Gonzalez weighed in about 10 pounds over the contracted weight for the bout. I think it is pretty clear Gonzalez never intended to make the 154 pound weight limit.  He knew he would face a financial penalty but I believe he was more than satisfied to fork over half his purse to Dzinziruk for the weight advantage.
We have seen this practice from other fighters in the past and unless the penalties are stiffer fighters will continue to buy themselves a strategic advantage in big fights. In this case, I hope both HBO and Showtime keep Gonzalez off their air until he proves he can make his contractual obligations.
Gonzalez was clearly the bigger man, by a huge margin, and his punches were landing with much more effect than Dzinziruk's throughout the night.  I ended up only giving Dzinziruk three rounds and thought I was a bit generous in doing that.  But the judges saw things differently and ruled the fight a draw. And though I disagree with the decision, maybe it was fitting for Gonzalez to be robbed on the scorecards after he tried to cheat to win.
Abner Mares vs. Anselmo Moreno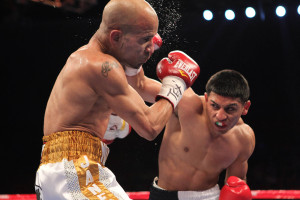 There were a lot of big announcements in the sport of boxing this week. Golden Boy Promotions held a big press conference for their upcoming show at the Barclays Center and Miguel Cotto announced he was taking on Austin Trout on December 1st.  But somewhat overlooked was the announcement of a very big fight in the Junior Featherweight division between Abner Mares and Anselmo Moreno on October 27th.
Over the past two years, Mares has faced arguably the most difficult schedule in the sport.  He fought to a draw against a still-fresh Yonnhy Perez in a war in May 2010 and followed that with a hard fought win against Vic Darchinyan later that year.  In 2011, Mares defeated the highly rated Joseph Agbeko twice and in April of 2012 out boxed the veteran Eric Morel.
Now, he faces perhaps his toughest opponent yet in Anselmo Moreno, who is also on a very hot streak and has been climbing the pound for pound ranks in the sport.  With the schedule Mares has faced the past couple years this is a fight he does not have to take, and therefore deserves tremendous credit for showing he is willing to face any formidable opponent that is available.
Ultimately though, that will work to his detriment, as I believe Moreno comes out victorious in the end.  Moreno is a southpaw who is an absolute master technician in the ring.  He reminds me of a southpaw version of the great Ricardo Lopez though he doesn't hit quite as hard.  Mares will not have as easy a time getting inside on Moreno like he did other fighters.  I look for Moreno to pick Mares apart from the outside and coast to a clear cut unanimous decision victory.
Too Much Excitement with Gennady Golovkin ?
Gennady Golovkin impressively knocked out Grzegorz Proksa in the 5th round on Saturday night in Verona, NY.  The performance has many boxing insiders already anointing Golovkin as a future superstar in the sport.
I will admit I was also impressed by Golovkin's performance, however, let's keep in mind this was one fight against an opponent that fought the perfect style to make Golovkin look good.  Proksa showed a willingness from the opening bell to trade with the much stronger Golovkin.  And this certainly played right into Golovkin's hands and gave him the opportunity to constantly land his big punches.  Further, though Proksa had 20 career knockouts in 29 fights, he did not appear to big a big puncher.  So Golovkin was able to walk right through his punches with little concern.
I would like to see more of Golovkin before ultimately passing judgment on him.  I think a fighter who gives him more angles and shows more movement may cause him some trouble. I would also like to see what happens when he gets hit flush by a more powerful Middleweight.  So though he made an impressive US debut in my mind the book is still out on Gennady Golovkin.