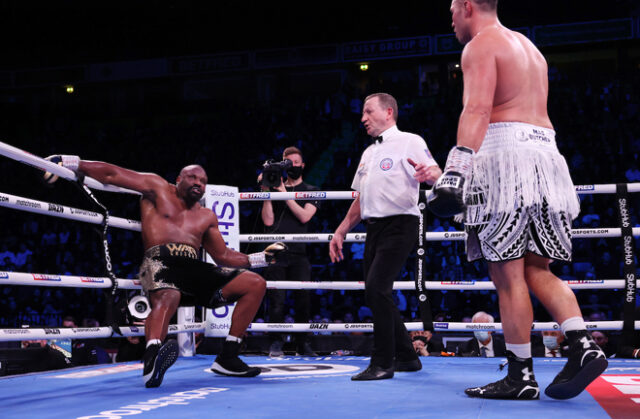 After a scrappy first fight, Joseph Parker won a thrilling rematch against Derek Chisora at the Manchester Arena, scoring three knockdowns on the way to a unanimous points win to retain his WBO Intercontinental heavyweight title.
The pair first met in May at the same venue, where Parker prevailed via split decision after being knocked down inside ten seconds.
Chisora began in his usual marauding style, but Parker landed a cracking right hand on the top of his opponent's head midway through the round. The pair took turns to dish out punishment in round two, and Parker rocked his man at the end of the session. The third saw Parker unload some heavy artillery, including a massive right hand that wobbled the former world title challenger, which left Chisora on some very unsteady legs, who then proceeded to struggle to avoid some of the sledgehammer shots coming towards him from Parker.
HUGE SHOTS THROWN IN ROUND 2 #ParkerChisora2 pic.twitter.com/Fet5xDTGiq

— DAZN Boxing (@DAZNBoxing) December 18, 2021
The breakthrough came in round four, when the New Zealander uncorked a superb uppercut that caused Chisora to reel towards the ropes, and with only the ropes holding him up he was counted. Chisora continued to battle back admirably, and had a much better fifth, and the sixth saw more signs of recovery, although he continued to take hard shots from the visitor.
DEREK CHISORA 🤯😍 pic.twitter.com/alhtYI7d6r

— DAZN Boxing (@DAZNBoxing) December 18, 2021
The seventh saw the end of the mini-recovery when a crunching uppercut combination had Chisora on the canvas again. He bravely beat the count, and rallied superbly once more to trade in barely believable action. Right at the end of the eighth, yet another uppercut found its mark, and yet again only the ropes held Chisora up as he was counted for a third time. Parker unloaded and referee Howard Foster was on the brink of stopping the bout, but yet again Chisora was able to survive. It was a quieter tenth, and the penultimate round saw more Parker onslaughts, with Chisora wilting, and, although he was exhausted, he somehow heard the final bell.
ANOTHER COUNT FOR CHISORA WHO MAKES IT TO THE BELL 😱 pic.twitter.com/MDdmj4cvES

— DAZN Boxing (@DAZNBoxing) December 18, 2021
Scores of 115-110, 115-111 and 114-112 ensured Parker was declared the winner in a classic boxing fight.
On the undercard, Lerrone Richards became the new IBO super middleweight champion, as he took a split decision win over Carlos Gongora, who came into this meeting unbeaten along with Richards. In a close run contest, two scores of 115-113 in Richards' favour was good enough against a 116-112 verdict for Gongora allowing Richards to take a split decision victory.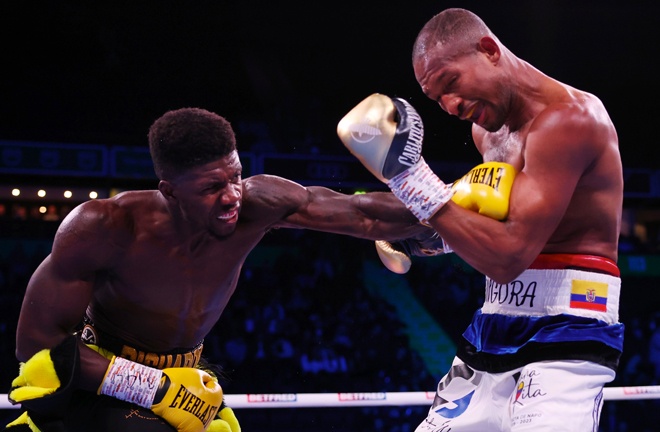 Zelfa Barrett moved closer to a world title shot, and a rematch against IBF featherweight champion, Kiko Martinez, as he took a dominant points win against Australian, Bruno Tarimo. Barrett scored a third round knockdown, from a left hook to the head, and 'Brown Flash' took the victory by two scores of 117-110 and a third at 116-111.
— DAZN Boxing (@DAZNBoxing) December 18, 2021
Jack Cullen's bid to take the vacant European super middleweight title ended in defeat, as France's Kevin Lele Sadjo stopped 'Little Lever's Meat Cleaver' in the sixth round. Cullen was cut in round two, and a body shot put him down in round six, before the contest was stopped.
BRUTAL SHOT FROM KEVIN SADJO ENDS THE FIGHT 💥 pic.twitter.com/ccHYHgEBR9

— DAZN Boxing (@DAZNBoxing) December 18, 2021
Alen Babic made it ten wins and ten knockouts as a professional, as he halted David Spilmont in the sixth of their scheduled eight rounder. 'The Savage' dropped Spilmont in the fourth, and once more in the sixth, before securing a knockout win.
BABIC WINS THE WAR OF ATTRITION 😤

10 KO'S IN 10 FIGHTS FOR THE SAVAGE 💥 pic.twitter.com/FSAlnFzhLm

— DAZN Boxing (@DAZNBoxing) December 18, 2021
Jordan Thompson took just 53 seconds to see off Piotr Budziszewski at cruiserweight, and David Nyika forced Anthony Carpin to retire after a round due to a bicep injury.
Just. Like. That. 😤@jordan_boxing93 with an uppercut to end it in round 1 💥#ParkerChisora2 pic.twitter.com/2ElFUAgFDF

— DAZN Boxing (@DAZNBoxing) December 18, 2021
Sandy Ryan stopped Maria Soledad Capriolo in the third round of their super lightweight contest, while Rhiannon Dixon took all six rounds of her lightweight affair with Vaida Masiokaite.
Spiteful @sandyryan93 moves to 3-0 in the pro game 👊#ParkerChisora2 pic.twitter.com/e3r9sEAh9d

— DAZN Boxing (@DAZNBoxing) December 18, 2021