Josh Gooding (3-0) was a fresh-faced 19-year-old enjoying a drink or two at a pub with friends when boxing called out to him.
"All I could hear was HA-HA! YA-HA-YA!" Gooding said, full of enthusiasm as if he was throwing the punches whilst he recalled the sounds he could hear at the top of his local boozer.
He continued, "It was an MMA club! I went in there and asked, 'can I, erm… can I join for a bit?' So, I was in my jeans, and I started hitting the bag!
"I came back the next day and learnt that this place is where a few of the lads from the pub had converted it into a gym and before they went to the pub they'd have a workout, like a structured workout, and it was a proper laugh."
Undefeated in three contests and searching for victory number four when he enters the ring at Harvey Hadden Sports Village, Nottingham on Saturday night.
View this post on Instagram
It has been a journey which has seen the 29-year-old experience the highs and lows of the fight game, describing it himself as a game of snakes and ladders; but like many others fighting for a living, you must dismantle most of the ladders and be cautious of the many snakes. 
Gooding fell in love with boxing right away and after a summer back in his home city, it was time to go back to Nottingham Trent University. 
Along with his clothes, his laptop and his books, came boxing gloves, hand wraps and a pair of boxing boots.
Gooding will always remember his first visit to an amateur boxing club, but it would be for the wrong reasons.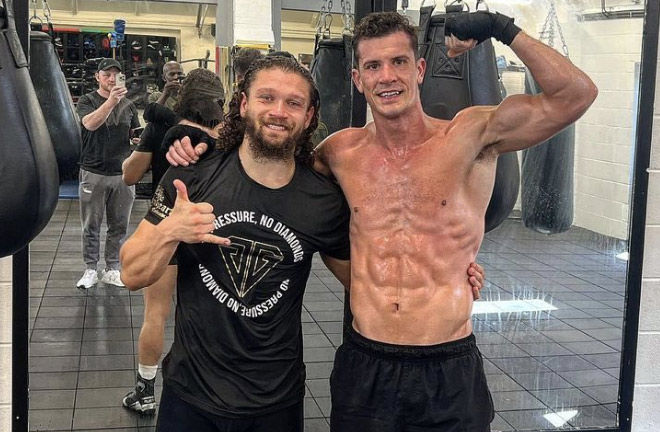 "I got told, you're too small, you're too heavy and you won't make it in this sport and those words stuck with me. That, after the rejection of not making it in football, I didn't take it well."
Gooding's heartbreak shattered his confidence and boxing immediately got put on the back burner, but after excelling in his academics, it was the lift he needed to pursue boxing once more.
"University gave me the life lesson I needed to gain my confidence back. I realised that if you just work hard, if you graft your a** off, you can get good at something. I came back to Nottingham, and I found Errol McDonald. He had opened a gym called Bad Boys Boxing Gym in Clifton.
"He basically told me the same as what I had heard before, but the man is so full of positivity and I knew right away he wasn't going to show me the door, I knew this was my new home.
"He told me, 'you're small, you're heavy, but you've got good feet and if you put in the work, I'm going to make you a champion.'
View this post on Instagram
"The moment those words hit my ears, I never looked back, and I believe that I can become a champion."
As McDonald had told him to, Gooding started to put in the work.
"At the time when I first stepped into Errol's gym, I was weighing around 92 kilos, and I'm 5 ft 8! But that came down organically by training hard.
"Then I was boxing at 81 kilos, again, still up against giants at light heavyweight but Errol had belief in my skill, and he just said I'm going to teach you how to win at this weight.
"I do have quick feet and my hands are quick too so I can dart in and out quick with point-scoring shots without taking damage from bigger guys.
"But my weight was just coming down naturally and I entered the East Midlands Gold Cup in just my second amateur bout at middleweight and I won gold.
View this post on Instagram
"Three fights, three wins in three days and that gave me the realisation of s***, I can do this!"
Gooding would go on to contest twelve amateur bouts and leave the ring victorious on ten occasions, winning two regional championships in two weight divisions and competing in the Haringey Box Cup.
Confidence grew within the Luton man and in 2019 decided to turn to the pro ranks and make his first professional outing in July.
"My experience of my pro debut was phenomenal to me; it was everything I [had] ever dreamed of," he said gleefully as he replayed the moment back in his mind.
"I'm not someone who studies my opponent, I leave that to my team, but after I won my debut, I found out the guy who I fought had been in with the likes of Junior Witter, Chris Kongo and he was a WBC junior champion; so, he had some decent credentials for a journeyman.
"I may not have come out as flamboyant as I would have liked to in that fight, I just wanted to put on a show. I was extremely relaxed, and it was an assured performance."
What Gooding doesn't have regarding experience inside of the ring, he makes up with the challenges he has dealt with outside of it. He's spent his 20's learning, maturing, and teaching himself how to deal with life's difficulties.
These life experiences have moulded Gooding into, not only the man but also the fighter he is today. Not even an untimely pandemic could stop him from stumbling off course.
"When covid hit, yeah, it was s***, but never did it come across my mind to give up. I've created a fighter's life for myself, I have a fighter's mentality now, boxing is my life.
"The pathways I have chosen all lead towards becoming a champion. I worked hard to buy a property which has created the opportunity for me to give this sport my full attention.
"Of course, I want to make as much money as I can from this sport, but it's not my priority right now.
"All I'm focused on is working hard in the gym and putting what I've learnt on display in the ring. My sights are set on putting myself in contention for titles."