Saturday night at the Principality Stadium in Cardiff saw Anthony Joshua defeat Carlos Takam in the 10th round via stoppage to retain his WBA and IBF heavyweight titles in a tough battle for the champion.
Carlos Takam replaced Kubrat Pulev as Joshua's challenger and showed his worth by putting up a real fight to Joshua.
The first round saw Joshua take the front foot by attacking Takam with his jab and trying to find his range, sending Takam towards the ropes. The second round saw Joshua take a knock to his nose, as Takam came forward towards Joshua and both fighters clashed heads, leaving Joshua with a bloodied nose but this didn't stop the champion as he came back and sent a big left hook to Takam.
Takam wasnt going to go down easily, and the challenger landed a left hand in the third but Joshua came back with a right hook of his own in the fourth,  leaving Takam with a cut above his right eye. Joshua continued with left hands and at a point, referee Phil Edwards had to make sure Takam was able to continue as blood poured over his eyes. But Takam wasn't giving up and continued.
Takam took heavy shots from Joshua thereafter, who focused on the cut and continued a barrage of shots with an uppercut unsettling Takam, though the French-Cameroonian managed to stay on his feet.
Takam continued to take the barrage of shots by Joshua but managed two right hands on the champion, slowing down his momentum and showing Takam's resolve.
Joshua kept at his opponent, hitting him with body shots in the eighth round but Takam retaliated in the ninth with his own hooks.
In the tenth and final round, Joshua had Takam swaying as he hit him with an uppercut and a straight right hand which made referee Phil Edwards intervene and stop the fight, something which caused slight controversy as Takam didn't completely go down.
This was Joshua's 20th straight knockout win and he looks to Joseph Parker and Deontay Wilder for his next challenge.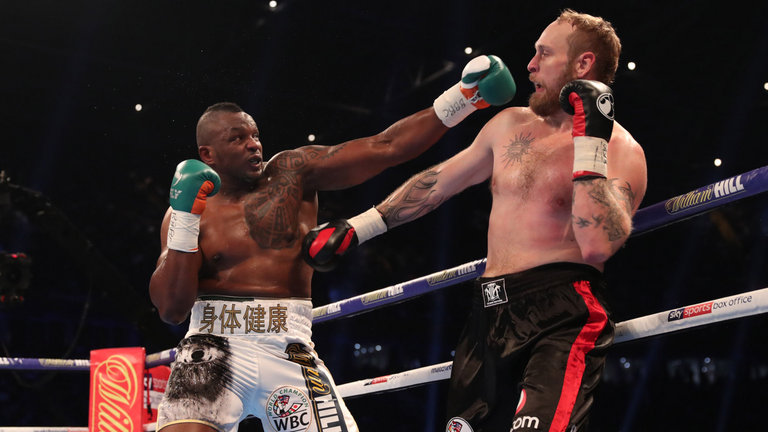 On the undercard, Dillian Whyte overcame Robert Helenius with an unanimous decision victory after a shaky start. Whyte began with two left feet, stumbling after an attempted punch which Helenius countered with a right hand and similarly in the second, but this time Helenius struck a left hook to send Whyte stumbling back to the corner.
Whyte found his feet after and was impressive in the following rounds, getting close to his opponent and sending the Swede towards the ropes. Helenius was slowing as Whyte continued his assault with pace and body shots to his opponent.
Whyte bloodied Helenius's nose in the eight round and the crowd could see that the Swede was faltering as he did little to trouble Whyte.
Whyte did his best to stop the Swede within the last three rounds but Helenius held on, though lost the fight via a unanimous decision in favour of Whyte.
Whyte could face Deontay Wilder next, as he seeks out the WBC Heavyweight title, though nothing has been set.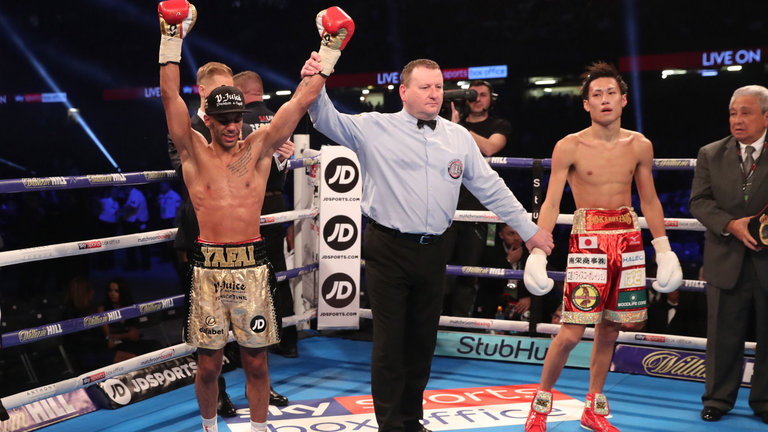 Kal Yafai was also victorious in Cardiff as he defeated Sho Ishida via a unanimous decision. The WBA Super-Flyweight champion started off with body shots to his opponent, who for the first time was fighting outside of his home country, Japan.
Yafai fought aggressively,throwing a left hook to the head and body, overpowering the Japanese boxer but not connecting cleanly enough to cause major problems.
Ishida caught Yafai with a left hand in the seventh round but Yafai retaliated with a body shot, winding his opponent. Ishida was then knocked towards the ropes in the eight round and in the remaining rounds, Yafai increased his power on his punches but Ishida was able to get to the end. Yafai's arm was lifted as he defeated Ishida by unanimous decision.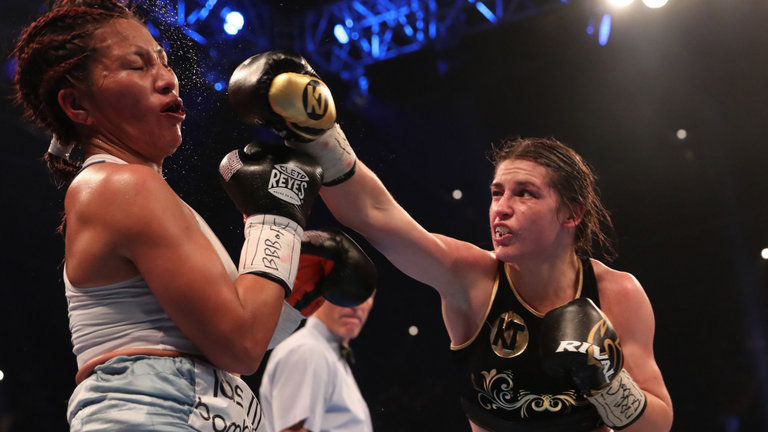 A new WBA Lightweight World champion was crowned in Cardiff as Katie Taylor overcame Anahi Esther Sanchez in ten rounds as the judges scored in Taylor's favour.
The title was on the line after Sanchez failed to make weight at the weigh-in on Friday.
Taylor floored Sanchez in the second round with a left to the ribs and though not overly happy with her performance, Taylor dominated and was crowned the champion with a 99-90 points victory by the judges.
After the fight, she said, "It's by far the biggest night of my career, but it was not my best performance. I got a bit wild at times. Thank God, I came through it.