Joe Joyce has his sights set on Dereck Chisora after he delivered a huge knockout to make 'Big Nasty' Donnie Palmer his third victim since turning professional. The 2016 Rio Olympics silver medallist, fresh from victories over Rudolf Jozic and Ian Lewison, sensationally produced a ferocious one-two combination inside 38 seconds to floor the imposing 6ft 10in American heavyweight at London's iconic York Hall on Saturday night – shown live on UK terrestrial TV station Channel 5.
As an amateur, Palmer beat former IBF world champion Charles Martin and one-time world title contender Dominic Breazeale. But the 34-year-old was certainly no match for the 'Juggernaut', who promoter David Haye has described as a 'future world champion in the beginning of his career'. And now Joyce is hoping to fight the fellow Brit next on the eagerly-anticipated undercard of promoter Haye's May 5 rematch against Tony Bellew at the O2 Arena. "I was quite surprised," said Joyce, reflecting on the manner in which he dispatched Palmer.
"I think it's great that Donnie Palmer got in contact with us because a lot of people – like Dereck Chisora – who have been ducking me. But the work behind the scenes with Ismael Salas and Ruben Tabares has paid off. I hit him [Palmer] with some force and it did the job. It just shows how I'm progressing."
Promoter Haye saluted Joyce and now wants Chisora to accept terms to fight his man. "We wanted to focus on Joe exploding out of the blocks and I'm not surprised with what I've seen tonight," said Haye. "That is what we'll see against Dereck Chisora on May 5. I saw Don Charles, Chisora's trainer, and said we have a very fair financial package for Derek. Hopefully now Chisora, who shook Joe Joyce's hand, will step up to the occasion. I believe my boy Joe Joyce is ready for it. If you're watching Derek, give the fans the fight they want to see." Joyce added: "I just want to show everyone the level I am at. Joseph Parker was in attendance less than a fortnight before his blockbuster world heavyweight unification bout with Anthony Joshua in Cardiff. And the WBO champion would have surely been impressed with what he saw.
VIDEO: watch Joe Joyce speaking with proboxing-fans.com earlier this week about wanting to fight Chisora.
Matty 'The Assassin' Askin, meanwhile, retained his British Cruiserweight title with a devastating second round knock out over Stephen Simmons. With a brutal left hook to the body, Askin dropped the Scot to stage a successful first defence of the Lonsdale belt he won against Craig Kennedy in Cardiff last year.
The powerful Blackpool fighter's record now stands at 23 wins, three defeats and one draw, while 33-year-old journeyman Simmons is left to ponder his future in the ring. "He was a very hard man tonight," said victorious Askin after his win. "But me on my game beats anyone. Behind the scenes I was going through the uppercut and left hook to the body."
Askin spent a gruelling 14-weeks in camp ahead of his defence, living in a caravan. But now the 29-year-old is looking to step up another level. "It has been hard but you have to make these sacrifices," he said.
"There has been a lot of talk about me stepping up after this fight, so I had to put in a performance and I feel that I did myself justice tonight."
Two-time Muay Thai kickboxing champion Ruqsana Begum, meanwhile, got her professional boxing career up and running in a closely-fought draw with Ivanka Ivanova. The 34-year-old, from Ilford, Essex, was born into a strict Muslim family. But in 2016, she launched her own range of sports hijab to inspire more women from her faith to take part in sport. The 5ft 3in 'pocket rocket' endured a frustrating start on her debut, however. She was made to wait to start her four-round contest after Ivanova failed to arrive to the ring wearing a cup protector – which is a requirement in British boxing for female fighters.  "It was a strange situation," admitted Haye, speaking on the undercard of the event – streamed live via Facebook on Sport Bible. And it did not end as hoped as Begum, 32, was scored evenly on the scorecards, 38-38, with the bout called a draw.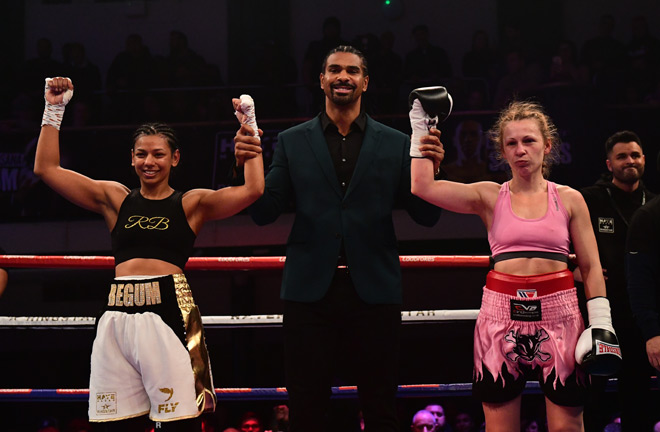 Elsewhere on the undercard, Wadi Camacho saw off a brave Danny Couzens to retain his Southern Area cruiserweight title via TKO. In a dominating display, the 32-year-old Canning Town southpaw fighter floored Couzens in the ninth round before a second knockdown, courtesy of a brutal left uppercut, saw the referee step in to stop the contest.
Results in full:
Fight 1: Daniel Mendes beats Grigor Karastoyanov via points decision after climbing off the canvas.
Fight 2: Ricky Heavens beats Jordan Grannum via points decision.
Fight 3: Darrel Church secures stoppage win over Rikke Askew – round 1
Fight 4: Mark Little beat Tomislav Rudan via points decision.
Fight 5: Linus Udofia gets a second round stoppage against Geraint Goodridge.
Fight 6: Youssef Khoumari stops Kristian Laight via points decision.
Fight 7: Adi Burden wins on points against Callum Ide.
Fight 8: Dan Keenan wins via points decision against Iliad Markov.
Fight 9: Wadi Camacho gets a 9th round KO against Danny Couzens.
Fight 10: Rusqana Begum and Ivanka Ivanova are joint winners 38-38.
Fight 11: Matty Askin stops Stephen Simmons in Round 2.
Fight 12: Tunji Ogunniya stops Konstantin Alexandrov as the Bulgarian doesn't leave his corner for the start of the 2nd round.
Fight 13: Joe Joyce beats Donnie Palmer in round 1.