JuanMa will make the third defense of his WBO Featherweight strap against the tough and capable Salido:
On April 16, Puerto Rico's boxing sensation Juan Manuel Lopez will step up to bat next against Orlando Salido, after Yuriorkis Gamboa's one-sided victory against him previously. The bout is interesting in the sense of the ongoing comparison and buildup between the two stars of the featherweight division, but otherwise, it should be not much more than a tune-up fight for Juanma as he looks to keep his unblemished boxing record intact, with hopes of a huge showdown with Gamboa for featherweight supremacy in the near future.
The Juanma/Salido fight will take place in Lopez's backyard at Coliseo Roberto Clemente in San Juan, Puerto Rico for Lopez's WBO featherweight title.
Tale of the Tape
Juan Manuel "Juanma" Lopez is 27 years old, with an outstanding undefeated record of 30 wins and 0 losses.  He stands at 5 feet 5 and one half inches tall, with a 69 inch reach, fighting out of the southpaw stance.
Orlando "Siri" Salido is 30 years old, with a record of 34 wins, 11 losses, and 2 fights ending in a draw, and 1 no contest.  He stands at 5 feet 6 inches tall, with a 72 inch reach, fighting out of the orthodox stance.
Lopez vs. Salido Preview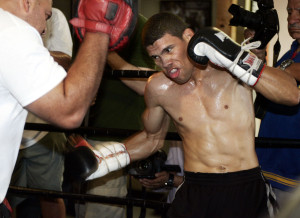 Juan Manuel "Juanma" Lopez is the current WBO featherweight champion.  The Puerto Rican superstar has a great amateur background, as he took part in numerous international competitions, including the 2004 Olympics.  Juanma started his professional journey in 2005, and so far has been a sensational one, with quality wins over fighters such as Daniel Ponce De Leon, in which Juanma won the WBO super bantamweight title, and American Steven Luevano, in which he captured the WBO featherweight title.
In his last fight, Juanma was pitted with the great Rafael Marquez. There was a lot of give and take in this fight as Marquez showcased his great counter-punching in the early rounds and Juanma also did a great job getting his hook in. Marquez caught Lopez with a hook of his own in the fourth round and the fight was very close early. But as the later rounds started, the bigger, younger and stronger Juanma began to impose his will.  Marquez was game of course, but in the end, the fight ended up with Marquez not answering the bell in the ninth round due to an injury to his right shoulder.  Juanma was awarded the ninth round technical knockout victory.
Mexican born Orlando "Siri" Salido is the former IBF featherweight Champion.  His professional career started in 1996 at the age of 15 years old.  Salido's career didn't get off to a strong start, as he lost the first fight of his career, and after that lost seven more fights between 1996 and 2002. Since 2002, Salido's career gained a little steam, as he has earned quality wins over fighters such as Hector Julio Avila, and fellow Mexican Cristobal Cruz, in which Salido captured the IBF featherweight title in their rematch. (Salido originally earned a win over Robert Guerrero, but the bout was later ruled a no contest due to Salido testing positive for steroids). Salido also lost to the great Juan Manuel Marquez, in a fight where he went the distance with Marquez.
In his last fight, Salido faced off against the other top fighter in the featherweight division, Cuban superstar Yuriorkis Gamboa, with the WBA and IBF featherweight titles were on the line.  Gamboa easily outpointed Salido during this fight. Gamboa was knocked down in the eighth round by Salido, but it should have clearly been ruled a slip.  Gamboa rallied from the knockdown/slip and scored a knockdown of his own, as Gamboa sent Salido to the canvas in the twelfth round, en route to a twelve round unanimous decision.
Lopez vs. Salido Prediction
This should be an action packed fight on April 16, 2011.  Both fighters have great power.  Salido loves to be the aggressor in fights, so I expect him to come forward and forced the action.  Juanma also loves to be the aggressor in fights, but the difference is that he can box and counterpunch if he needs to, though I feel that Salido will get some shots in on Lopez thanks to his aggressive style.
Salido will have the height and reach advantage in this fight, but his boxing style does not allow him to take advantage of those strengths as Salido will be offensive minded, and Juanma clearly has the superior technical skills and speed. Salido is a tough veteran, and I expect him to try to rough up JuanMa.
The bottom line is that JuanMa is a clearly superior fighter, and the styles of these two fighters should create fireworks. He'll one-up Gamboa here and score an explosive knockout.
Prediction: Juan Manuel Lopez by sixth round knockout.
Comments
comments