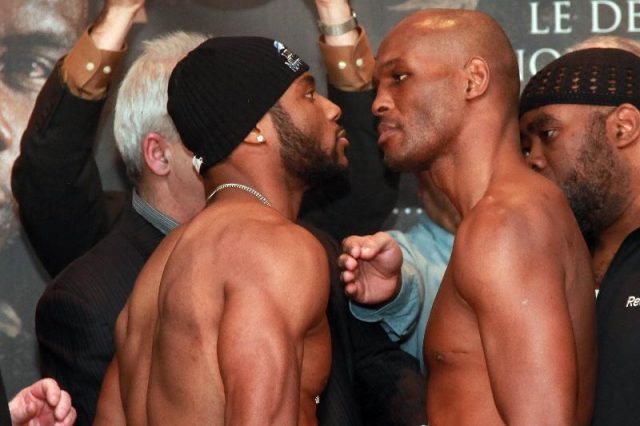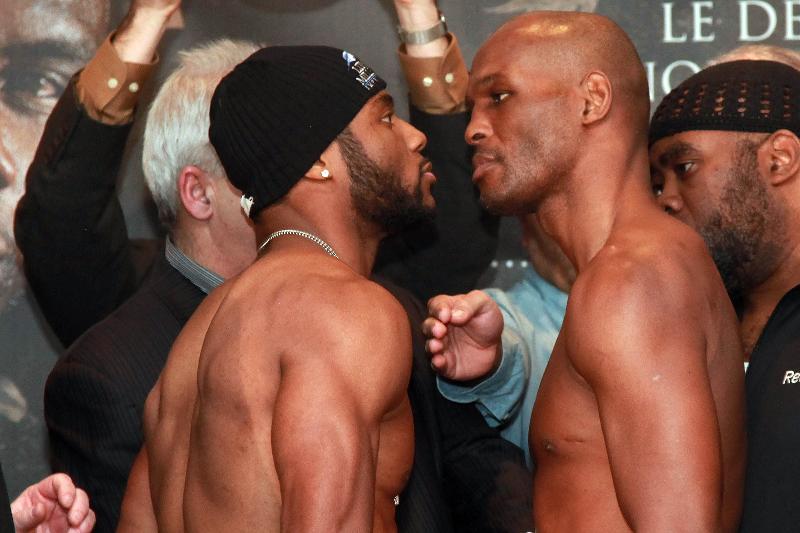 Light Heavyweight Title Rematch – Jean Pascal vs. Bernard Hopkins
It seemed for some time that a rematch between WBC Light Heavyweight Champion Jean Pascal and ageless legend Bernard Hopkins would not be made, because of the legally valid claim by former champ Chad Dawson that Pascal had to give him a rematch before fighting B-Hop. Now all the details have been settled, showing that contrary to what David Haye, the Klitschko Brothers and Floyd Mayweather suggest, business problems can be sorted out to everyone's mutual benefit. Pascal vs. Hopkins II will go ahead on May 21, with Dawson fighting on the undercard and getting a shot at the winner. As the previous fight ended in a controversial Majority Draw, the big question for this rematch is who is in the best position to learn from and build on the previous fight.
Bernard Hopkins (51-5-1, 32 KOs)
6'1″, 75″ reach, 46 years old
American
Former Undisputed World Middleweight Champion, Former Lineal Light Heavyweight Champion
The warrior monk of boxing, Bernard Hopkins really needs no introduction for even the most casual fan of the sport. For this guy, age really does seem like just a number, and his mastery of the Sweet Science has few parallels in boxing history. Rather than focus on his well-known attributes, I'll instead detail his performance in the prior clash with Pascal. Early on, Jean Pascal managed to get the better of Hopkins through a combination of hand speed, work rate and aggression. B-Hop was knocked down in the 1st and 3rd Rounds, and while some controversy surrounds those knockdowns, I'm okay with both. Hopkins wasn't really hurt in either instance, but he was forced down by the punching of Pascal.
Pascal began to tire by the middle of the fight, and from there Hopkins took over. His craftiness had timed Pascal by then, and he started to unleash some of his carefully husbanded energy. Ripping body shots degraded Pascal further. By the end of the fight, Hopkins had out-thrown and out-landed the younger man, and looked fresher at the end to boot. Even so, if you give Pascal two knockdowns and three or four rounds of the fight (and I think those points are inarguable), the result is a very close bout on the scorecards. Under those circumstances, a Draw was pretty reasonable.
Jean Pascal (26-1-1, 16 KOs)
5'10 1/2″, 72″ reach, 28 years old
Canadian
Current WBC Light Heavyweight Champion
The way people screamed "robbery!" in the aftermath of the first Pascal vs. Hopkins fight, one would think Jean Pascal was a tomato can with nefarious mob connections and the fix was in. The truth is that Pascal is a quick, skillful boxer-puncher who half-exposed Chad Dawson, decisively beat fringe contenders Silvio Branco and Adrian Diaconu (twice), and suffered his only career loss to Carl Froch. As Froch has shined in the Super Six Tournament, that loss has actually come to look pretty good in hindsight. This guy is no slouch, and as previously noted, he earned that Draw with Hopkins on the basis of bagging 1/3 of the fight with two legit knockdowns for good measure.
Pascal vs. Hopkins Rematch Preview and Analysis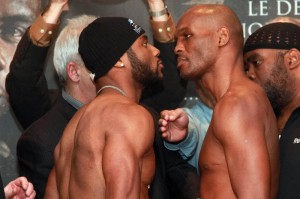 I must admit I picked Pascal in the first fight, based on my appreciation of what B-Hop can and cannot do at this stage in his career. Even in the Pascal fight, it was plain Hopkins could not fight hard for every minute of every round. His gas tank and recuperative powers have limits. The problem is that Jean Pascal did not have the stamina to force a choice between shutting down or risk going over the edge, which is what Joe Calzaghe did. Despite a 16 year age difference, Hopkins seems to have more stamina than Dawson, and that was a surprise. Past that, Hopkins has a proven track record in rematches. Discounting the Roy Jones farce, he improved on his performance against Segundo Mercado, Robert Allen, Antwun Echols, and (in my opinion) Jermain Taylor.
Pascal did better in his rematch against Diacou, but in this case he faces an uphill struggle and bad choices. If he goes in with a conservative game plan, he jettisons his advantage in speed and lets Hopkins set both the range and the pace. The result of that would be a boring, tactical, safety-first match that saw B-Hop pile on points with his jab and counter-punching from the outside. If Pascal picks up the pace, he risks burning out early like he did before. Pascal can pursue a middle ground, but the point is that landing leather on Bernard Hopkins consistently, round after round, demands more than Jean Pascal has. He is fast enough, but not a big enough of a puncher to hurt Hopkins or enough of a swarmer to sustain pressure over time.
I think Pascal could very easily get B-Hop into trouble early in the fight; Hopkins is excellent, but not perfect. At that point, Pascal will need to go for broke and roll the dice, because this fight long term simply does not favor him. I've seen nothing in Pascal's past that indicates he is that type of fighter, so the moment will pass and Hopkins will whip him decisively.
Pascal vs. Hopkins II Prediction
Bernard Hopkins UD12, and in so doing becomes the oldest world champion in boxing history.