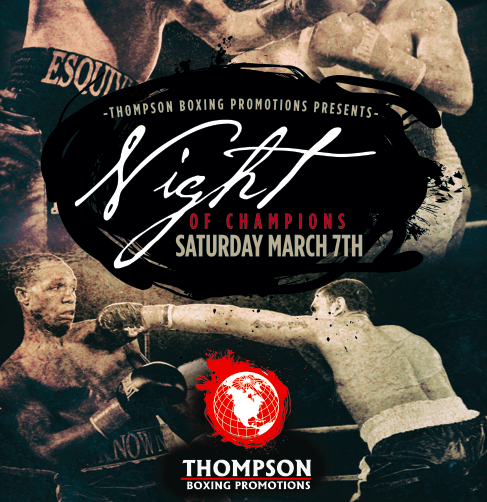 All-action super bantamweight Juan Reyes (11-1-3, 1 KO) of Riverside, Calif. battles Heriberto Delgado (11-1, 6 KOs) of Tijuana, Mex. in Thompson Boxing Promotions "Night of Champions" 8-round main event.
The Reyes-Delgado match up originates from the Doubletree Hotel in Orange, Calif. this Saturday, March 7.
Proceeds from the sold-out, private event will benefit the Junior Foundation, a charity working hard to meet the needs of families affected by childhood cancer.
"We are absolutely delighted to help raise money for such a wonderful foundation," said Ken Thompson, president of Thompson Boxing. "It's a tremendous cause, and hopefully the money raised on Saturday night will make a difference."
"Our guests are in for an outstanding fight between Reyes and Delgado. Reyes throws more punches than anyone can count, and Delgado has a similar style with knockout ability."
Reyes, known for his fast and furious punches, has been thrilling boxing audiences with his all-out style since turning professional nearly four years ago. He has a calm demeanor outside of the ring, but once inside the squared circle, he becomes a different person.
"My goal in every fight is to outwork my opponent and land as many punches as possible," Reyes said. "In boxing, speed is just as important as power."
The sold-out, private event also features top bantamweight prospect Carlos Carlson (16-0, 10 KOs) of Tijuana matched against Jesus Serrano (6-1-2, 5 KOs) of Sonora, Mex. in the 8-round co-main event.
Carlson is coming off a tremendous year in which he gained quality wins against bantamweight veterans Javier Gallo and Miguel Tamayo. He is quickly becoming one of the division's brightest young talents.
"I have one goal in mind and that is to keep getting better in hopes of challenging for a world title," said the 24-year-old Carlson. "I know my time will come, and when it does, I'll be ready."
In other action, once-beaten junior lightweight Erick Ituarte (9-1-1, 2 KOs) of Santa Ana, Calif. aims for his tenth professional victory against Erick Aguirre (4-5-1, 2 KOs) of San Diego in a fight scheduled for 6-rounds.
Lastly, our 15th Year Anniversary is just around the corner. Our event date is Friday, May 29th, location is Doubletree Hotel in Ontario, Calif.