Mayweather vs. Pacquiao Leaves JMM On the Outside Looking In, As Usual:
With all the (undeserved) hype surrounding Floyd Mayweather vs. Manny Pacquiao, left unsaid is a plain truth: Juan Manuel Marquez has been left out in the cold yet again. What is more, given that Marquez is 41 years old it could be for the last time.
Before the logjam preventing a Mayweather vs. Pacquiao encounter started breaking apart, the pyramid plan for the two long-time rivals went like this: Pacquiao would even the score with Timothy Bradley. Marquez would square off with Mike Alvarado. If both guys won their respective fights (and they did) it would set the stage for a fifth go-around. Instead, Pacquiao moved onto Chris Algieri, and will now face Floyd Mayweather instead.
From a business point of view, Pacquiao's choice makes absolute, undeniable sense. Even though it is so far past its due date as to sport green mold around the edges, punters will still buy the pricey Mayweather vs. Pacquiao PPV in their legions. The superfight may very well prove to be the most lucrative boxing event of all-time, and Pacquiao would be a fool to pass on it.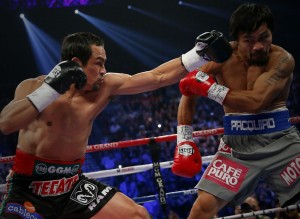 Yet from sheer gladiatorial logic Pacquiao has made bad choice, although that is not so obvious. Even though Marquez handed the Filipino dynamo a brutal knockout in their last encounter, that outcome was not a foregone conclusion either then or now. A fifth fight could have turned out like the first three in the series: a de facto draw that would naturally lean in Pacquiao's favor on the scorecards due to his higher profile. By contrast, Pacquiao will most likely lose against Mayweather, dropping a clear decision to the sport's reigning defensive grand master.
Whatever happens with Pacman and Pretty Boy, Dinamita has been cut out of the action. He isn't exactly suffering alone, since once he gets over his knee injury he has Kell Brook, Brandon Rios or a rematch with Timothy Bradley to look forward to. All three have been bandied about as opponents for the King of Mexican Boxing, and odds are he will get at least one of them this year.
Even so, odds are now growing that Marquez won't factor in as a third member, making Mayweather vs. Pacquiao a triangle. It's not just Pacquiao that Marquez might want, after all. The Mexican has a defeat to Mayweather to avenge too, and he has grown into a full-fledged welterweight contender since he was first totally out-sized by Mayweather almost five years ago.
Yet if one makes the simple assumption that the first Mayweather vs. Pacquiao ought to lead to a rematch, Marquez could very well be almost 43, Mayweather 40 and Pacquiao 38 by the time either of the latter turns to the former. What are the chances all three of them will still be in the game by early 2017? Not very good. Not very good at all.