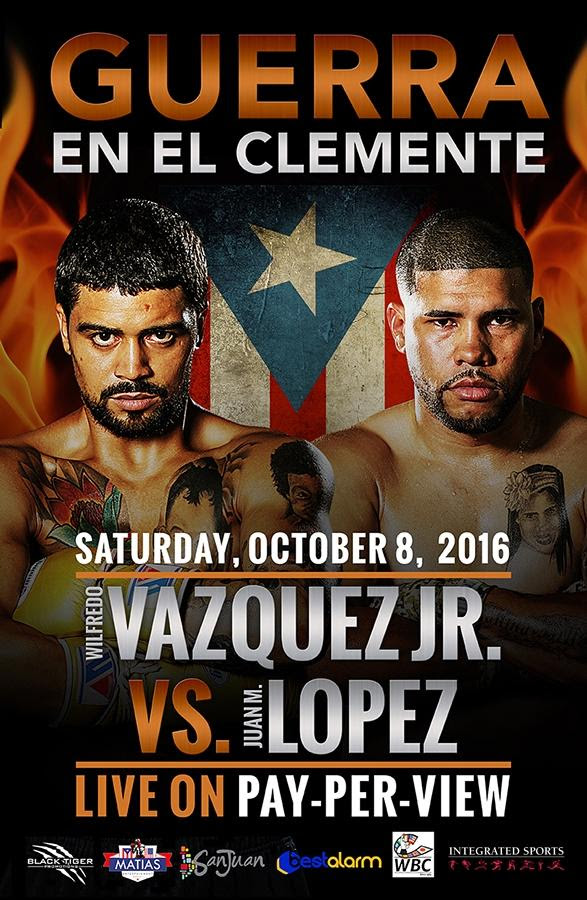 Juan Manuel "JuanMa" López plans to knockout bitter rival Wilfredo"Papito" Vázquez, Jr. in their 12-round showdown Saturday, October 8, airing live on pay per view from San Juan, Puerto Rico.
Guerra En El Clemente: Vázquez Jr. v. López, presented by Black Tiger Promotions, will be distributed by Integrated Sports Media live, starting at 9 p.m. ET in the United States. The event will also be available to watch across Canada on Fight Network, as well as via Fite TV app for iOS and Android devices or watch on the www.Fite.TV website. Suggested retail price is $29.95.
The 33-year-old López (34-5, 31 KOs), fighting out of Caguas, Puerto Rico, is a former World Boxing Organization (WBO) super bantamweight and featherweight world champion. From 2008 to 2010, "Juanma" was one of the top pound-4-pound fighters in the world, but he hasn't fought in two years heading into his much anticipated confrontation with his fellow countryman Vázquez, Jr.
"I still think I have a lot left in the tank," López confidently said from his Puerto Rican training camp. "This is the first fight of my career that I feel I owe to fans because of the history behind it. I don't think there will be any rust because I have been training for many, months and I have been inside the gym working hard. Maybe the agility I had four or five years ago isn't quite the same, true, but at the same time I am more mature and much more calm and more intelligent in the ring. I definitely feel that I am a better fighter than ever before."
Vázquez, Jr. (24-6-1, 19 KOs), the son of the great three-time division world champion Wilfredo Vázquez, fights out of Bayamón whose best known boxing son is late Hall of Famer Héctor "Macho" Camacho. Vázquez became the vacant WBO super bantamweight world champion in 2010, knocking out previously unbeaten Marvin Sonsona (14-0-1) in the fourth round.
"I think my opponent is a very persistent fighter and a person who will do anything to meet his goals, even though that will make him behave improperly," López added. "I think it will be a very aggressive fight, more of a brawl, and I'm sure the night of the fight I will be the stronger fighter. I will dominate him, round by round, and the first moment I have an opportunity to go for the kill, I will pressure him and won't stop until I get a knockout."