Things are heating up ahead of Saturday night's WBA Light Heavyweight title fight between Juergen Braehmer (47-2, 35 KOs) and Eduard Gutknecht (29-3-1, 12 KOs) at the Jahnsportforum in Neubrandenburg, Germany.
Plus, also check out this Braehmer vs. Gutknecht Tale of the Tape: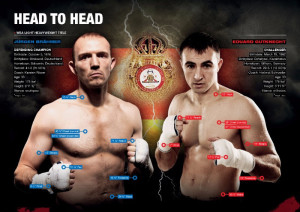 The domestic rivals do battle for a second time following a closely contested European title fight in February 2013, which saw Braehmer take the belt from Gutknecht with a closely contested points decision.
With the rematch approaching, the fighters wasted no time trading verbal jabs at the final pre-fight press conference, where there was one notable absentee, the coveted WBA title, which had mysteriously disappeared.
Gutknecht, who is aiming to get his hands on the missing belt, hit back at claims from Braehmer's camp that he is a 'dirty fighter', and said his 'hunger' will prove the difference in their World Championship bout.
''I don't know how Juergen and his team can label me a dirty fighter,'' said the 33 year-old from Gifhorn. ''I'm not a dirty fighter, but I promise one thing: I'm willing to do whatever it takes to win. I respect Braehmer's achievements, but I'm the younger, hungrier fighter, and on Saturday night, it's my time to shine!''
Braehmer, having grown tired of his opponent's predictions, responded: ''Eduard talks too much. He reminds me of my wife. Everything he says goes in one ear and out the other.'' And instead chose to focus on the importance of the bout, which will be a milestone fiftieth fight for the two-time World Champion. ''This fight is very special for me,'' said Braehmer. ''Not only will I shut Gutknecht up once and for all, I will also celebrate my fiftieth fight by defending my title in front of thousands of fans at the Jahnsportforum.''
Promoter Kalle Sauerland is expecting an electric atmosphere at the sold out arena in Neubrandenburg. ''This fight has all the makings of a classic,'' said Sauerland. ''A rematch between two domestic rivals with a World title on the line. If I wasn't the promoter, I would be buying a ticket for this one!''