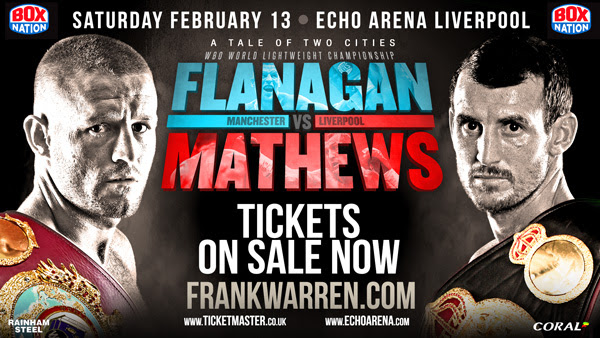 WBO Lightweight titlist Terry Flanagan and challenger Derry Mathews went head to head one last time at today's press conference before their showdown at the Liverpool Echo Arena this Saturday.
Merseyside hero Mathews is looking to land a full world title in his 50th professional fight in front of his home crowd. All-action 'Dirty' Derry is one of the toughest fighters to come out of Liverpool and is planning on winning by any means necessary. Mathews, 38-9-2, 20 KOs, has previously won interim World, British and Commonwealth titles but now wants to be recognised as the best lightweight in the world.
"I'm in this game to fight the best and Terry Flanagan is the best; he's the world champion. On Saturday I want people to say I'm the best when I beat him to become the world champion," said Mathews.
He added: "I think mine and Terry's styles gel well so it's going to be an exciting fight. We're both putting it all on the line and neither of us are going to run away from each other. We both like to have a bit of a fight,"
"I don't care how I win as long as I win. If it goes early it goes early, if it goes to points it goes to points. As long as I have a new belt around my waist and my arms raised that's all I care about. I'm here to fight and if I stick to my game plan I win the fight."
Flanagan holds a win over Mathews from when the North West rivals fought it out in a Prize Fighter contest back in 2013 but is expecting a tougher fight this time round. The Mancunian lightweight star is undefeated in all 29 of his professional fights and is planning on showing the Liverpool crowd why he's rated as the world's best.
"I think we're both different fighters now. The Prize Fighter fight was a few years back now and we've both improved since then. Whatever is going to happen will happen on the night. We've both trained hard for this, we're both in the best shape of our lives and the best man will win; I believe that's me," said Flanagan.
He said: "It's going to be a good night in Liverpool. I think it's going to be a bit hostile for me coming from Manchester so it should be a good atmosphere. The hostility doesn't bother me; not where I'm from! The atmosphere isn't going to bother me. I'm sure there's plenty of Scousers out there who want Derry to get beat and loads of Mancs who want to see me lose,"
He added: "I think I'm the best lightweight in the world but it's for you to judge. Obviously I can't look past Derry but when I come through Saturday they're the kind of fights I want to prove that I'm the best."
Hall of Fame promoter Frank Warren expressed his excitement over the eagerly-anticipated all-British blockbuster and predicted a gripping contest between two determined men who will stop at nothing to get their win.
"The main event is a cracking fight. I think it has all the ingredients of being fight of the year. The build up to the Carl Frampton versus Scott Quigg fight was quite intense but the fight turned out to be a damp squib. They were arguing about dressing rooms but Terry and Derry would get changed in the car park for this fight. All they care about is getting the fight on and getting in the ring and one of them coming out with the prize," said Warren.
He added: "Steve Maylett and Danny Vaughan have got their guys in fantastic condition. There's going to be no excuses after; they're 100% ready. The winner will win on merit and that's how it's going to be."
Manchester's WBA lightweight champion Anthony Crolla has been earmarked as a potential opponent for the winner of Saturday's showdown. Crolla lost to Liverpool's Mathews earlier in his career by a sixth round stoppage and would be keen for revenge. The old foes fought out an absorbing draw when they met in a rematch back in 2013, with many describing it as the fight of the year. 'Turbo' would be keen to take on his schoolmate to find out who the real Macunian lightweight king is. Warren believes it is a contest that would make sense for all parties.
He said: "We've offered Anthony £500,000 to fight the winner and that offer still stands. It's a real hotbed up here at the moment in this division so let's find out who the best fighter is in the North West is. That fight makes a lot of sense, I know he's not making that kind of money to fight Barroso so there it's a no brainer. It's a big pay day for the Anthony and the winner of this fight so let's get it on."