Julio Cesar Chavez Jr. was fined $900,000 by the Nevada State Athletic Commission at a hearing on Thursday afternoon, the long-awaited result of his failed post-fight drug test for marijuana, after his loss to Sergio Martinez this past September. Chavez Jr. was also suspended by the NSAC for nine months, although that counts retroactively to the date of the fight, which really means he only has about three more months before he's eligible to fight once again.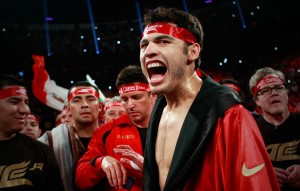 The fine represents a lofty 30% of his $3 million purse for the Martinez fight. It most likely reached such a high figure because it was Chavez's second failed drug test over the years. Additionally, Chavez was not present at the hearing, and that likely did not help his cause.
Chavez and his team had tried to argue for as little as a $10,000 fine, and a six month suspension which would therefore be just about completed at this point in time. His reasoning being that marijuana is not a performance enhancing drug. However, the NSAC slapped him down with a nearly 7-figure fine and the extra three months of suspension, delaying his comeback.
Martinez, meanwhile, returns for the first time this April, and a rematch between the two had long been rumored for the fall. Before that happens, however, Chavez will likely want to get back into the ring at least once. He won't be able to do that until June 15, so it'll be interesting to see if that delays the Martinez rematch.
Of course, I have no interest in seeing a second fight between the two, and would rather each man move in a fresh direction anyway. Minus a thrilling close to the show, it was a lopsided, dominant performance from Maravilla, and I'd expect the same in the second fight.
If the NSAC was smart, they'd take that $900k, and invest it in some way in their drug testing program, to combat the growing problem of performance enhancing drug usage in the sport today.