Chavez Jr – Maravilla Fight Preview
The most hotly awaited middleweight fight of 2012 is scheduled as a September 15th PPV event in Las Vegas, as people's champ and divisional top dog Sergio Martinez defends his crown against (fake) WBC champ Julio Chavez, Jr. While Martinez has nothing to prove in fighting Chavez, Jr., having the WBC strap stripped from his waist on the flimsiest of pretexts so as to benefit Chavez, Jr. had to rankle him, and he is clearly looking for payback. For Chavez, the road to full legitimacy as a champion runs right through Martinez.
Rounding the picture off, these are the #1 and #2 middleweights in the world right now, and both guys love action. This is not a fight to be missed!
Julio Cesar Chavez, Jr. (46-0-1, 32 KOs)
6'0″ tall, 73″ reach, 26 years old
Mexican
Current (fake) WBC Middleweight Champion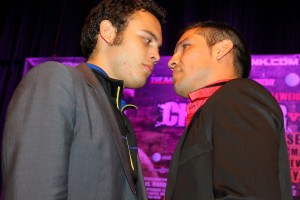 I list Chavez first, as his championship claim is the product of a typically dubious, Sulaiman-inspired farce. While JCC, Jr.'s claim to his belt might be questionable, his status as the second-best middleweight in the world is not. Chavez got there with wins over technician Sebastian Zbik, and toughsters Marco Antonio Rubio and Andy Lee. Zbik's movement and technique gave Chavez fits for roughly half the fight, but since about Round 8 of the Zbik bout, Chavez has been pounding out his wins in decisive fashion.
The Mexican middleweight is a strong guy with thudding hands, and a sound offensive technique. The secret to his success, however, is in his sheer size. Chavez was always big for a 160-pounder, but lately he has come into the ring looking like a light heavyweight. His fit-to-fight weight is now north of 175 lbs. That allows him to dish the damage in huge helpings, and also improves his own durability in turn.
The latter is a good thing, because Chavez has a porous defense to say the least. JCC, Jr. is a young fighter, and squeezing the water out to make weight has yet to provoke any stamina problems in the ring.
Sergio Gabriel Martinez (49-2-2, 28 KOs)
5'10" tall, 75″ reach, 37 years old, southpaw
Argentine
Former WBO-WBC Middleweight Champion; Still and Current Lineal Middleweight Champion
Martinez is the man who beat the man, and don't let the hype around other fighters make you forget about it. After years of frustration at 154 lbs, Martinez moved up to middleweight and won the gold ring by getting to and whipping a faded, rusty Kelly Pavlik. He then went on to spectacularly kayo Paul Williams in a rematch, stop uber-stylist Serhiy Dzinziruk, and beat down tough guys Darren Barker and Matthew Macklin. It's been quite a run.
Maravilla's style is defined by business and speed, in both his hands and his feet. The Argentine is constantly on the go, circling around opponents to work the angles and unleash punches in bunches. He is quick, powerful, always shows up for fights in top-notch condition, and brings snapping reflexes and formidable counter-punching skills to the table.
Chavez Jr. vs. Martinez Preview & Analysis
The main problem Chavez poses for Martinez in this fight is almost a first-time event in the Argentine's career, and that is the sheer size and strength of the big Mexican fighter. The last time Martinez fought a bigger-than-middleweight guy like Chavez was in April 2010, when he clashed with Pavlik, and the banger from Ohio was already debilitated by alcoholism and ring rust by then. Fighting that version of Pavlik is in no way comparable to duking it out with Chavez, and for Martinez the danger is that Chavez's bulk will allow him to power forward and seize control of the fight through sheer aggression, power and durability.
Chavez has not one, but many problems to overcome in fighting Martinez. JCC, Jr. has only one game plan (go forward, throw thunder), while Maravilla basically has two: 1) mix it up and rely on speed, explosiveness and superior work-rate to carry the day; 2) move and counter-punch, playing matador to Chavez's bull. The latter idea in particular makes me smile, since both Argentina and Mexico are bull-fighting countries. That aside, Martinez has the advantage of being able to shift between Plan A and Plan B as the situation dictates.
His talents suggest that while Plan A might carry some risks, Plan B has few if any. Martinez is faster than Chavez, has better footwork, and Chavez has no championship experience in dealing with southpaws. The Mexican will find it very hard to cut the ring off and bull the Argentine if he can't keep his footing and set-up his right hand.
Martinez vs. Chavez Jr. Prediction

Here is the question to ask as you watch this fight unfold: how is Martinez moving in response to Chavez's aggression? If he is backing up more than he is moving laterally, that will eventually translate into Chavez enacting his game plan. Martinez won't be able to pick off his counters in bunches or avoid the ropes as much as he likes if Chavez is shoving him backwards, and forcing him not to sidestep.
If Martinez is standing still and getting into exchanges, who is getting the best of that scenario ought to be readily obvious. Martinez has the speed to beat Chavez to the punch. Whether he has the snap to hurt Chavez or the durability to absorb those big Chavez shots in return is another story with an unknown outcome.
Finally, if Martinez is moving side-to-side for the most part, he has Chavez in a place for which the Mexican has no answers. So long as the Argentine's gas tank holds out, he can move, stick, and move some more and rack up the rounds.
Ultimately, Martinez is a gutsy fighter. He will want to stamp his authority on Chavez's face, but only if he thinks he can get away with it. While I expect him to win the fight on the basis of his speed, footwork, high work-rate and counter-punching ability, he is certainly going to go in there and mix it up with Chavez. Keep in mind that while Chavez is taller, Martinez has the longer arms, which means that mid-range flurries actually put Maravilla in a good place, so long as he can keep his lead foot on the outside. It is more than likely that Martinez can steal more than half the slug fests, so long as he keeps them short and picks them right. If he can't do one or the other, he can just keep moving and sticking. This won't be a tactical boxing match, but for Chavez it will be a serious uphill struggle.
Prediction: Sergio Martinez UD12