There were a handful of notable boxing matches over the weekend, and not just of the Olympic boxing variety, but of course in the professional ranks as well. The biggest bout was Robert Guerrero vs. Selcuk Aydin, marking The Ghost's debut at welterweight following a 15-month injury layoff. Guerrero fought his way to an entertaining and gritty win over Aydin, putting himself firmly into the title picture at 147 pounds. Therefore, it's time to go back our rankings and revise the top 10.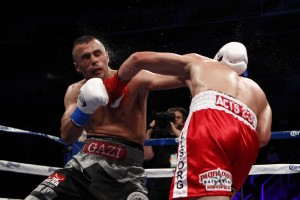 Guerrero continues to prove himself time and time again in the ring, and now hopes he can finally get the type of major fight which has eluded him thus far in his career. With the interim WBC strap around his waist, he's in place to challenge Floyd Mayweather, which is the fight he has long coveted. Whether or not anything of that magnitude gets put together is anybody's guess. But there's a slew of intriguing fights out there for him, ranging from Timothy Bradley to Paulie Malignaggi to the winner of Devon Alexander vs. Randall Bailey.
But the Guerrero vs. Aydin bout wasn't the only fight of the weekend. The other one which made big headlines was Hank Lundy vs. Raymundo Beltran on Friday Night Fights. Lundy got upset by Beltran, most likely because he was too focused on Adrien Broner, and not his own opponent. It's a big blow to Lundy, who was the number 1 WBC contender and in line for a title shot.
Now he's going to have to go to the back of the line once again, and it's because he couldn't keep his eye on the prize. It's fine to want a big money fight against Broner, and to talk some trash — but you better get by the man lined up against you first. As such, we have gone back to our top 10 in the lightweight division as well.
So be sure to check out our updated lightweight and welterweight division rankings and chime in with your own thoughts below.