Alfredo Angulo Wins Big, Hot Prospect Fernando Guerrero Continuing to Climb
There has been a slew of great fights over the last few weeks, and more big ones are on their way as well. In the meantime, following the latest action such as Alfredo Angulo's dominant win over Joachim Alcine, and middleweight prospect Fernando Guerrero getting by tricky veteran Ishe Smith, it's time to update the rankings. Take a look at the latest weight class rankings from ProBoxing-Fans.com, with updates to junior middleweight and middleweight!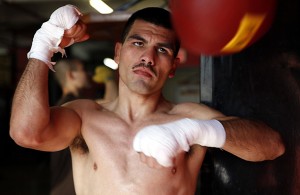 ——> Updated Junior Middleweight Division Rankings
Alfredo Angulo stole the spotlight from this past weekend's matches. He has looked sensational since his lone loss to Kermit Cintron, with back to back wins over Joel Julio and Joachim Alcine. How far does he climb in the division. Also, where is Miguel Cotto after his big title winning effort over Yuri Foreman? What about Paul Williams and Sergio Martinez, are they falling into the fray at 154 lbs or 160 lbs?
——–>Updated Middleweight Division Rankings
There hasn't been much to talk about in the middleweight division since Sergio Martinez dispatched Kelly Pavlik. That rematch was tossed out the window when it was announced that Pavlik was likely moving up to a higher division. In the meantime, hot prospects are continuing to shine. Most notably, Fernando Guerrero has been busy and is coming off a win this past weekend over Ishe Smith. But how does he fare when compared with Daniel Jacobs, the other uber-hot prospect, with a very similar resume and a very similar standing in the sport right now? Who's ready to make a jump, and will anybody like Felix Sturm ever be in a big fight against a top American fighter?
Take a look at all of other boxing weight class rankings, and stay tuned for more of the best boxing news coverage right here on ProBoxing-Fans.com.